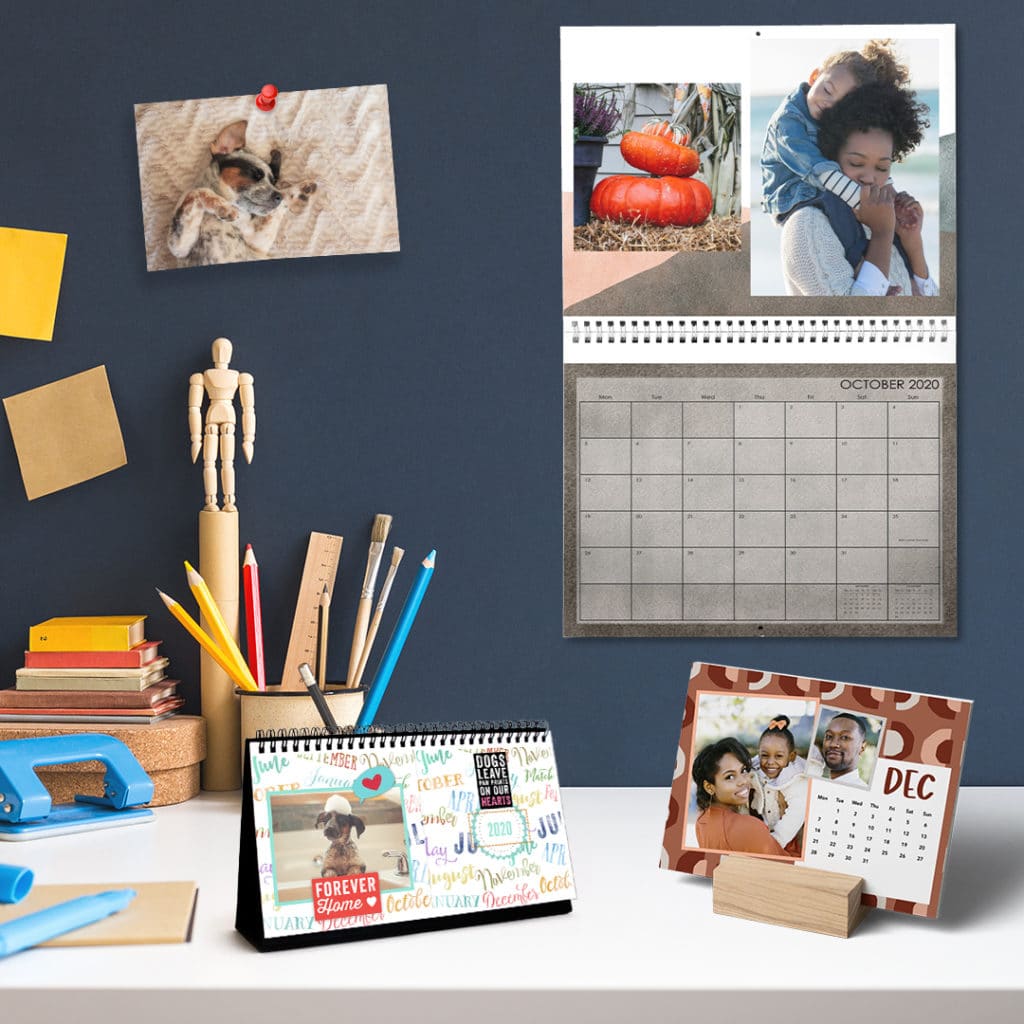 With technology today, many people have come to rely heavily on their phones or computers to keep them organised. However, when you're on your digital device, there are so many notifications that pop up and distract you from the task at hand.
How many times have you had to reboot your computer or reset your password just to access your digital calendar? That's why it's nice to keep a separate analogue calendar to help you stay on time and on target. Another bonus? Studies have shown that writing down information by hand, instead of typing it out, leads to better memory retention. Sounds like a great reason not to go completely paperless! 
So, why should you choose a customisable calendar from Snapfish instead of an ordinary one? For starters, you can add your own photos at no extra cost! It's nice to have a daily reminder of favourite holidays or family moments. An added feature of our personalised calendar is you don't have to wait for a new year to purchase. You can start your calendar on the month of your choosing — no more wasted calendar pages! Some of our calendars even have the option to personalise special dates with photos and text. Now you won't forget that special someone's birthday or anniversary! Read on to see the many ways you can customise a calendar with Snapfish. 
Calendar Types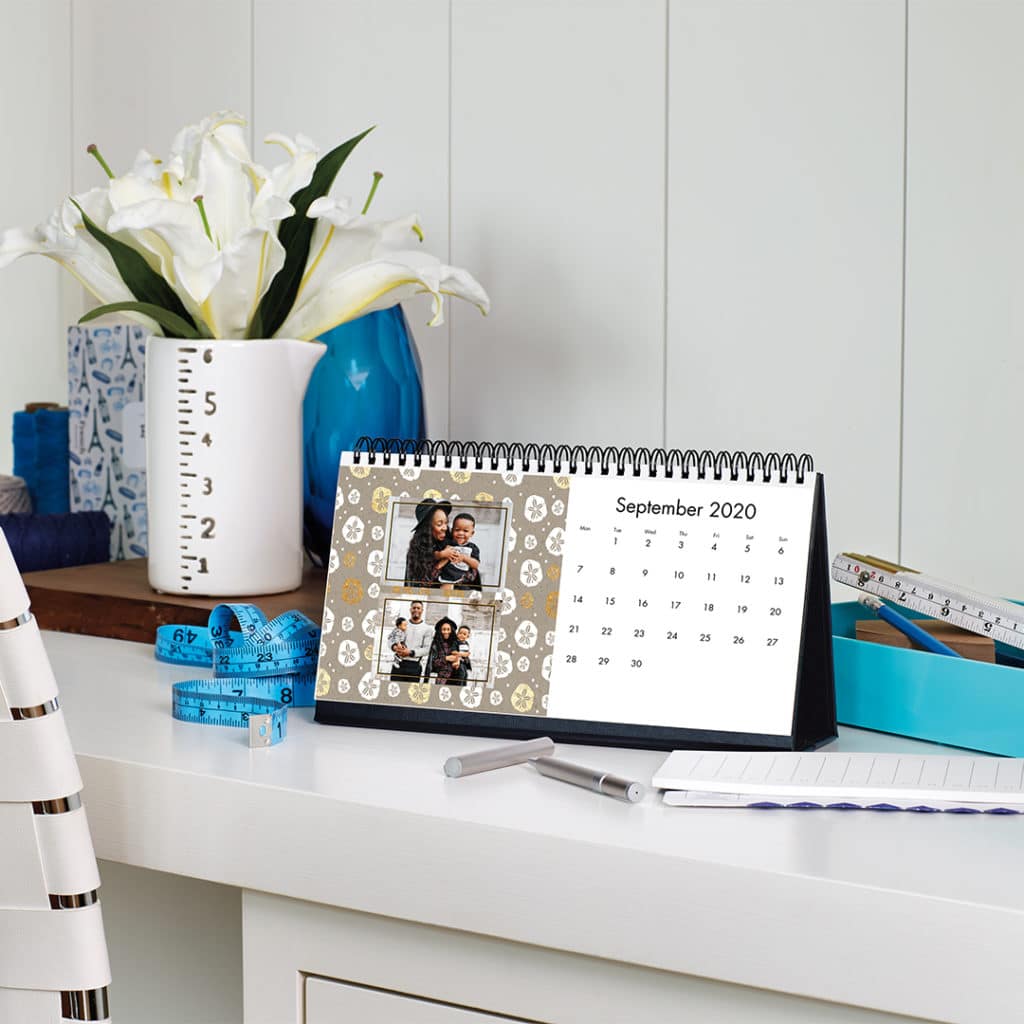 Whether your photo calendar is at home or in the office, we have plenty of options that will suit your space. A lot of people enjoy a larger wall calendar, so they can write down key dates and other important events. Plus, they can get a feel for the month's appointments ahead with one quick glance.
We have several varieties of wall calendars to choose from such as creative, classic, and slimline kitchen.
Our creative wall calendars feature two pages per month: your photo on top, spiralbound in the middle, and month page on the bottom. They are available in size 11×17" (28x43cm), 12×24" (30x60cm), and 14×22" (36x56cm).
The classic calendar is also spiralbound, with one calendar page per month, and includes a hook for hanging. Our classic calendar comes in a size 6×8" (A5), 8×12" (A4), and 12×16.5" (A3).
If you need a family calendar that's easy to access, try our kitchen calendar. Available in a 5.4×11.7" (13x30cm) size, this spiralbound calendar also includes a hook at the top for easy hanging. Instead of a date grid, the days of the month are printed in a list format so you can easily jot down activities, appointments, and anything else your family needs to keep track of. You can choose the starting month too.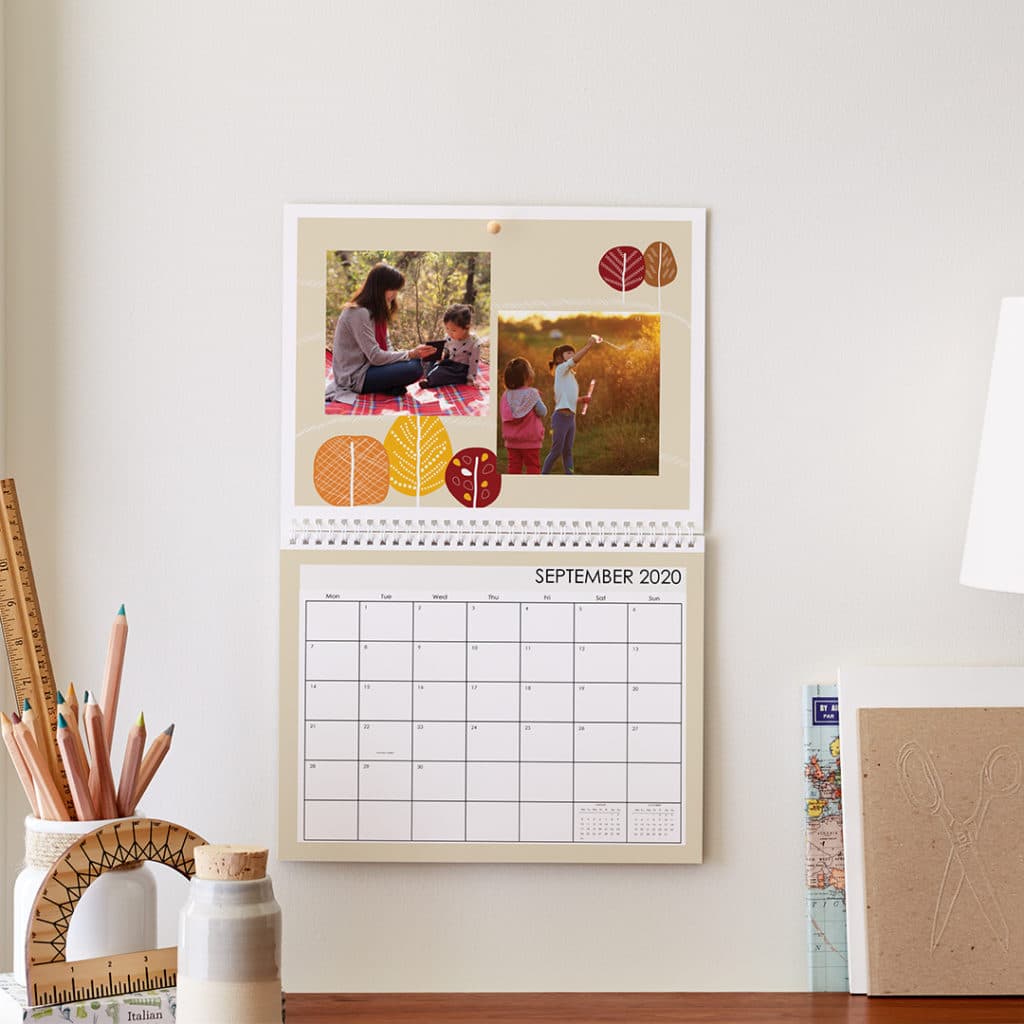 If you're short on wall space, our desk calendars are a nice option. The desk-friendly flip format means you'll still have plenty of space for your computer and other office supplies. Our spiralbound desk calendars come in size 10×5" (25x13cm), with an easel-style stand. If you really want something unique, try one of our wood block desk calendars. Each order includes 12 customisable calendar cards, one for each month. Cards slide into the included wooden block for a sleek, modern look. Calendar cards are printed onto 8×6" (20x15cm) cardstock. You can re-order more calendar card refills for future years too.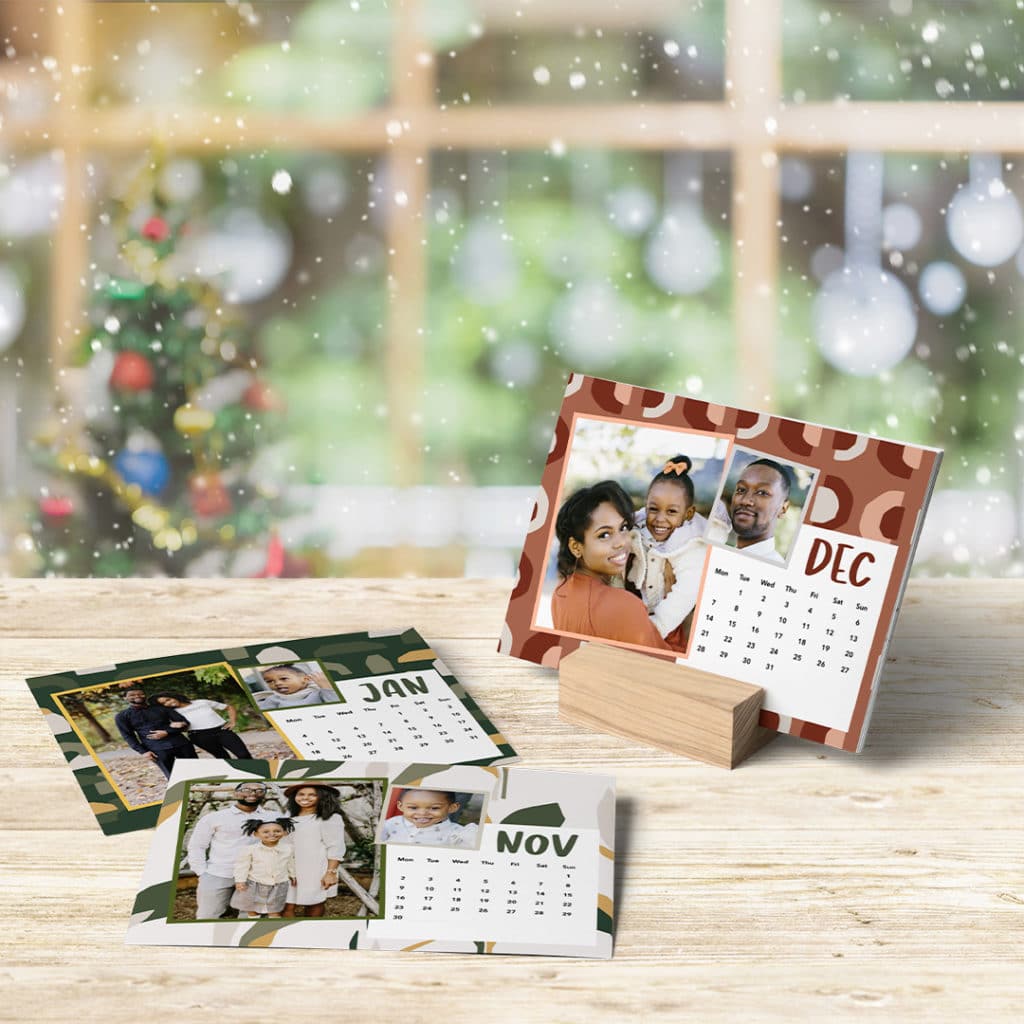 Prefer something more handheld? We also offer a personalised diary. You can customise the front and back of this hardcover diary with photos and text. Inside you'll find 70 pages printed with dates, key events, and public holidays. Plus, there's plenty of space for you to jot down notes and appointments! Our personalised diary tracks a full calendar year, starting on January 1st.   
Contemporary Designs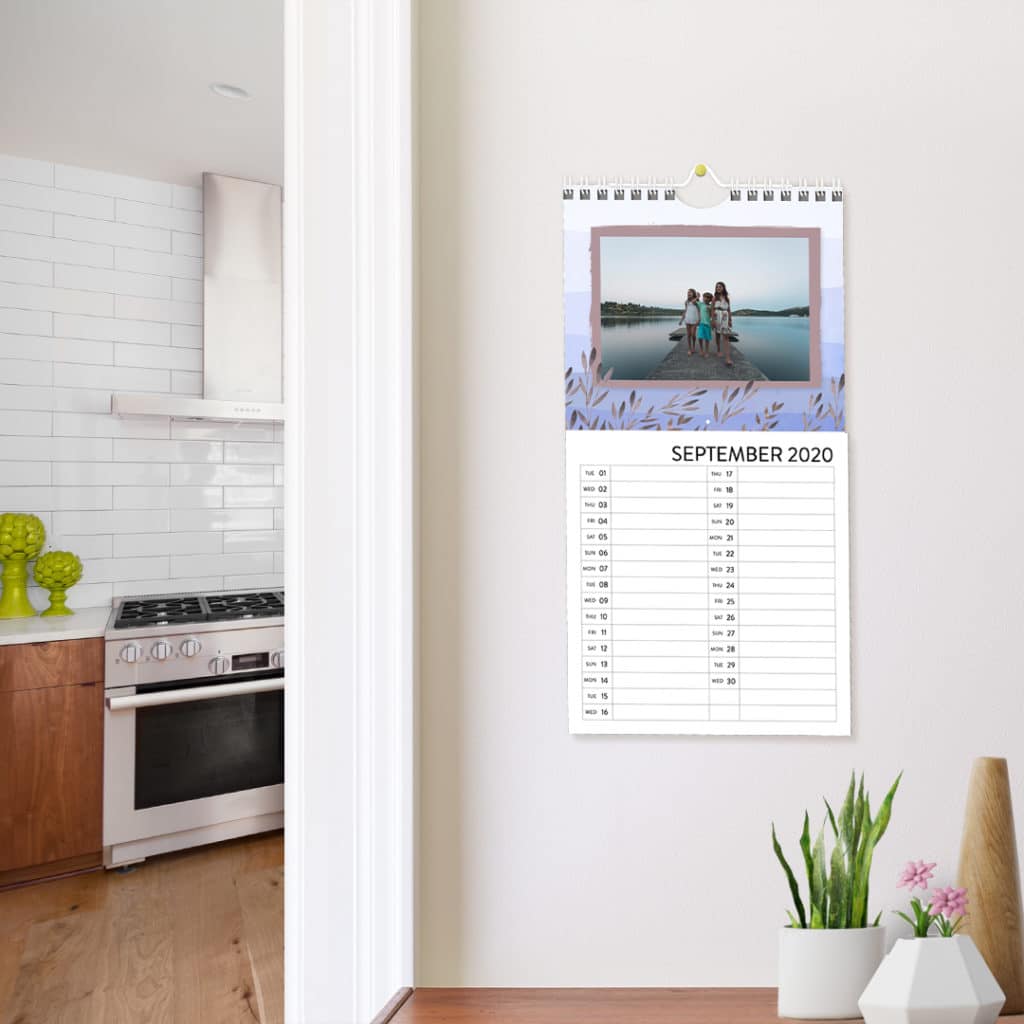 If you'd like to shop for a custom calendar by design style, we've got you covered! To see trending new designs created by our talented in-house team, check out our What's Hot section. If you're into celebrating the beauty of each month, see what's in our Seasonal section. If you're more minimalist, you'll love our Simple designs. If you're looking to celebrate loved ones year-round, check out what's in Family + Friends. Adventure-seekers will adore our Travel section. Lastly, you'll find stylish shapes and beautiful botanicals in our Patterns + Florals designs. 
Fonts + Embellishments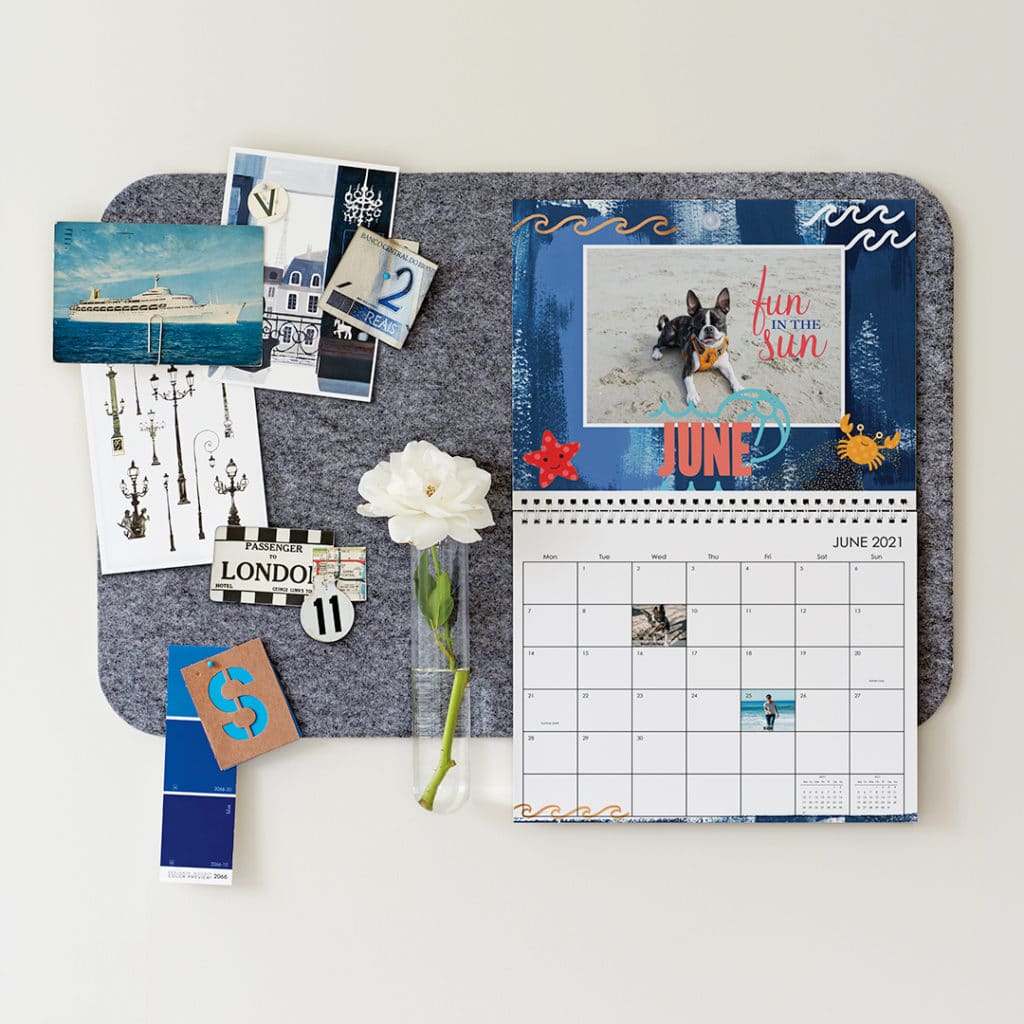 Want to add extra pizazz to your calendar? Check out our section of fun fonts and embellishments! We have over 40 new fonts you can use when you're adding captions or personalising special dates like anniversaries, birthdays, and other important events. As far as embellishments go, we have over 3,000 embellishments to choose from! You can find cool phrases, seasonal touches, adorable animals, and more.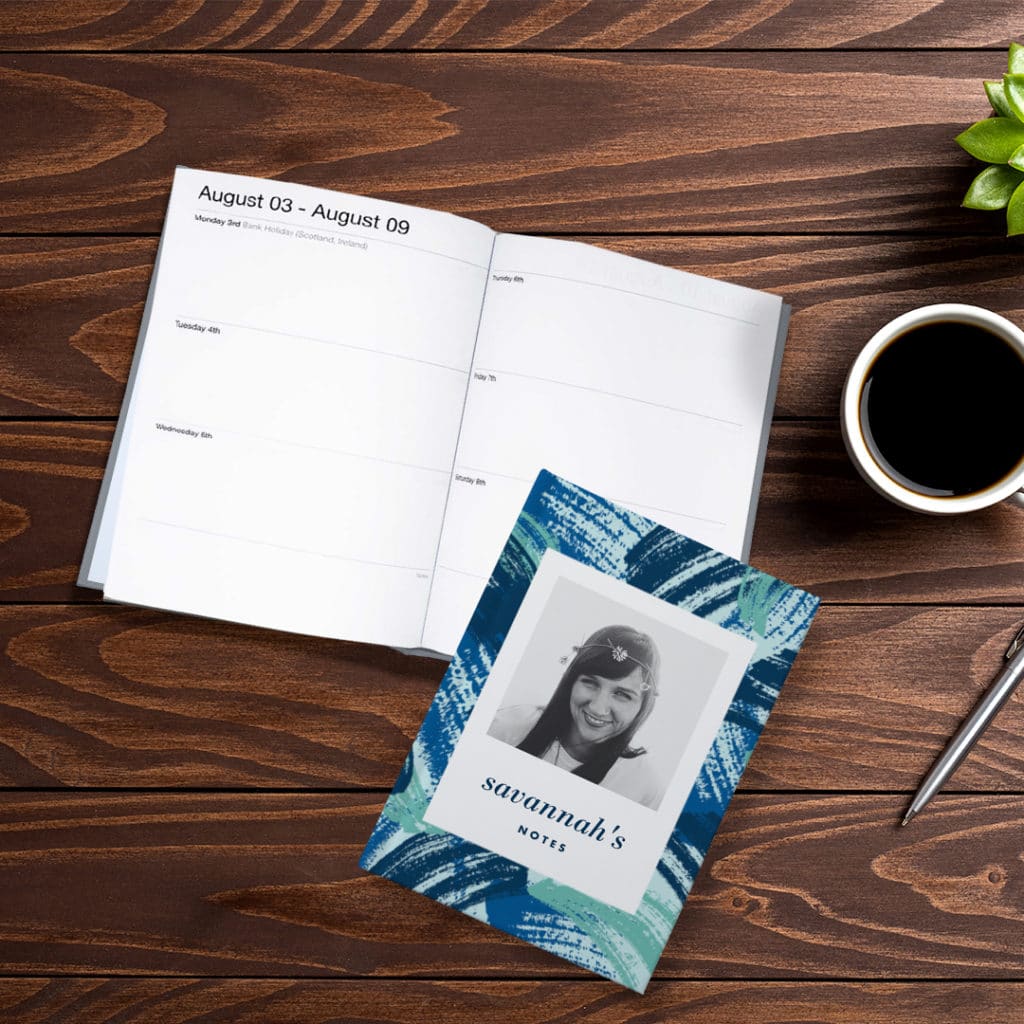 Time To Get Creative
Ready to create your personalised calendar? Let our project builder guide you through the process!
Desktop Instructions:
From the Snapfish home page, select "Calendars". You can browse by size, calendar type, and some of our favourite designs. 
Once you've found a style you like, you can select the starting month (unless choosing diary) and click "Make This Calendar."
Now that you're in the project builder, you can add photos to your Snapfish account. Choose from multiple sources such as your computer, Facebook, Google Photos, Instagram or Flickr account. 
After adding photos, you'll be asked if you'd like the builder to autofill your photos. If you choose autofill, don't worry, you'll be able to swap out photos accordingly.
If you opt for manually adding photos, you can now select which photos you'd like to use in your project. They will appear in the Photo tray in the Builder toolbar.
Depending on your preference, you can view your project by "All Months" or "Full Month". Simply select the tab at the top of the project builder.
Place your pictures by dragging them from the tray to the designated space. 
After your pictures have been added, you can adjust as needed. If you're in "All Months" mode, double-click to edit in "Full Month" mode. Now, use the hand icon to adjust the orientation of the photo or zoom in and out to adjust the crop. 
While in the builder you can also edit the photo's colour, contrast, brightness, or add filters. 
If your calendar has captions or other editable text, you can use the Text tab in the builder toolbar to change font type, size, colour, alignment. You can also add a text area to your calendar if desired.
Looking to personalise a special date with text and photos for creative wall calendars? Click into the month you wish to personalise, and select the "Bottom" tab. From here you can click any date to add a photo and text. You can change the font type, colour, and alignment in the Text tab. Once you're finished, you can click "Save" or "Save + Add More" to personalise additional dates. 
If you want to add embellishments to your wall or desk calendar, click into the month you wish to personalise. You'll need to select the "Top" tab if you're editing creative wall calendars as this is the only section you can add embellishments to. From here you can click on the Embellishments tab in the builder toolbar to browse your options. To add an embellishment, you can double-click or drag + drop. 
You can edit the embellishment if necessary. Editing options include changing stacking order (back or front, for overlapping objects), resizing, rotating, and deleting. To resize, click on the embellishment. A dotted square will highlight, and you can move the corners in and out to adjust size. To rotate, click on the embellishment. The rotational arrow underneath the embellishment will highlight and you can now mouse over and grab the arrow, rotating your embellishment to your desired position.
When you're finished editing your calendar, click "Review & Buy." Then, click "Back to Edit" to make additional changes, or "Add to Cart" to proceed to checkout.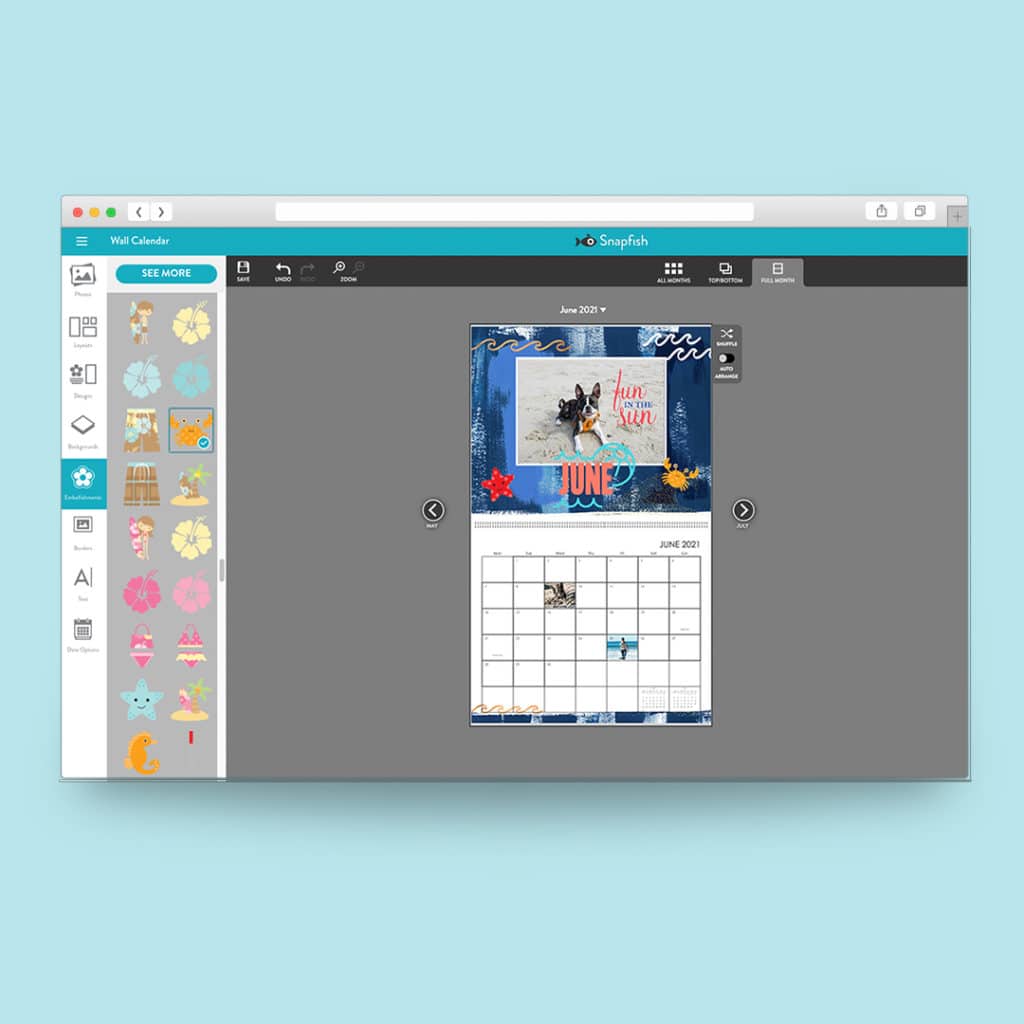 If you need any additional help with the process, check out our handy guide on creating calendars or watch this How To Video.
Feeling inspired to create your own calendar? Please share your creations with us on social media! Just tag us with @snapfishuk on Instagram or Facebook with photos or use the hashtag #snapfishuk. You can also follow us on YouTube, Twitter and Pinterest, too!