Have you ever thought about creating a photo gift to celebrate your baby's first year? Mark your baby's special moments with a range of fun baby embellishments!   
All featured embellishments can be found in the BABY folder. 
 We've chosen some of our  favourite Baby themed embellishments to share with you! Baby embellishments vary from fun phrases, simple silhouettes and bright baby toys, all designed to make your photo gifts extra special! 
To find Baby embellishments, click on embellishments, and then 'Baby'. In the Baby folder there are two different categories; the 'Hello Baby' collection and 'Baby'. We have used a mixture of both categories. 
To help inspire you, here are some of the different ways we would use the Baby embellishments! 
Wood Photo Panel available from £14.99
Photo cushion available from £24.99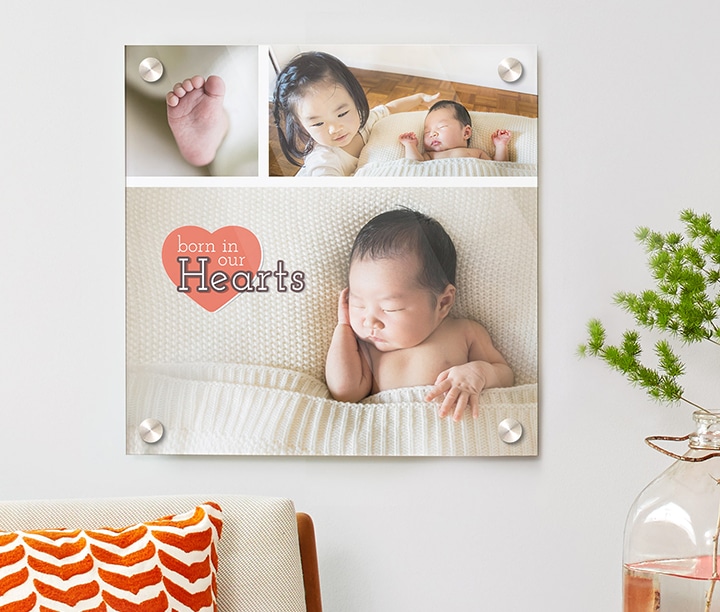 10×10″ Wall-mounted Acrylic Photo Panel available for £39.99
11oz Personalised photo mug available for £7.99
Set of 6 coasters available for £18.99 
Have fun creating your own photo gift, share your ideas to help inspire others! 
What did you create on Snapfish? Share it with us on social media! You can tag us with @snapfishuk in your photos on Instagram or Facebook or use the hashtag #snapfishuk. Don't forget to follow us on YouTube, Twitter and Pinterest, too. We love seeing what you create.