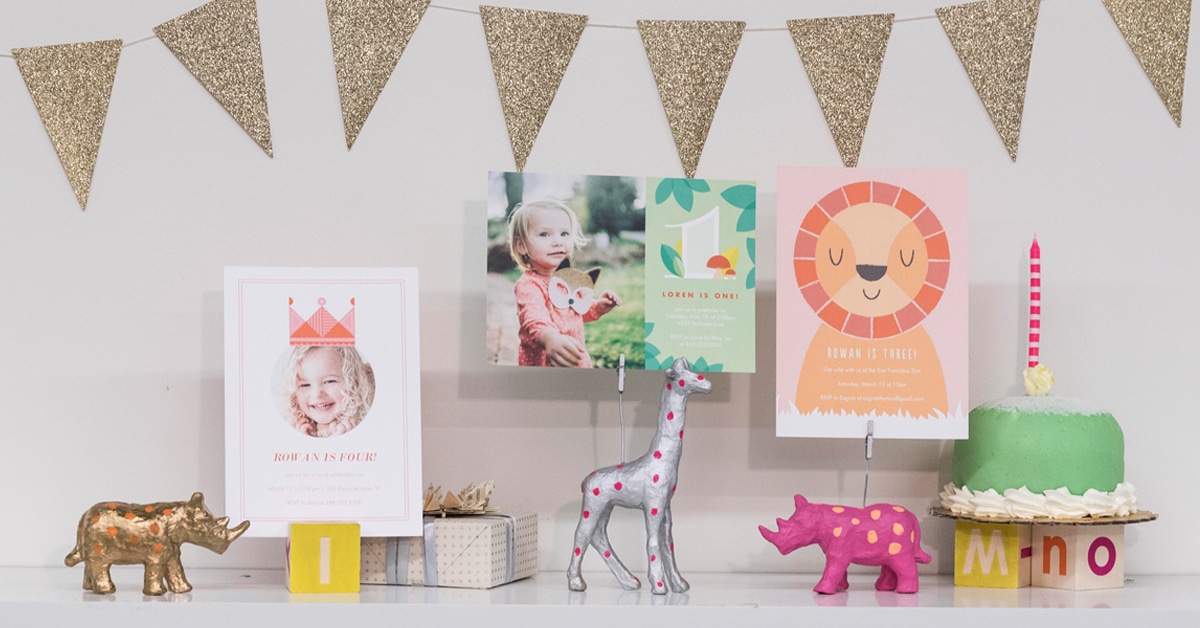 The current state of birthday celebrations may be unique, but that doesn't mean it can't be fun! Quarantine birthday parties, or even socially distant celebrations, can still be meaningful, even if they aren't the birthday parties we're used to.
Are you looking for ways to make your birthday feel special? Or do you want to celebrate someone you love from afar? We've got some amazingly simple ideas on how to make your quarantine birthday celebration an epic one.
Decorate for your virtual party
While we're not able to spend time with our friends and loved ones in person, a birthday celebration is still a great reason to get everyone together virtually! There are a lot of different platforms you can use to host your party, whether it's Skype, Zoom, Houseparty, Google Hangouts, or something else. Choose what works for you and send out a digital invitation to all of your guests.
Next up is decorations! We've got some ideas that are sure to impress. Use your favourite photos of the birthday boy or birthday girl to create canvas prints, photo tile on stand, or tabletop panels. Customise these with some of our silly or stunning embellishments to make them feel even more personalised and special!
Alternatively, you could take advantage of our free monthly prints offer when you download our photo app and create one-of-a-kind photo banners to place behind you when the camera rolls! If you are feeling extra crafty, you could even create a banner using coloured lolly sticks to "frame" your prints!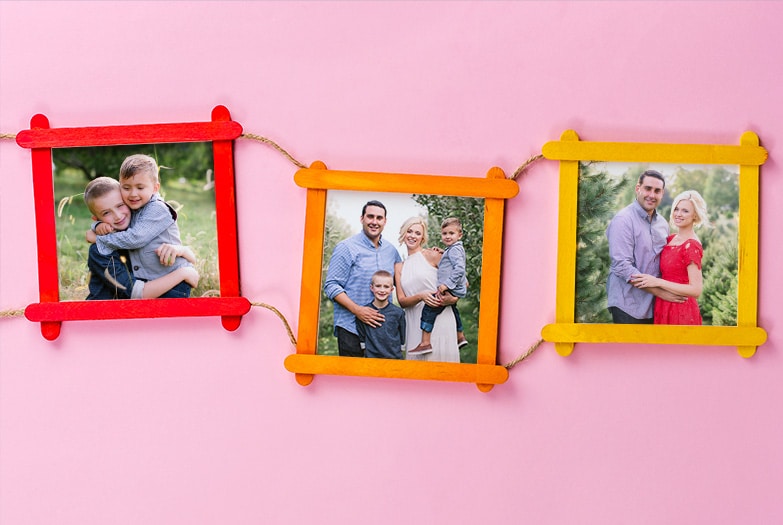 If you are feeling a little more creative, how about making a DIY Photo Letter Name for your zoom-party backdrop? Just stick photos of the birthday-celebrant onto papier-mâché / wooden letters that spell out their name. Your birthday party guests will enjoy looking at these favourite memories — from highlights of the past year to hangouts with friends – plus your Guest of Honour gets to keep them afterwards!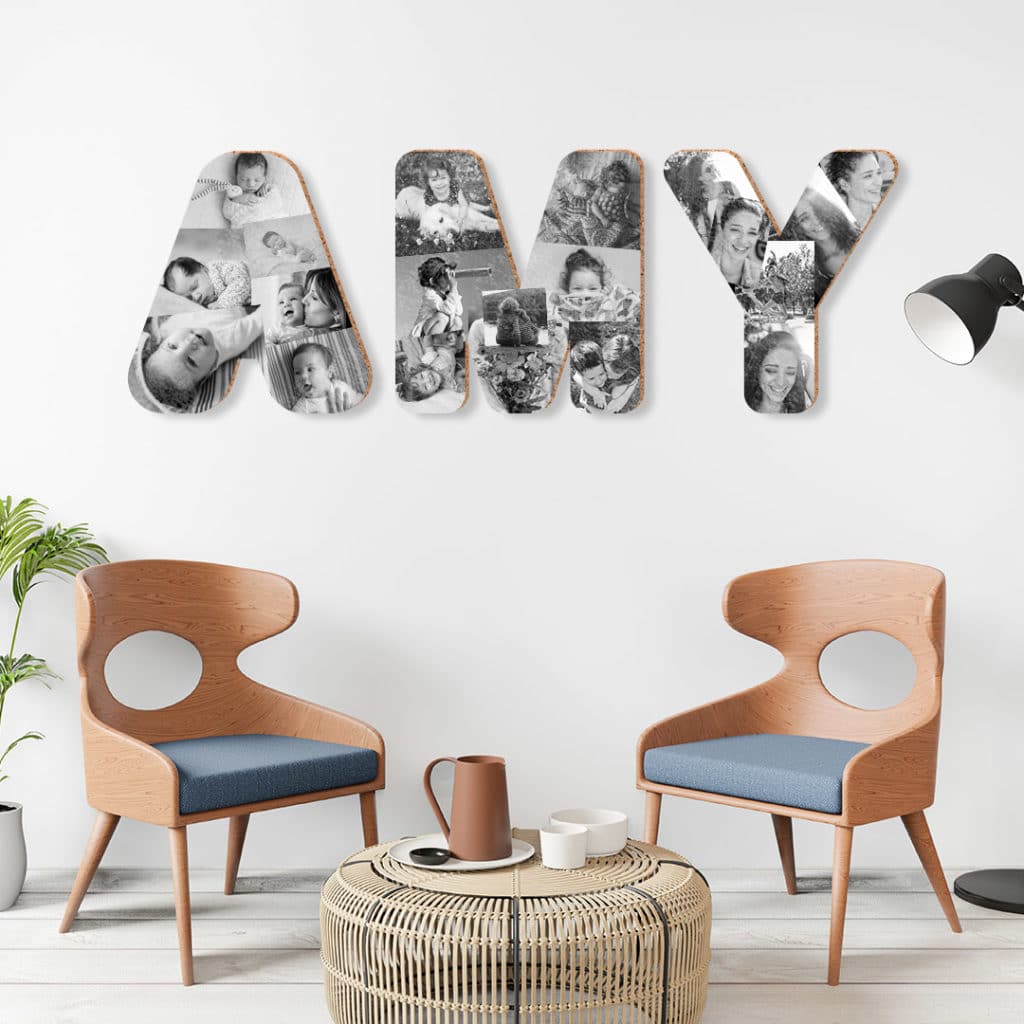 A large personalised poster would make an awesome addition to a birthday parade, too. If your loved one is in driving distance, plan for friends and family members to drive by their house at the same time! Honk, display posters, play some music, and decorate your vehicle to make sure they feel the birthday love.
What about creating a photo banner or photo wreath using 6×4″ prints? You can choose photos of you and the birthday boy or girl, as well as their family, friends, pets, and more. And if it's your birthday, make one for yourself! It's a really fun way to take a walk down memory lane, as well as make some sweet décor for your home.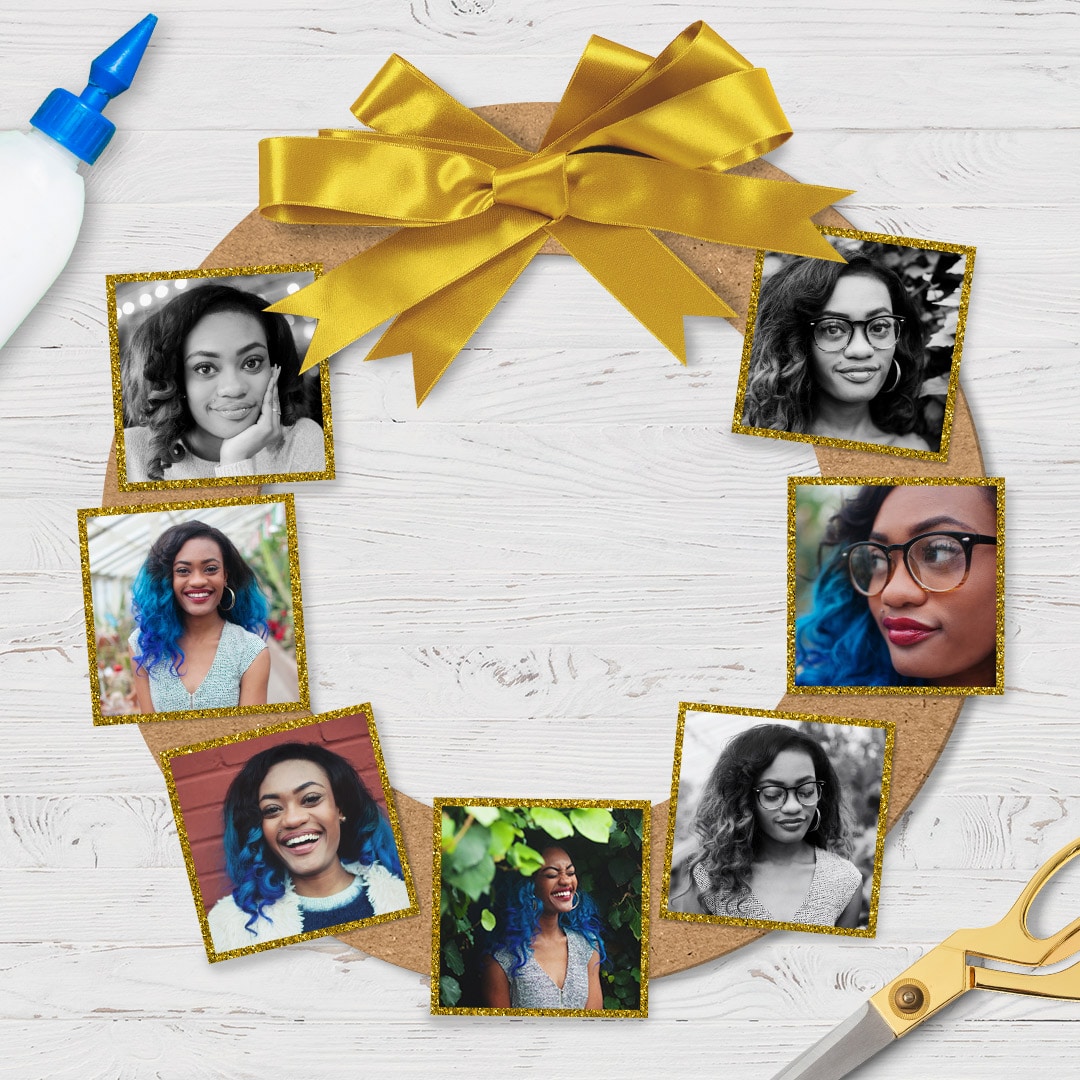 Add some bows and streamers and you've got an spectacular wall display (that doubles as a video call background!), perfect for any birthday party. These are fun and simple ways to make anyone feel, despite the unusual circumstances.
Feeling time poor? Try downloading one of these virtual video call backgrounds to boost the party vibe! You could even pretend you are in that far flung party destination you dreamed of!
Send a sweet card to show you care
If someone you love is celebrating a birthday during quarantine, one easy way to show you care is by sending a custom birthday card. We have lots of options to choose from, including photo and non-photo designs with a wide variety of styles, colours, and expressions.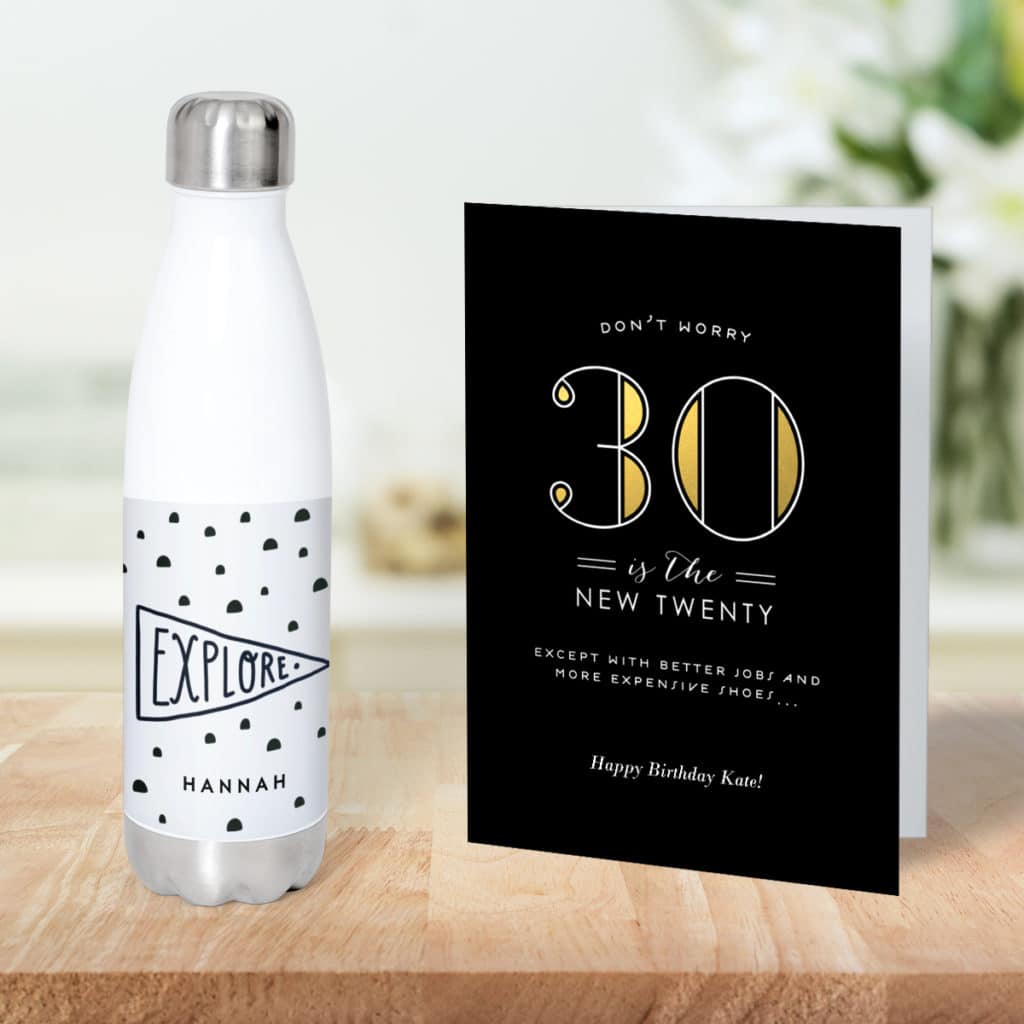 No matter their interests, hobby, or favourite colour, there's a card for them on the Snapfish site. And if you can't find just the right card, it's easy to create your own birthday card with a picture that you love. Nothing more heartfelt than a card + photo all in one, especially with a sweet note from a friend. You can even create birthday cards & party invites on the free Snapfish photo app!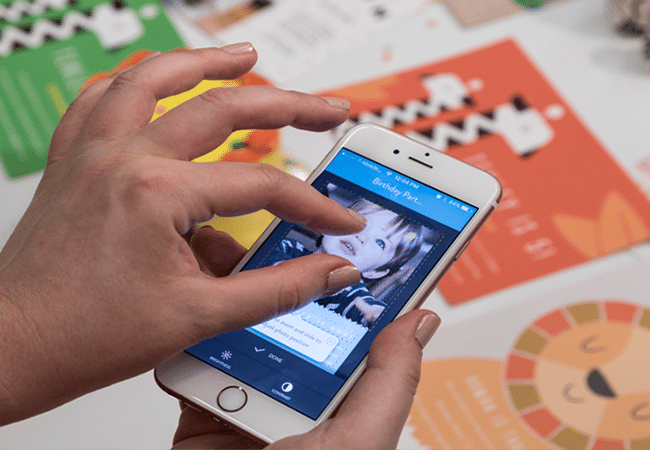 If you're the one celebrating a birthday, now's a great time to snag some birthday thank you cards! Between the gifts, cards, and well wishes you'll receive, sending a thank you card is a simple way to show your appreciation for the socially distant celebrations and will be very much appreciated.
Pick a perfectly personalised birthday present
Here at Snapfish, we believe in the power of a completely custom gift. It's a sure-fire way to make your friends and family feel special and loved. Plus, even though our gifts are one-of-a-kind, they're quick and easy to create.
If your friend is an exercise enthusiast, you can create a custom insulated water bottle to keep their water ice cold. For the film buff, create the cosiest box-set streaming combo with a photo fleece blanket or personalised cushion. There are designs to match any style of décor, or you can create your own with a photo or text.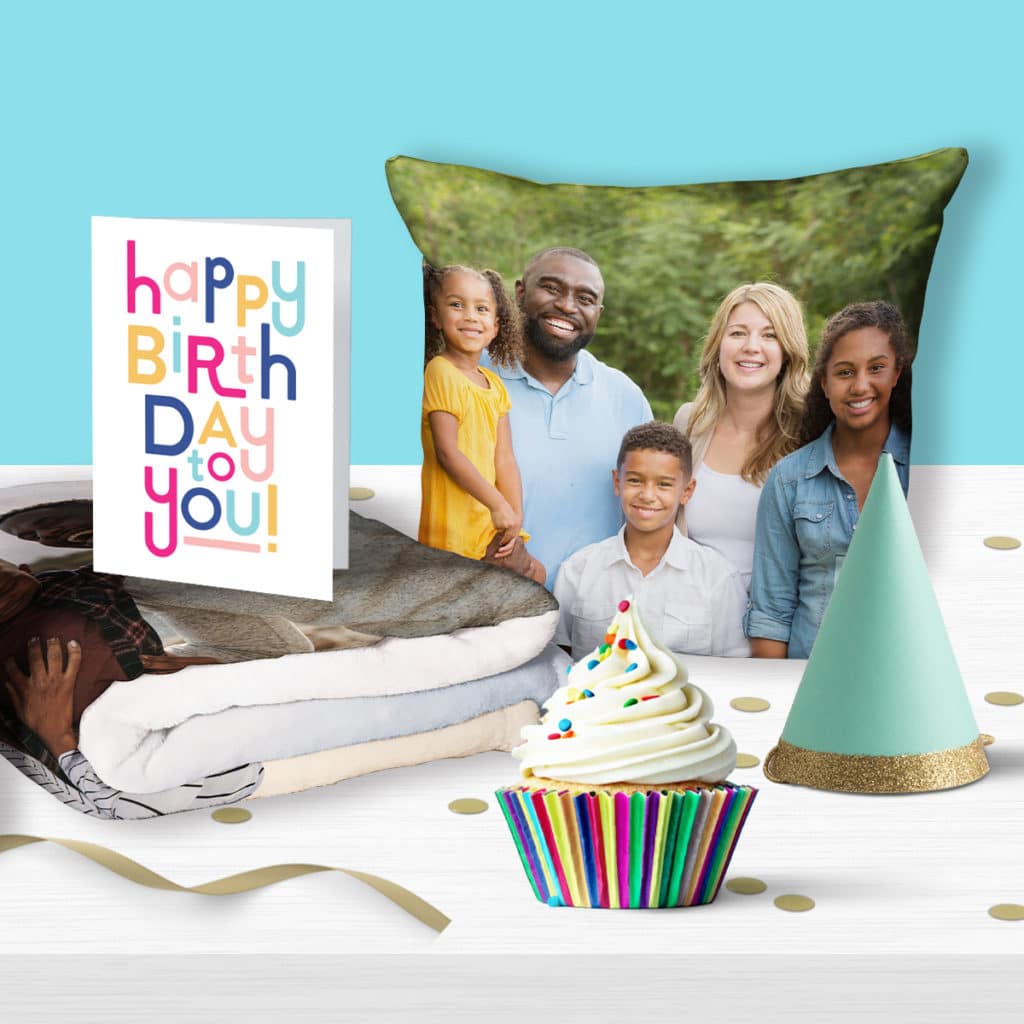 For the master chef, be sure to snag our personalised chopping board! This item is a bestseller and is sure to be a huge hit for the birthday celebrant. If your loved one is a coffee connoisseur, you can't go wrong with a classic photo mug tailored to their interests, showcasing their favourite smiling faces or even featuring their star sign!
Another gift that's always a fan-favourite is a photo book. You could create a "year in the life" book featuring your friend or family member. It's also a great way to show off those favourite family holiday photos in a book for Mum or Dad. It's so easy to make our photo books feel special with gorgeous designs and fun embellishments.
No matter what you choose, you can always send a birthday gift directly to your loved one's doorstep. We have so many photo gifts to choose from, so visit the site soon to find the perfect present.
Enjoy these unique birthday celebrations
Although we can't have face-to-face indoor parties at the moment, tell your birthday boy or girl to save their birthday gifts and cards to open during their virtual party! This is one way to make the party feel really personal and intimate — it's almost like you're all there together. Even if you can't all be in the same room, you can still share the joy and cheer of a birthday celebration virtually.
We can't wait to see all of the creative ways you bring these virtual birthday celebrations to life. Be sure to share your photos with us on social media! You can tag us using @snapfishuk on Instagram or Facebook with photos or use the hashtag #snapfishuk. Don't forget to follow us on YouTube, Twitter and Pinterest, too!