Mother's Day is fast approaching and we're celebrating with a range of gorgeous designs for Mother's Day gifts. The new designs offer bright colours and fun slogans, perfect for any stunning snaps of you and mum.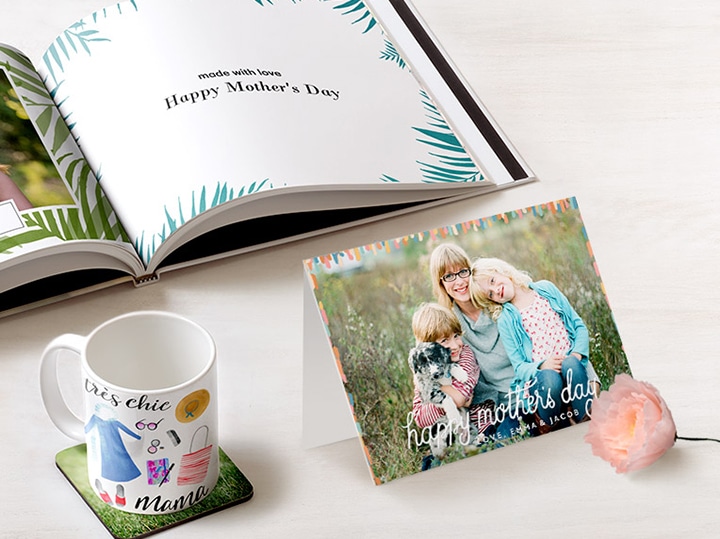 1. Create a Personalised Photo Mug that will take her mornings from manageable to marvellous.

Design (L-R): Mother's Day > Hand Lettered Mum, Mum Magic, Tre Chic Mum
Create your own 11oz Photo Mug >

Go that extra mile for mum and add an inside colour to the mug. Our vibrant colourful mugs will instantly brighten her day. Available in 5 colours: Black, Yellow, Red, Pink and Blue.
2. Make Mum feel special with one-of-a-kind Mother's Day gifts made just for them.
Design: Mother's Day > Mom Magic
Create your own Plush Fleece Photo Blanket >
3. Brighten up her day (and walls) with a Personalised Canvas Print.
Designs (L-R): Mother's Day > Palm, Heart Overlay
Create your own Canvas Prints >
4. This beautiful 'Magic Mum' Photo Book is perfect for celebrating all the magic that Mum brings to your life.
Design: What's Hot > Mum Magic
Create your own Photo Book >
5. Add some style to Mum's (or Nan's) bedside table with a Tabletop Wooden Panel. They'll love seeing your sweet smile every morning.
Design (L-R): Mother's Day > Oh Ma Ma, Oh Na Na
Create your own Tabletop Wooden Panel  >
6. Mother's Day cards – the perfect way to tell Mum how much you love her.
Designs (L-R): For Grandma, Loop-De-Loop, Speckled Paints, Painted Bouquet, Pastel Roses
Create your own Mother's Day Card >
Our tip picks for Personalised Mother's Day Cards >
We have even created a new range of embellishments dedicated to mum.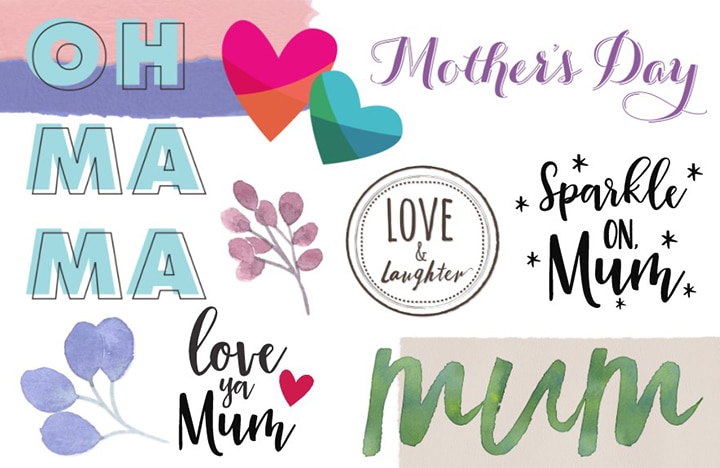 Mother's Day embellishments can be found in Embellishments > Special Occasions > Mother's Day
Shop our Mother's Day collection for the perfect Mother's Day gifts.