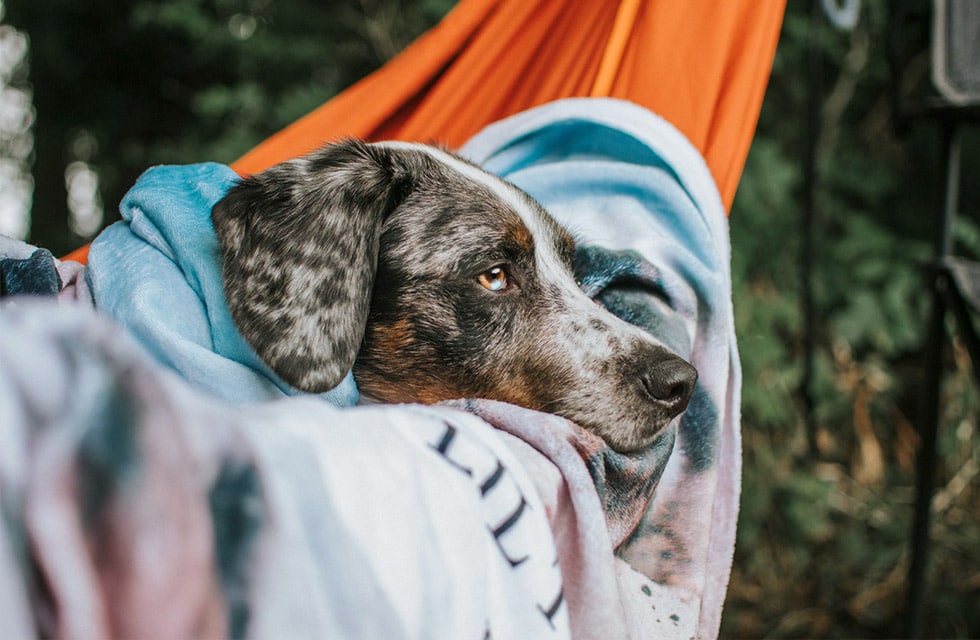 Our pets are part of the family, and we want to celebrate their lives in our house with stunning home décor and pet photo books that commemorate their importance to us.  Why not take a little time today and make something special for both of you?
We've a range of product ideas to tempt you, plus embellishment and quote ideas to make your creations really pop!
We hope we'll get you inspired with these fun and easy-to-make pet products for you and your four-legged. Or you could borrow a photo from a friend and make them a memorable personalised gift featuring the happy little furry face of their pets! Perfect for Christmas, Birthdays, or just because!
We've made it easy for you to make these products on your PC or the app, and in many cases you can start the project on one device and finish on the other! Plus when you download the free Snapfish photo print app, you get 50 free 6×4" prints a month for a year!
Pet photo books to picture your pets in print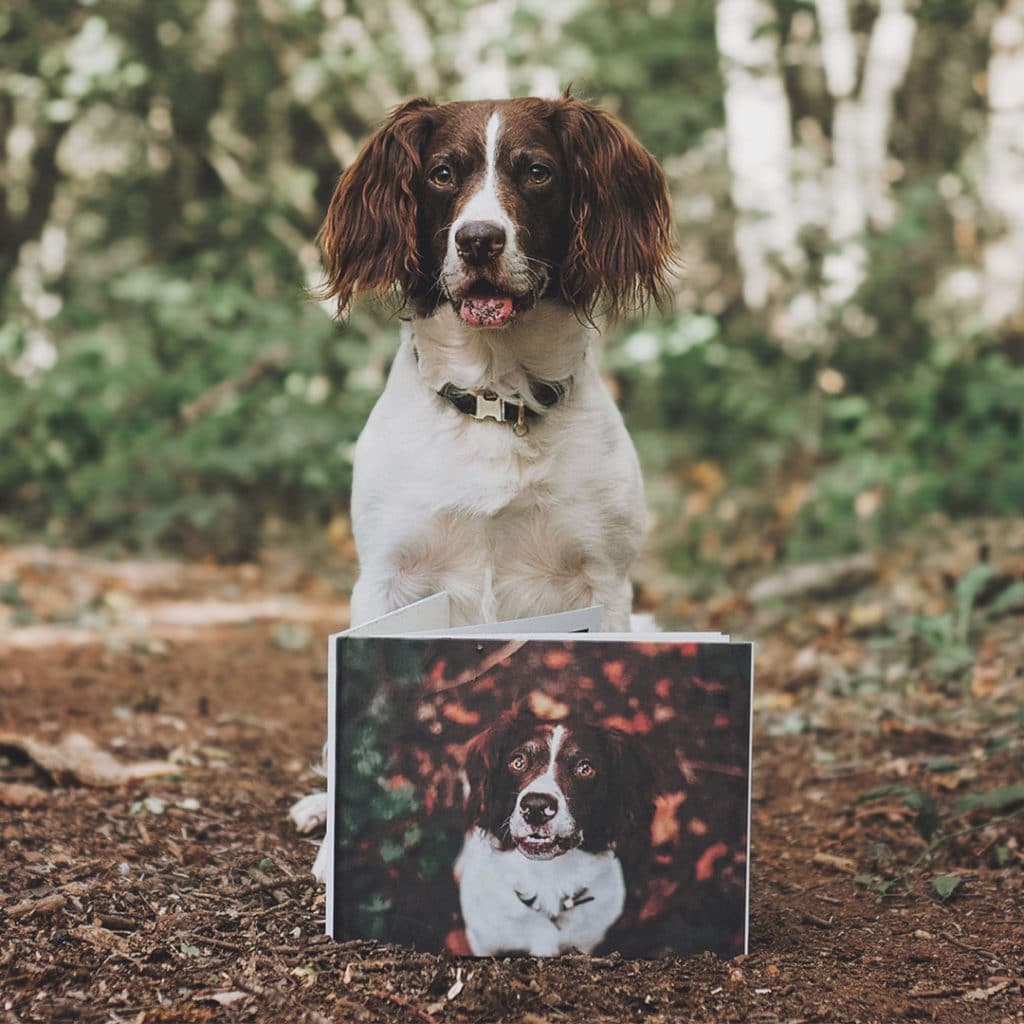 Have you considered creating a book about your pet's life with you?
There are so many fun ways you can catalogue your pets life with you in a photo book, we have dedicated an entire blog post to it.
Pet blankets & cushions to pamper you and your pets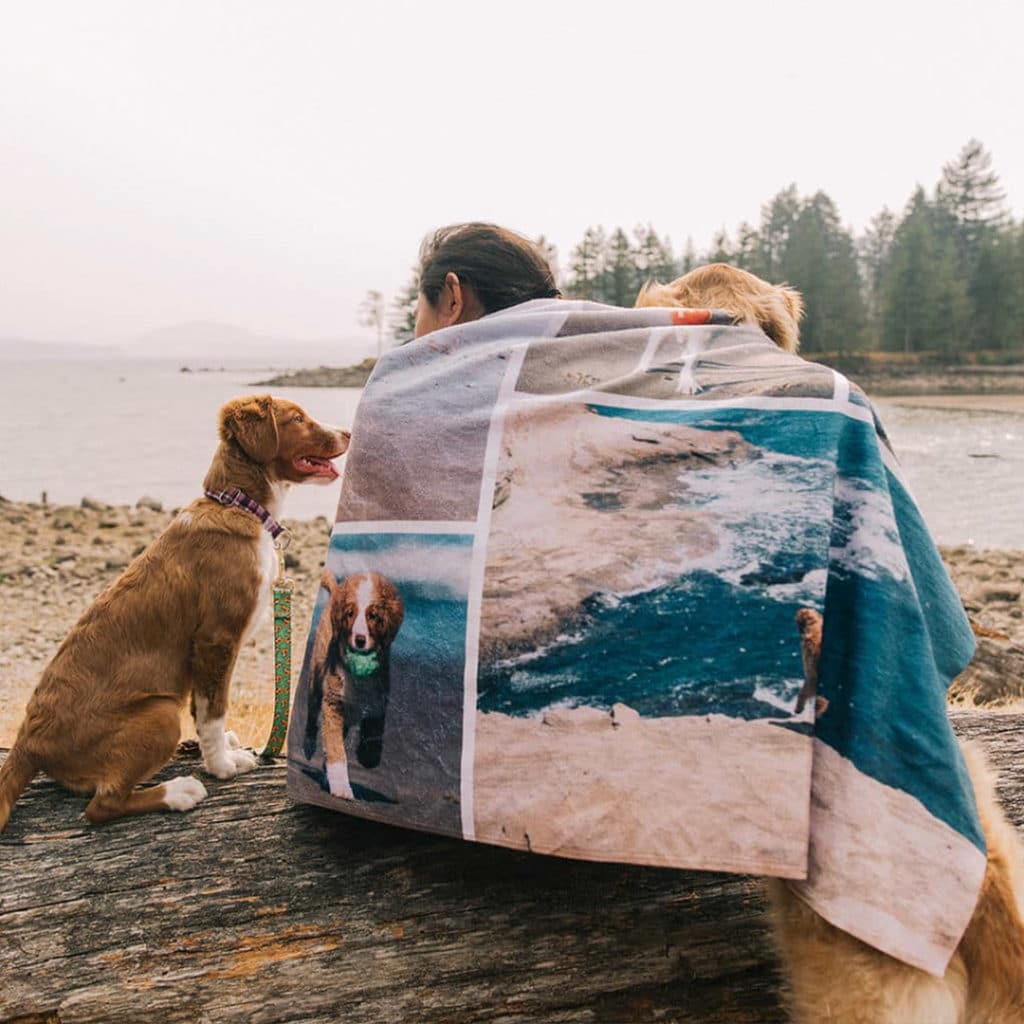 Personalised fleece blankets and photo cushions can add the paw-factor to any décor and are also perfect for picnics on the beach, keeping you warm on evenings outdoors, or just to make your pet's bed (or your chair) more comfortable.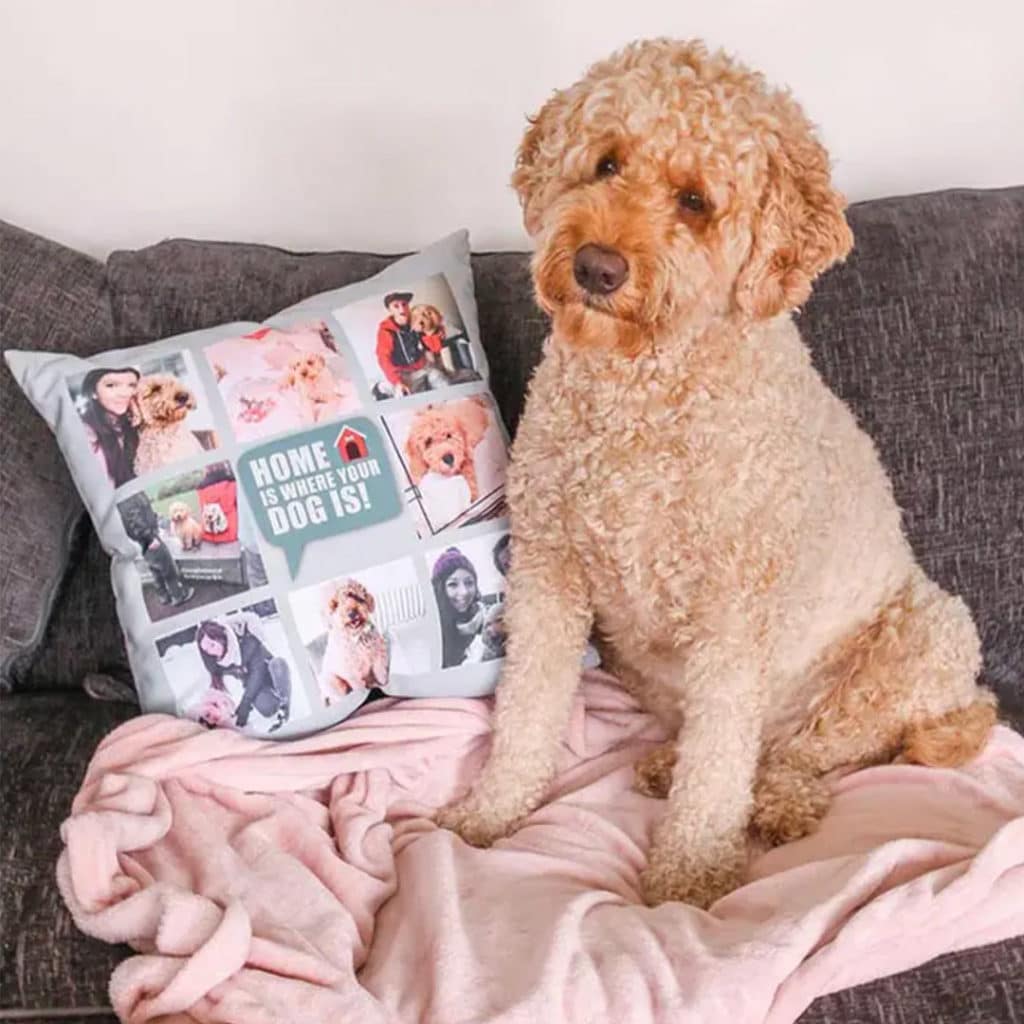 Pet themed drinkware makes you smile with every sip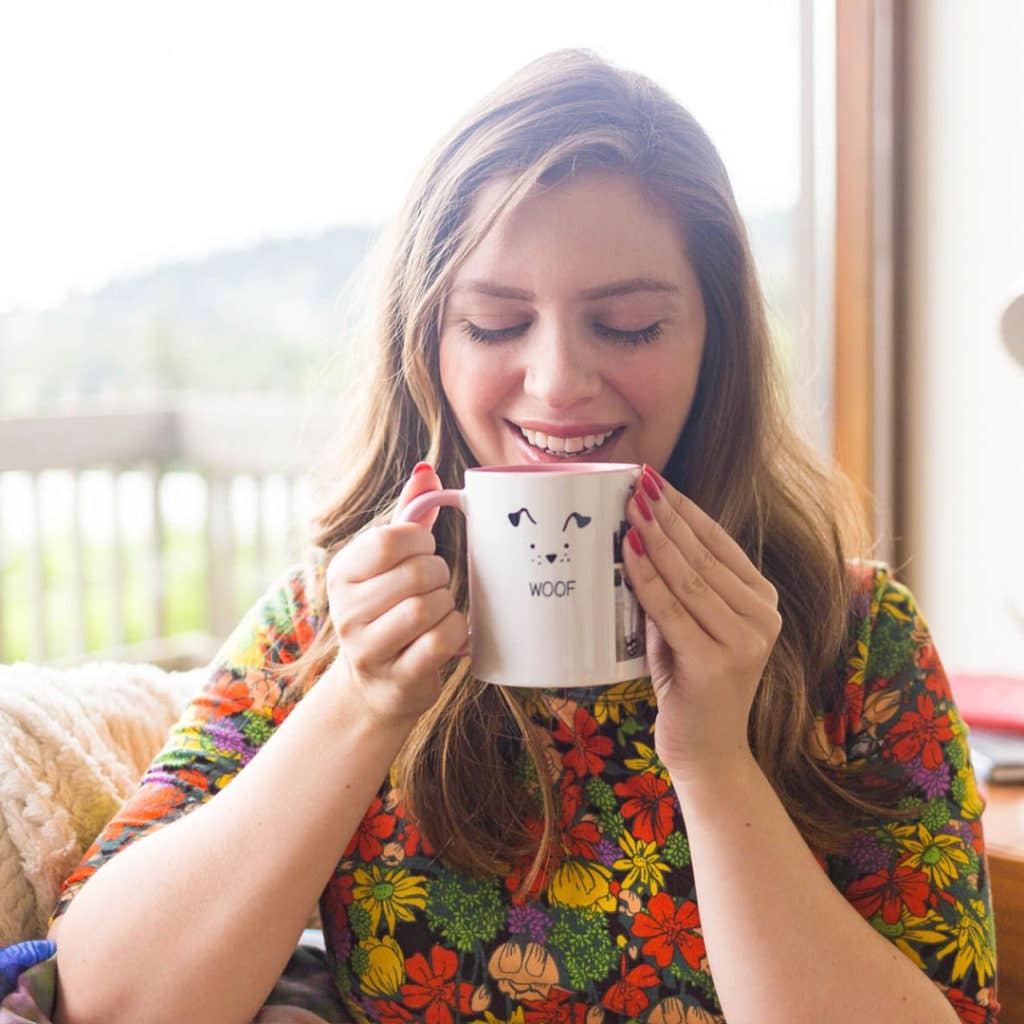 Who doesn't enjoy waking up to a picture of their pet adorning their morning coffee? Snapfish has a range of drinkware from ceramic photo mugs, to insulated travel mugs & tumblers, magic mugs and even insulated water bottles. All can be fully customised with photos, text and embellishment stickers to feature your pets.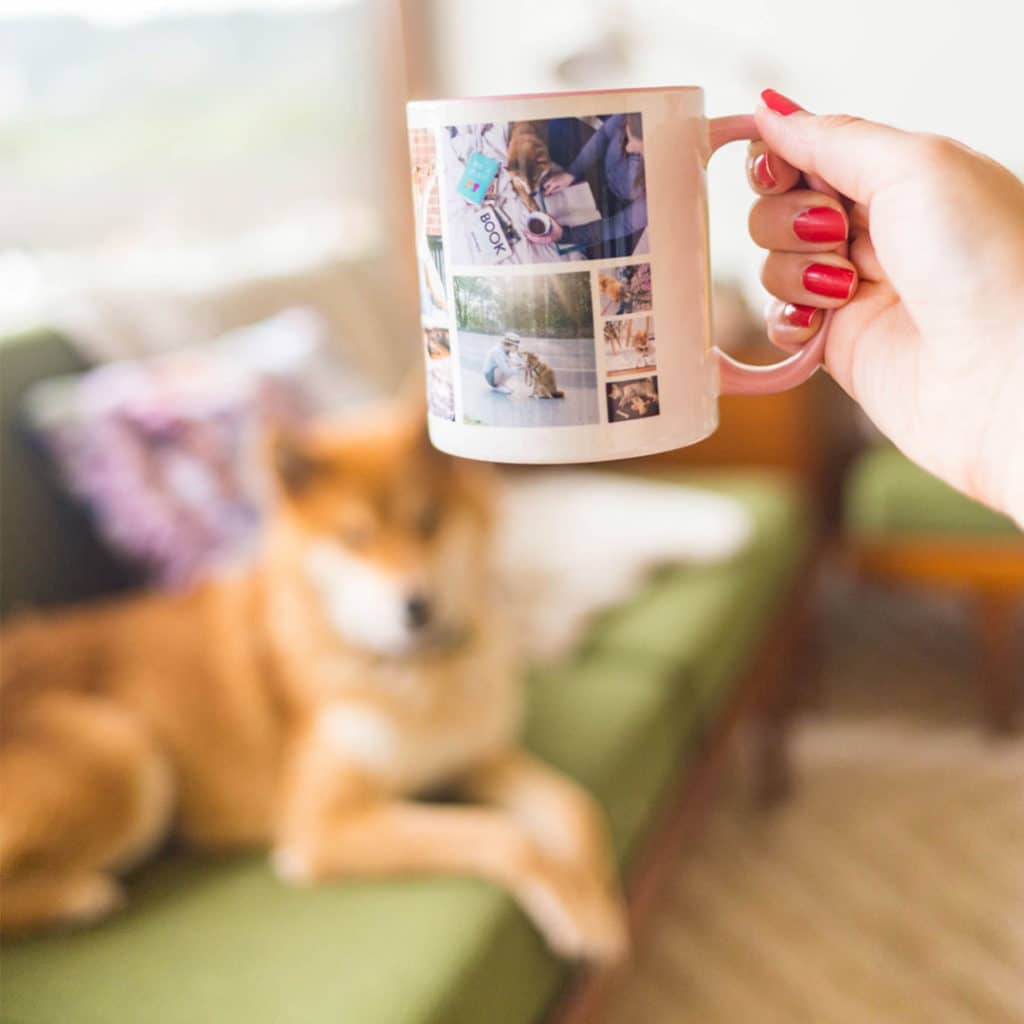 Pet photo gifts make perfect gifts
Brighten up their home with a range of pet-themed photo gifts. From chopping boards, to phone cases, keyrings to coasters, there are many ways to showcase your pet-love.
Doggone cute calendars & diaries for red letter days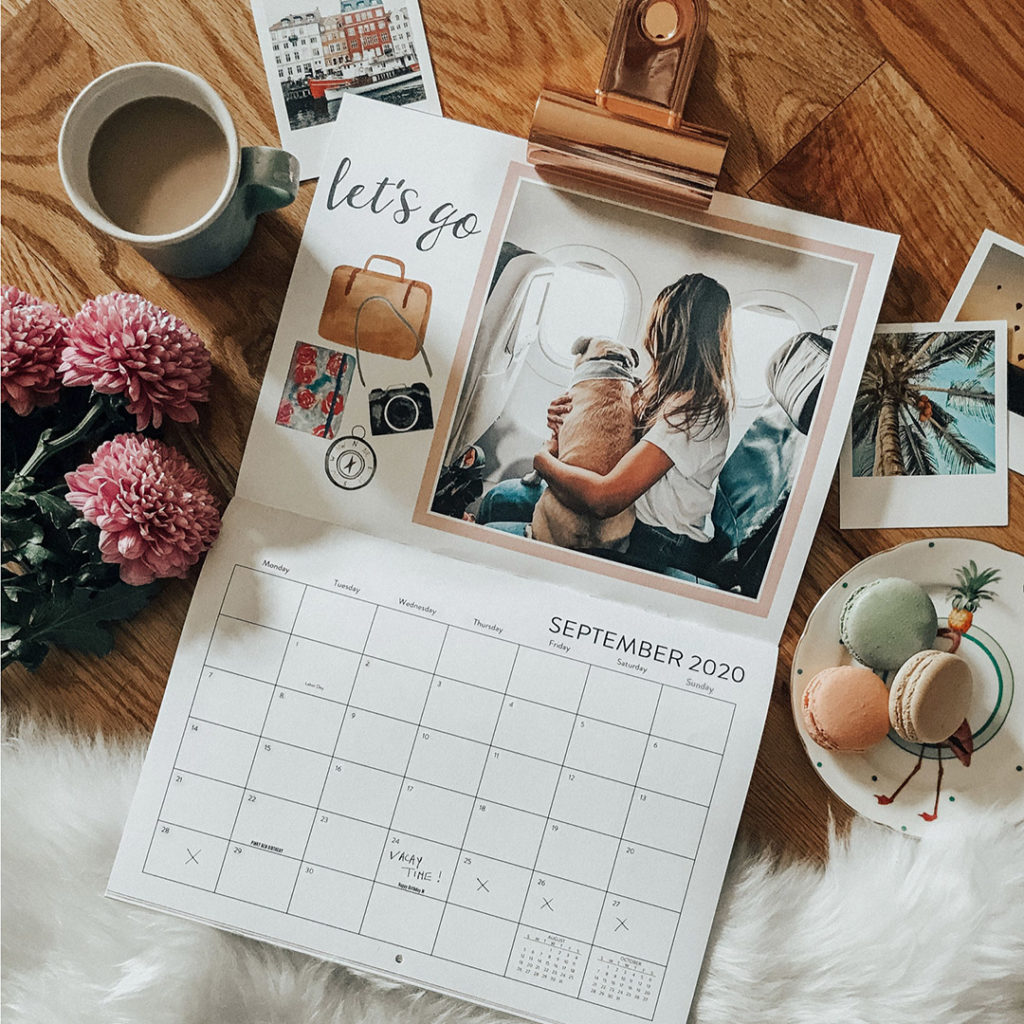 Make every day a red letter day for your pet with our photo calendars and diaries. Our personalised notebooks are perfect your carrying your pets around with you and help you focus more during meetings.
We offer two paw-some calendar designs specifically for cat and dog lovers, "Total Purrfection" and "A Dog's Life," found in the Family & Friends design section, but any of our designs can be used to create a year of wonderful pet memories. If your brood include more animals, like fish, birds, guinea pigs, hamsters, or turtles, choose a simple design like our best-selling "Studio View," "Simple Black and White," or "My Instagrams" and let your photos do the talking.
Love chocolate? Check out our customised photo advent calendars!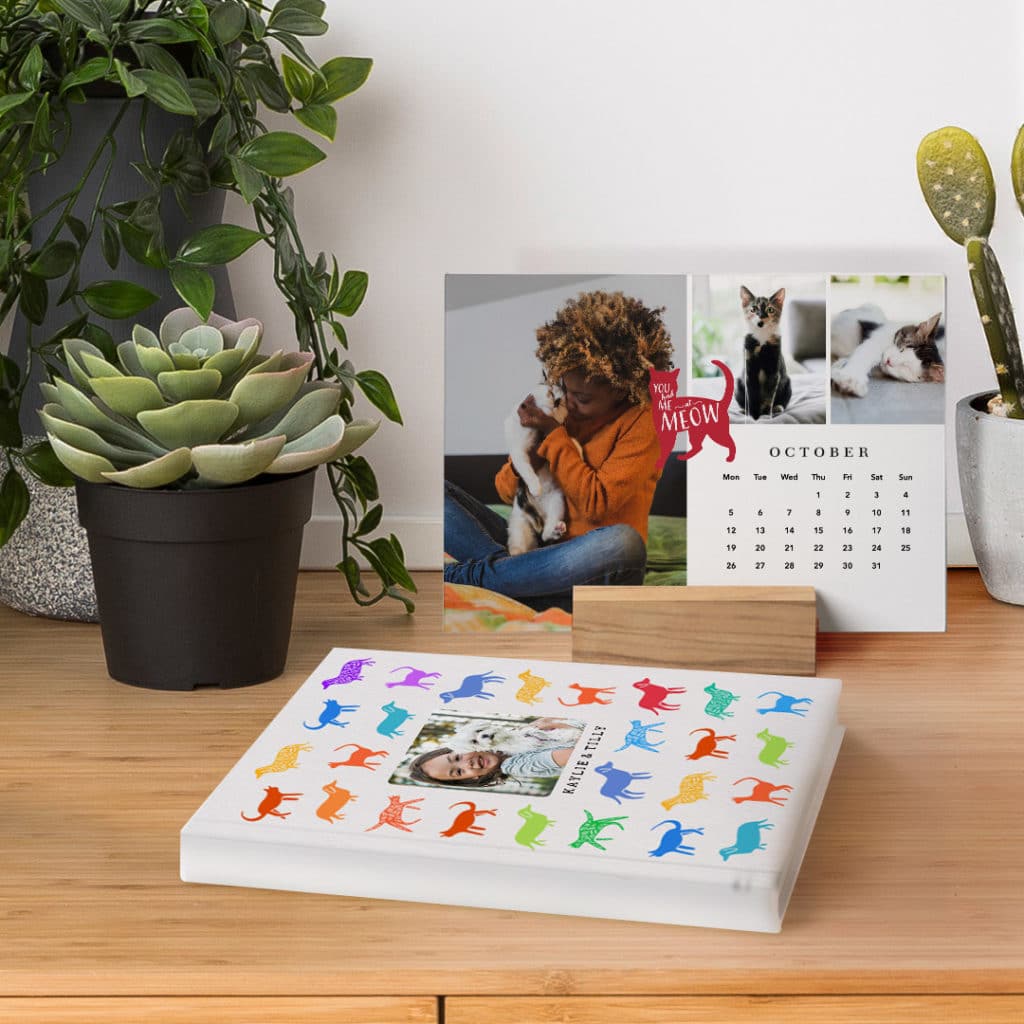 Create pet portraits to display their cuteness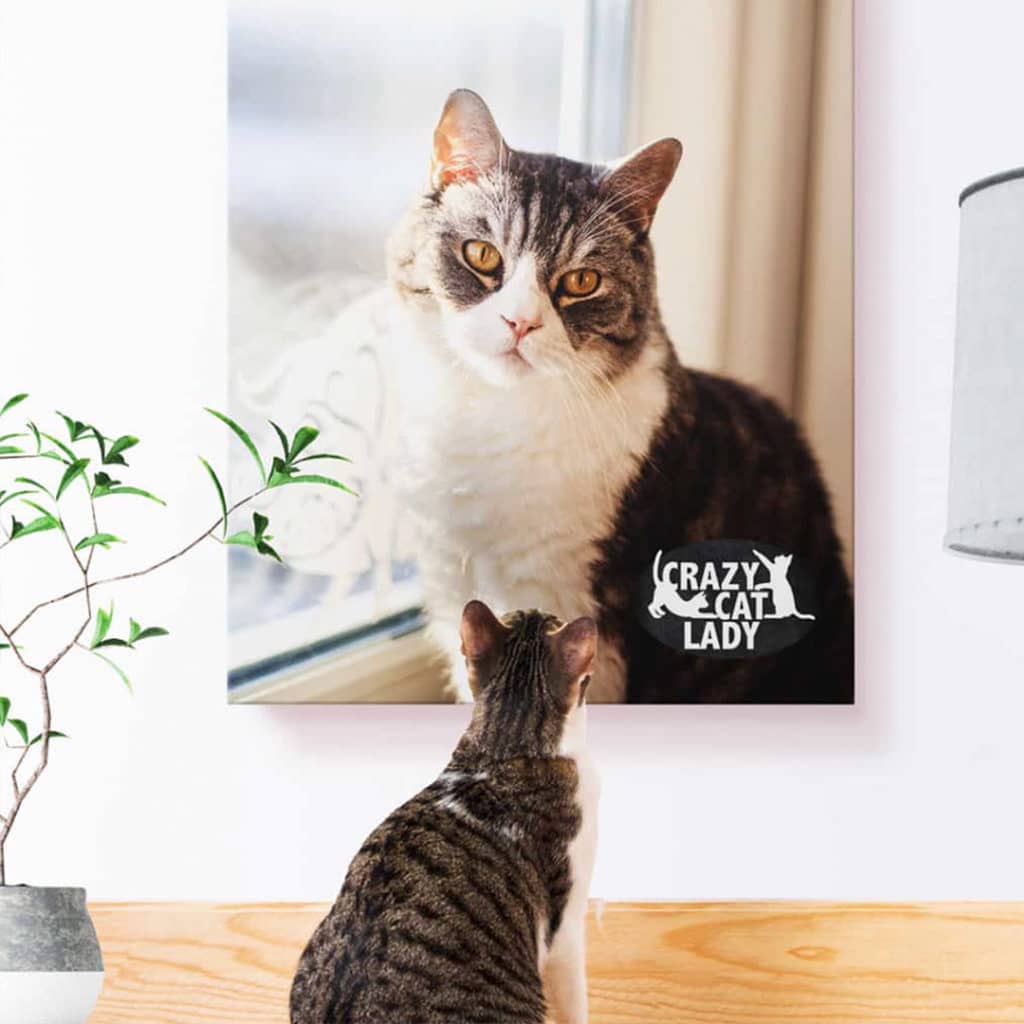 Pet portraits look stunning on their own as photo canvas prints, modern acrylic wall panels and even glossy metal photo prints, but have you thought about combining the photos with cute pet embellishments and quotes for added impact?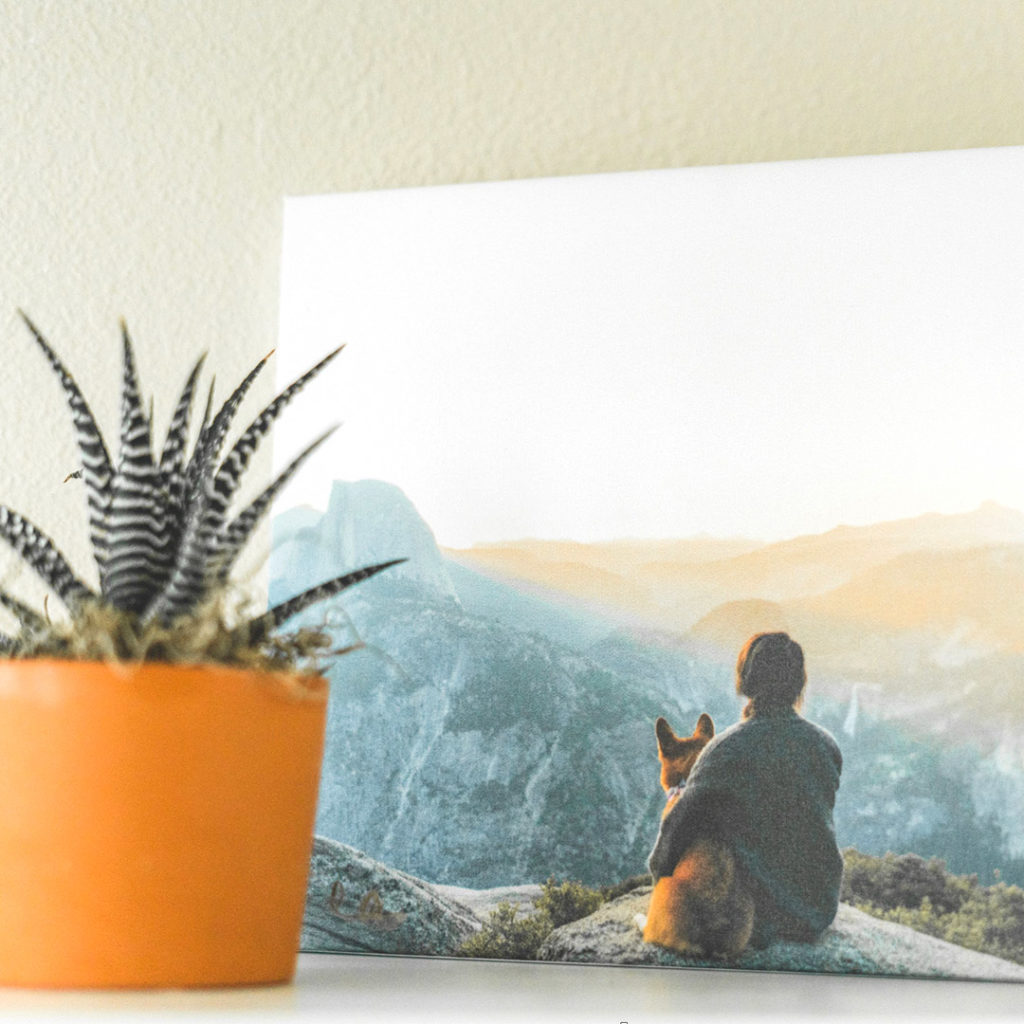 Embellish favourite pet photos with digital pet stickers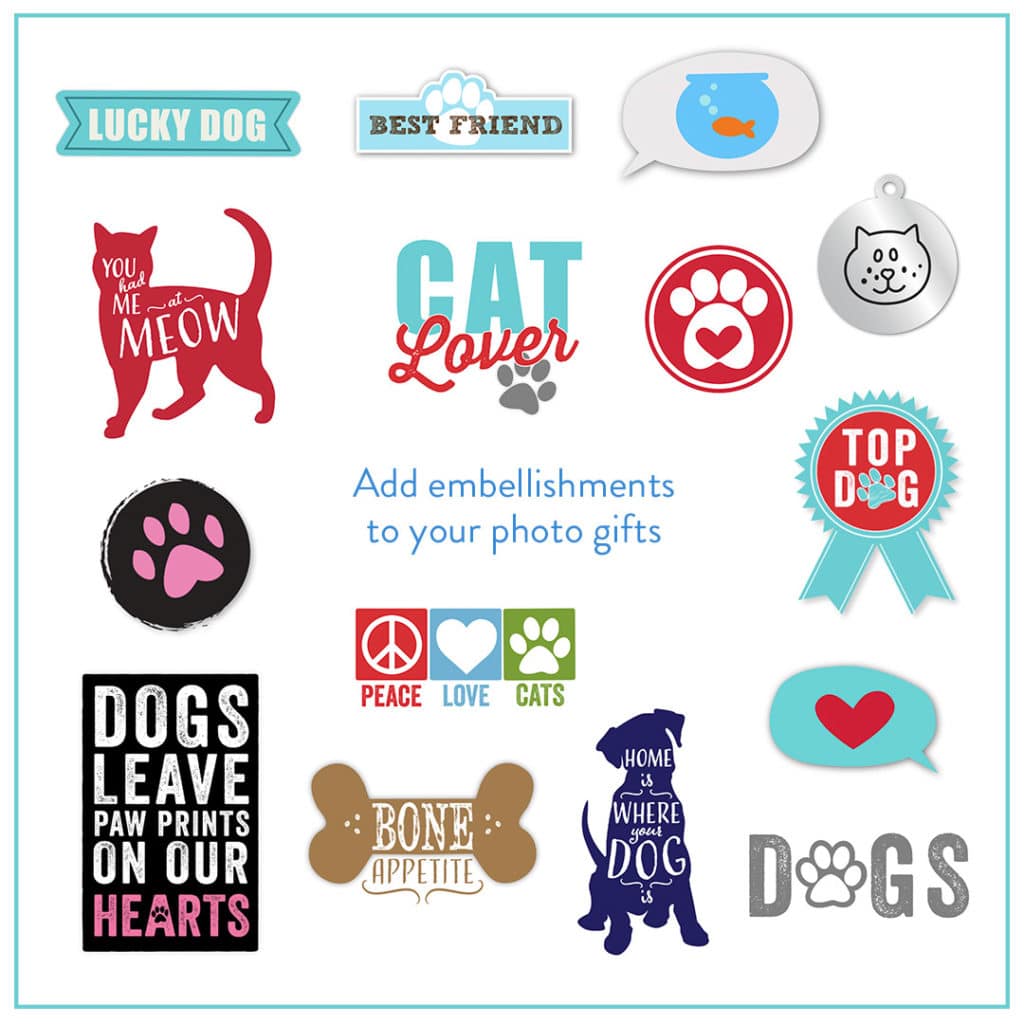 It's really easy to add pet-themed embellishments to almost any personalised product at Snapfish: photo books, canvas prints, tabletop panels, mugs, calendars, large prints, and more. It's a great way to make the perfect photo really stand out. We offer a wide range of illustrations and sentiments for cats, dogs, birds, and fish.
You can view the entire range of pet embellishments in Embellishments > Pets when you start your project.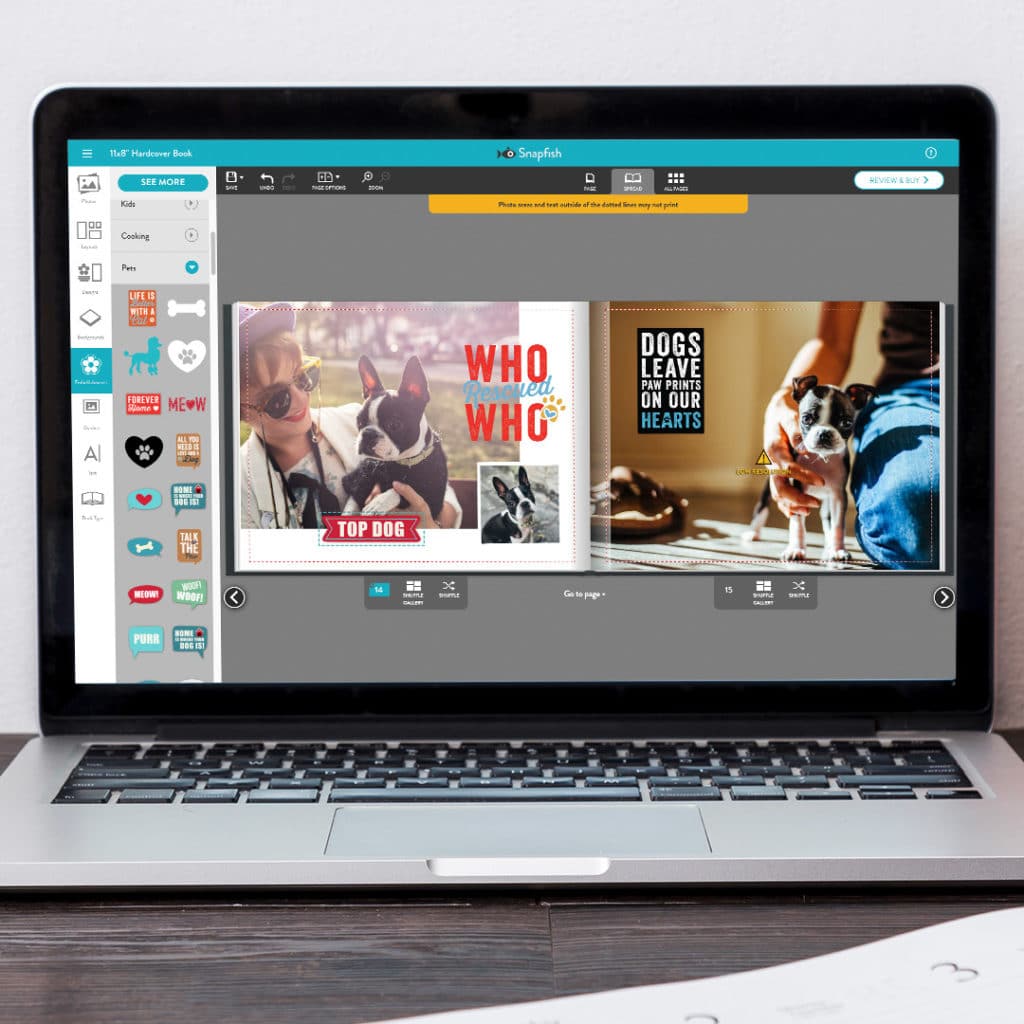 Adding cat & dog quotes make your gift more special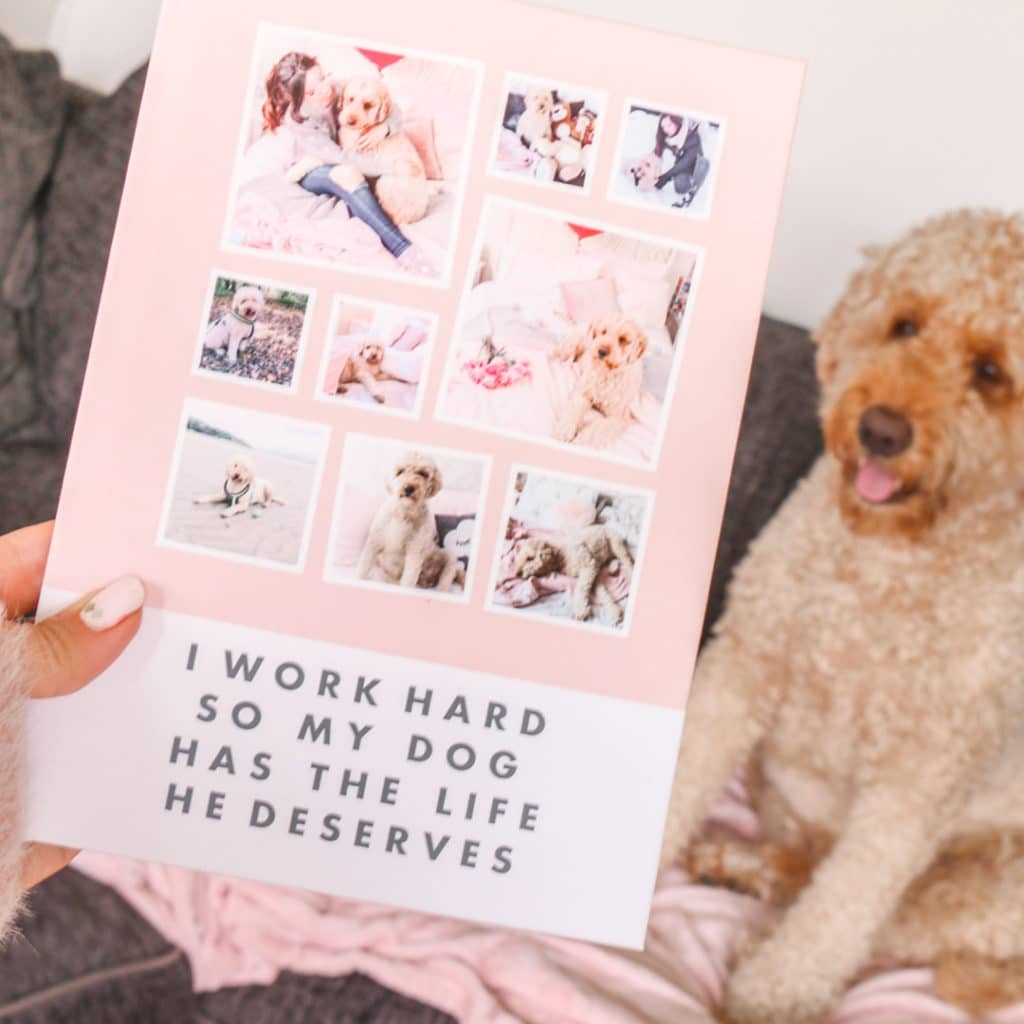 "In ancient times cats were worshipped as gods; they have not forgotten this." – Terry Pratchett
"I work hard so my dog has the life he deserves" – Unknown
"Owners of dogs will have noticed that, if you provide them with food and water and shelter and affection, they will think you are God. Whereas owners of cats are compelled to realise that, if you provide them with food and water and affection, they draw the conclusion that they are God." – Christopher Hitchens
"A happy arrangement: many people prefer cats to other people, and many cats prefer people to other cats." – Mason Cooley
"I used to love dogs until I discovered cats." – Nafisa Joseph
"Live. Laugh. Bark." – Unknown
"Keep calm and pet a dog." – Unknown
"My dog thinks I'm a catch." – Unknown
Cute cat & dog quotes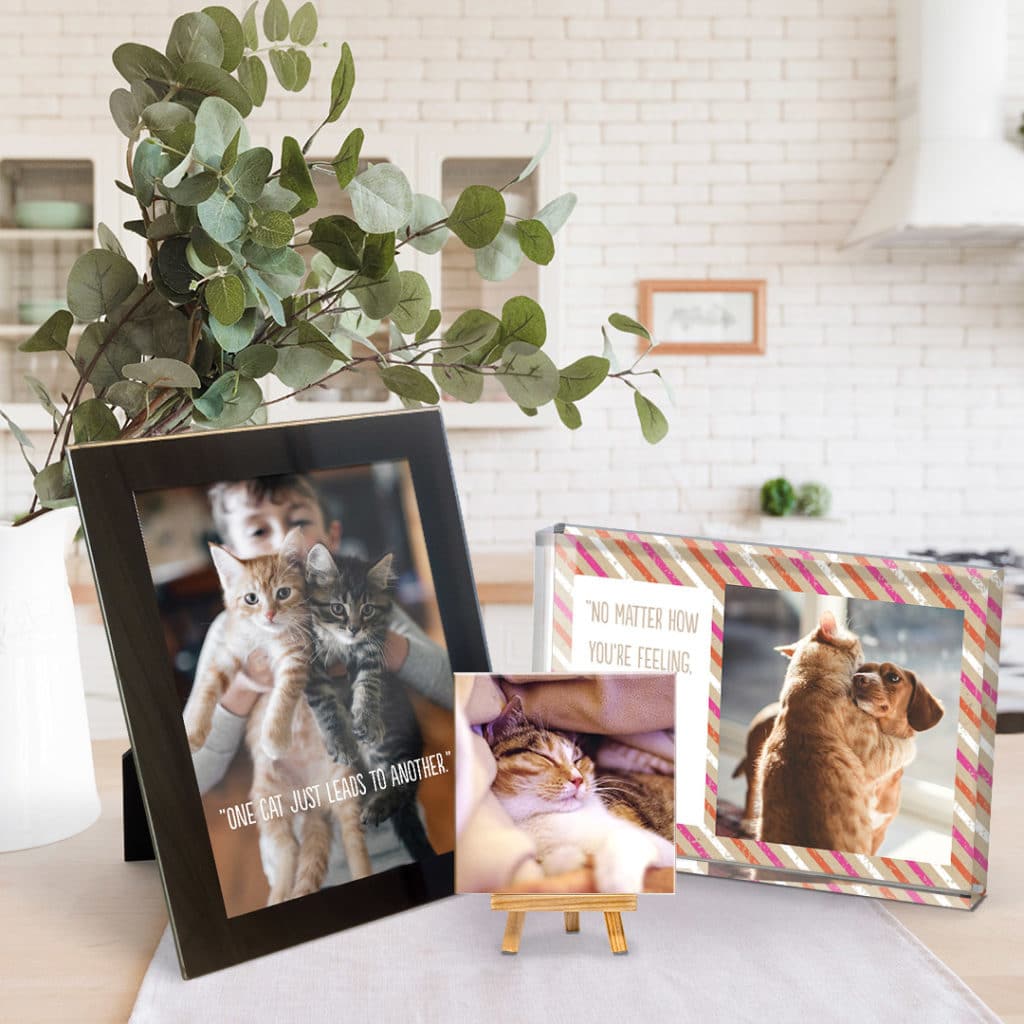 "Cats are connoisseurs of comfort." – James Herriot
"One cat just leads to another." – Ernest Hemingway
"No matter how you're feeling, a little dog gonna love you." – Waka Flocka Flame
"There's a saying. If you want someone to love you forever, buy a dog, feed it and keep it around." – Dick Dale
Kitten & puppy dog quotes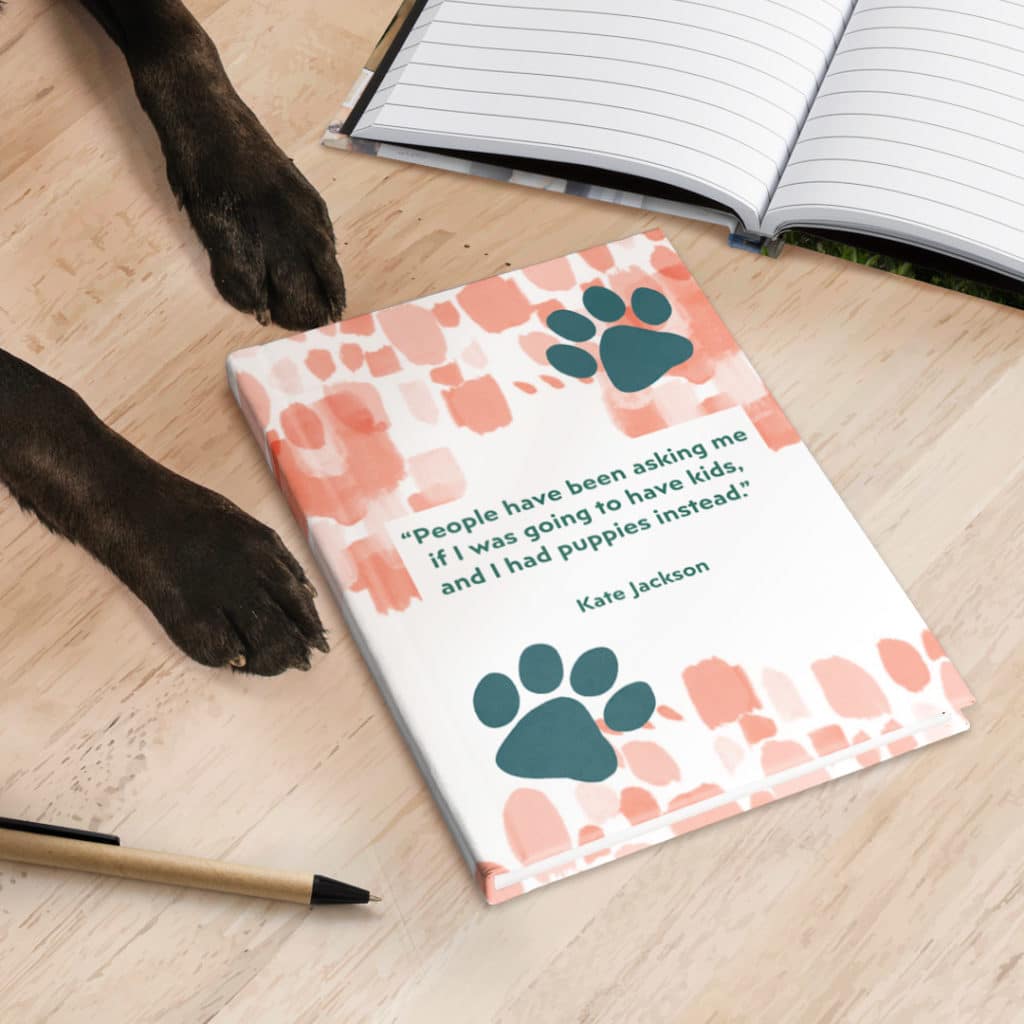 "Kittens are angels with whiskers." – Alexis Flora Hope
"A kitten is in the animal world what a rosebud is in the garden." – Robert Southey
"A dog may be man's best friend, but a child's best friend is a puppy." – Unknown
The best way to get a puppy is to beg for a baby brother– and they'll settle for a puppy every time." – Winston Pendleton
"People have been asking me if I was going to have kids, and I had puppies instead." – Kate Jackson
Inspirational cat & dog quotes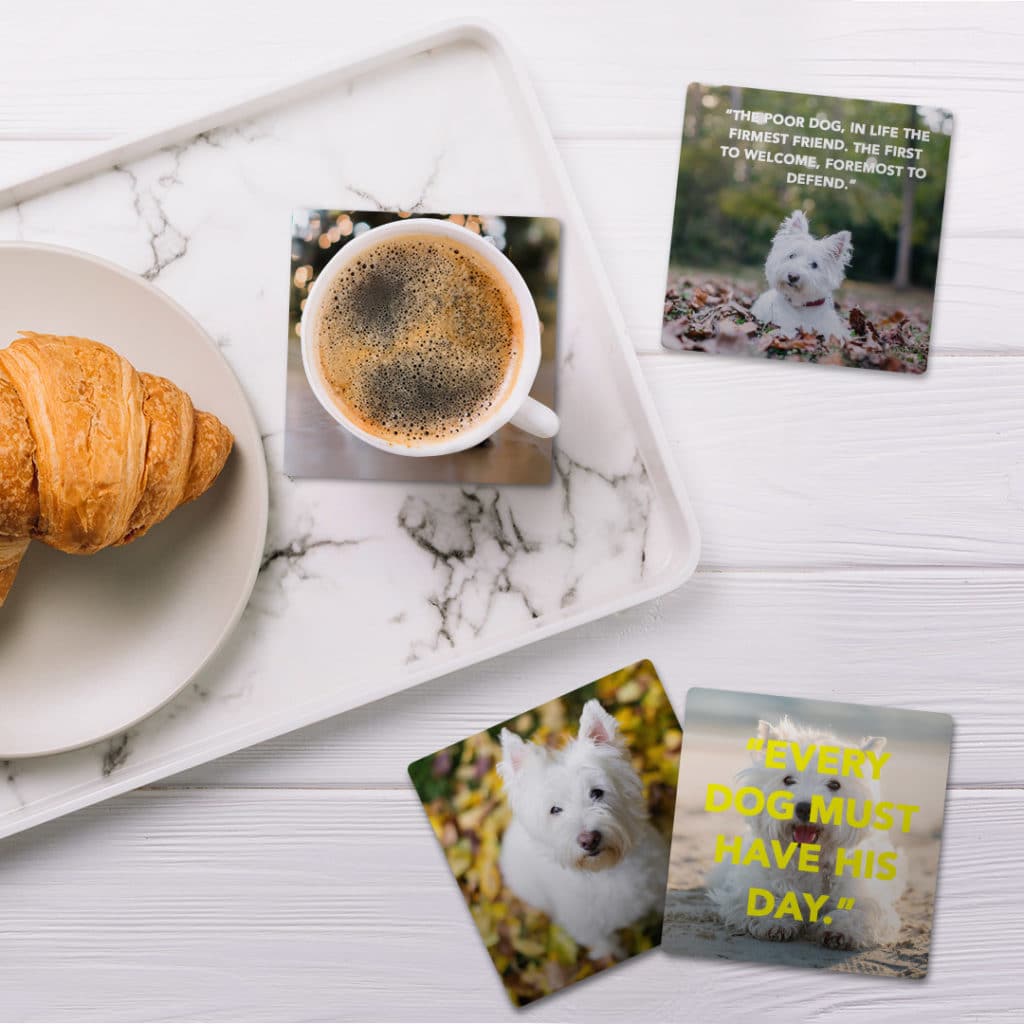 "If you pick up a starving dog and make him prosperous he will not bite you. This is the principal difference between a dog and man." – Mark Twain
"Every dog must have his day." – Jonathan Swift
"The poor dog, in life the firmest friend. The first to welcome, foremost to defend." – Lord Byron
"I love cats because I enjoy my home; and little by little, they become its visible soul." – Jean Cocteau
"All you need is love and a cat." – Unknown
"You cannot look at a sleeping cat and feel tense." – Jane Pauley
Pets are a special part of your family and your Christmas cards should reflect that. These pet Christmas card ideas and tips will not only help you make your Christmas card unique but also make it a lot easier to achieve the Christmas photos you envisioned. Once you've got the perfect shot, send out your perfect Christmas card to show off your furry friend for all to see. 
Feeling inspired to create your own pet gifts? Whatever you create for the pet or pet-lover in your life, don't forget to top it all off with a unique pet-themed card, personalised by you

Snapfish + Macmillan are working in partnership to raise vital funds. For every greeting card or flat card set sold, Macmillan receive up to 15p.
Remember to visit our blog for more pet gift ideas and inspiration and then please share your custom pet gift ideas with us. We love seeing what you create. Remember to tag us with @snapfishUK or #snapfishUK when you share on Facebook, Instagram, YouTube, Twitter and Pinterest.