Welcome to our party suite in the app! We've got birthday invites, greeting cards, thank you cards—everything you need for one super smashing birthday bash. Today we'll take you through the easy process of creating personalised invitations in the app in 5 simple steps. Don't have the app yet? Download for iOS or Android to get started.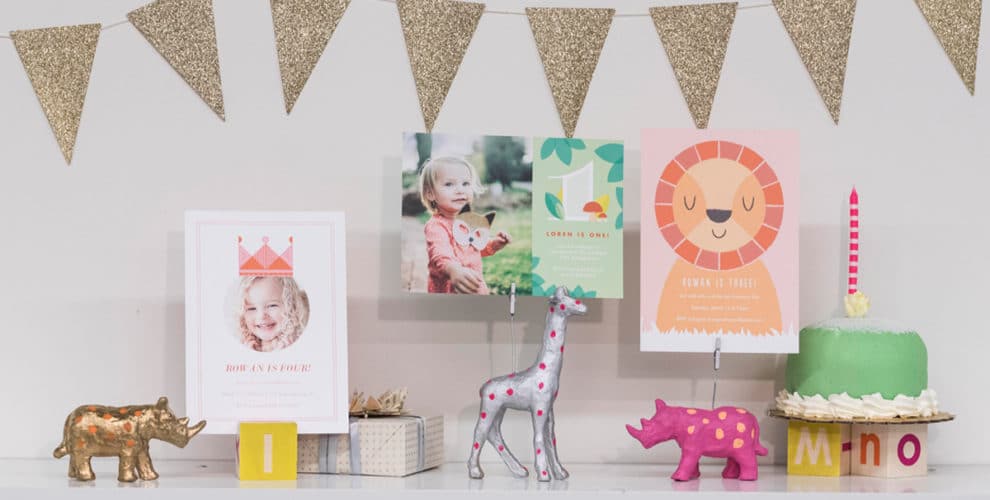 Step 1: Select Card Category
Visit the Shop from the left-hand drop down menu. Select the Cards section, then scroll down to select Birthday Cards.
Step 2: Pick a Card from our range of Personalised Invitations 
Scroll across the navigation bar at the top of the Birthday Cards shop to select your card.
Step 3: Choose a Photo
Once you click on the card you want, you'll be prompted to select your photos. Tap to select the photos you want to add, and click Done.
Step 4: Add Photo and Text
Now you're in the Card Builder. Tap and drag your photo into your card's photo area.
Time for editing! Tap your photo and drag or pinch to move and zoom. Click Done once you like what you see.
Next, tap on the text box to add invite details.
Use the arrow navigation to swap views between front and back of card.
Step 5: Order and Celebrate!
Looking great! You're ready to click "Order" to add it to your cart.
Woohoo! Happy partying, and don't forget to share photos of the day with your friends. (We'll be waiting for our personalised invitation!)
See a card you like? Shop our entire birthday cards assortment.
PS: You can order prints of all your birthday party photos, too! Shop more party fun: Birthday Invitations | Birthday Greeting Cards | Thank You Cards

Snapfish + Macmillan are working in partnership to raise vital funds. For every greeting card or flat card set sold, Macmillan receive up to 15p.
We love seeing what you create with your photos! Show us when you share the love on Instagram with the hashtag #SnapfishUK
 Originally posted on Snapfish US