Take a moment to explore our range of Travel embellishments, which make the perfect accompaniment for your holiday photo book! There are plenty to choose from as the Travel embellishment folder includes: 'Accents', 'Beach', 'Cities & Countries', 'Theme Park' and 'Phrases'. Whether you've been on a beach holiday or a city break, there is a range of embellishments to suit your needs.

All featured embellishments can be found in the Travel folder.
We've chosen some of our  favourites from the Travel embellishment folder to help nurture your creative side!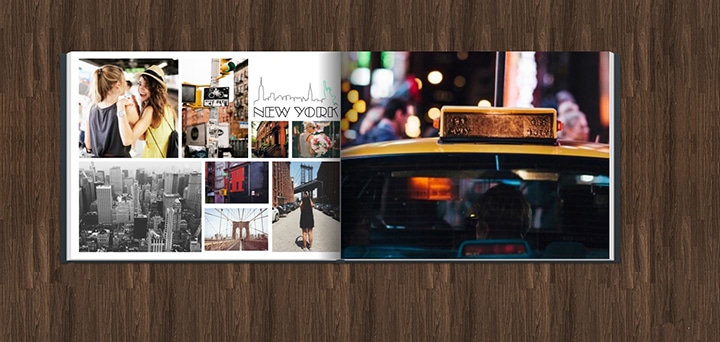 Tip 1: Use embellishments to hint at your destination 
We have a whole folder of embellishments dedicated to 'Cities and Countries'. Some of these embellishments include the name of your location, or have people guessing your location by using embellishments of famous landmarks.
Tip 2: Keep things simple 
Use minimalist embellishments such as the compass to show your love of travelling. Using a simple embellishment on a full page photo spread helps to keep the focus on your image.
Tip 3: Create a collage page
If you have a lot of photos you want to showcase, then a multiple photo layout is the best way to make the most of the space. I've recently created a photo book of my travels around America, I had over 2,500 photos to choose from so most of my pages were collage pages!
When creating a collage page, you can either choose one of the layouts that have been already been created, or use the shuffle button underneath your page. Each time you select the shuffle button it produces a completely new layout for you. (Please note that the shuffle button does not move non-photo objects like embellishments and text. So make sure you keep them out of the way or only add them once you've chosen a photo layout you like.)
Tip 4: Use your favourite scenery shots as a background 
Layer your photos! Use one of your favourite scenery photos as the background for a double page spread. This is also a good way to show panoramic photos or crop large parts of the photo you don't like.
Tip 5: Hide unwanted extras
Embellishments are a great way to hide unwanted extras from your holiday photos, such as tourists. This is one of my personal favourite tips, as it helps to keep the focus on you and your photo! 
The best thing about these is that they apply to any wall art masterpiece, photo book or personalised gift, you wish to create on the new Snapfish website.
Want to learn more about embellishments? We've also created some inspirational tips for wedding embellishments and basic embellishments. 
What did you create on Snapfish? Share it with us on social media! You can tag us with @snapfishuk in your photos on Instagram or Facebook or use the hashtag #snapfishuk. Don't forget to follow us on YouTube, Twitter and Pinterest, too. We love seeing what you create.