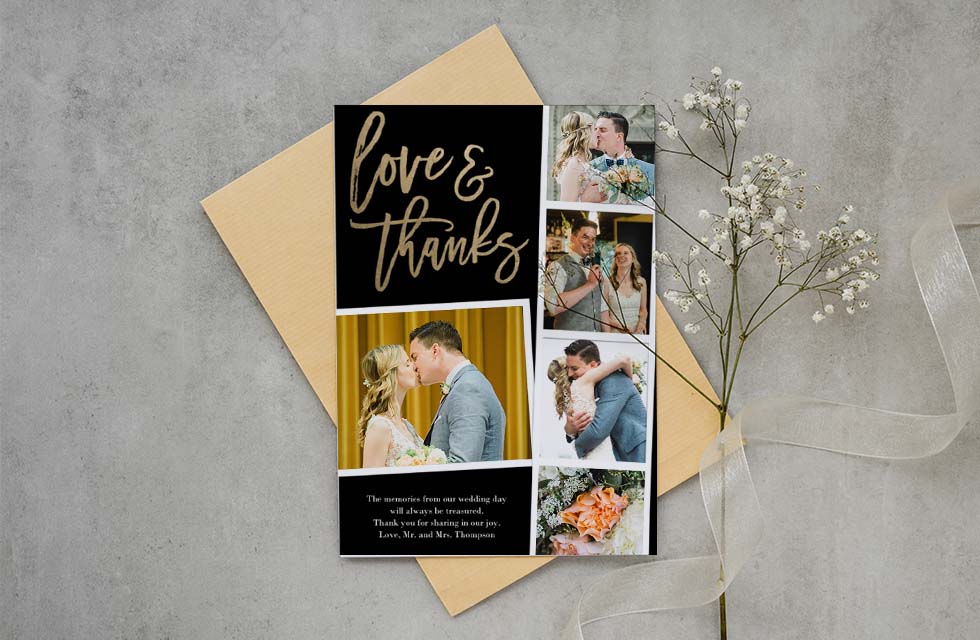 Feeling overwhelmed with all of the wedding thank-you notes you have to write? Checking that off your post-wedding to do list might feel stressful but we're here to help you on your way (and even make the task more fun!). Keep reading for inspiration and examples of what to write for beautiful and thoughtful wedding thank-you cards.
Wedding Thank You Messages For Parents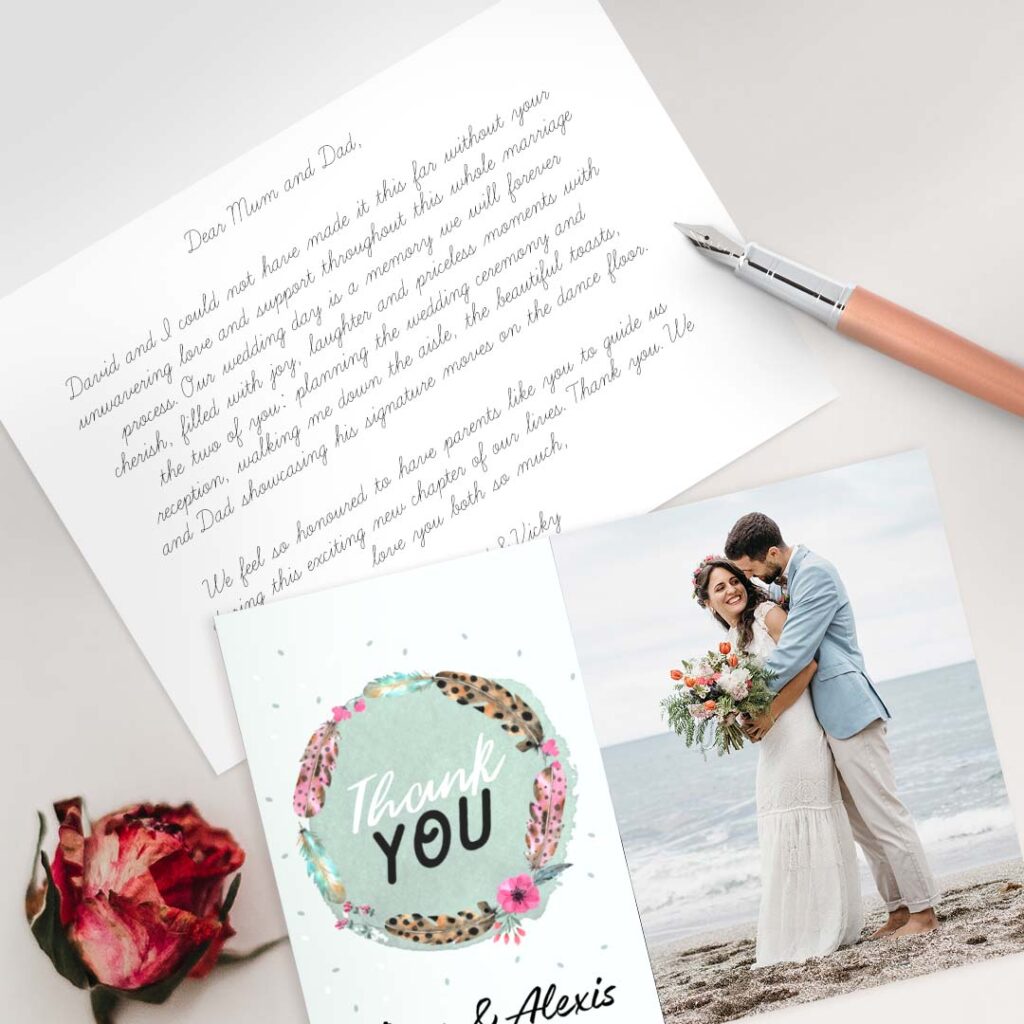 Dear Mum and Dad,

David and I could not have made it this far without your unwavering love and support throughout this whole marriage process. Our wedding day is a memory we will forever cherish, filled with joy, laughter and priceless moments with the two of you: planning the wedding ceremony and reception, walking me down the aisle, the beautiful toasts, and Dad showcasing his signature moves on the dance floor.

We feel so honoured to have parents like you to guide us during this exciting new chapter of our lives.

Thank you. We love you both so much,

David & Vicky
---
Dear Mr. and Mrs. Sims,

Thank you so much for being such an important part of our big day, and for all the support you've given Robbie and I. I am so grateful to have you as my parents-in-law and cannot wait to spend more time with you both. And thank you for raising such a wonderful and kind person – my husband!

Love, Terri
---
Wedding Thank You Sentiment Ideas For Family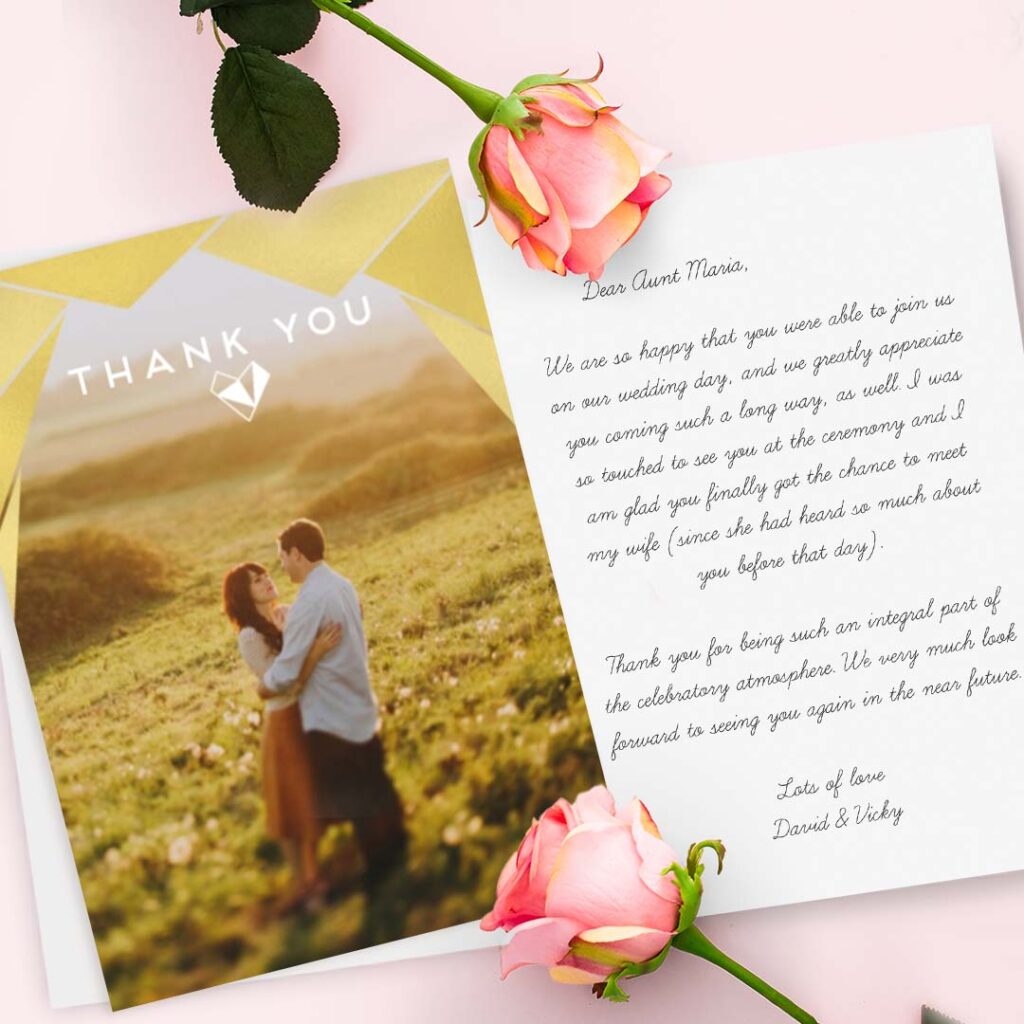 Dear Aunt Maria,

We are so happy that you were able to join us on our wedding day, and we greatly appreciate you coming such a long way, as well. I was so touched to see you at the ceremony and I am glad you finally got the chance to meet my wife (since she had heard so much about you before that day).

Thank you for being such an integral part of the celebratory atmosphere. We very much look forward to seeing you again in the near future.

Lots of love,

David & Vicky
---
Dear Joseph,

Thank you so much for making the trip to celebrate our marriage. It meant so much to Jennifer and I that you travelled all the way from New York for the wedding. We hope to see you again in the near future!

Love,

Harry & Jennifer
---
Wedding Messages To Thank Groomsmen/Bridesmaids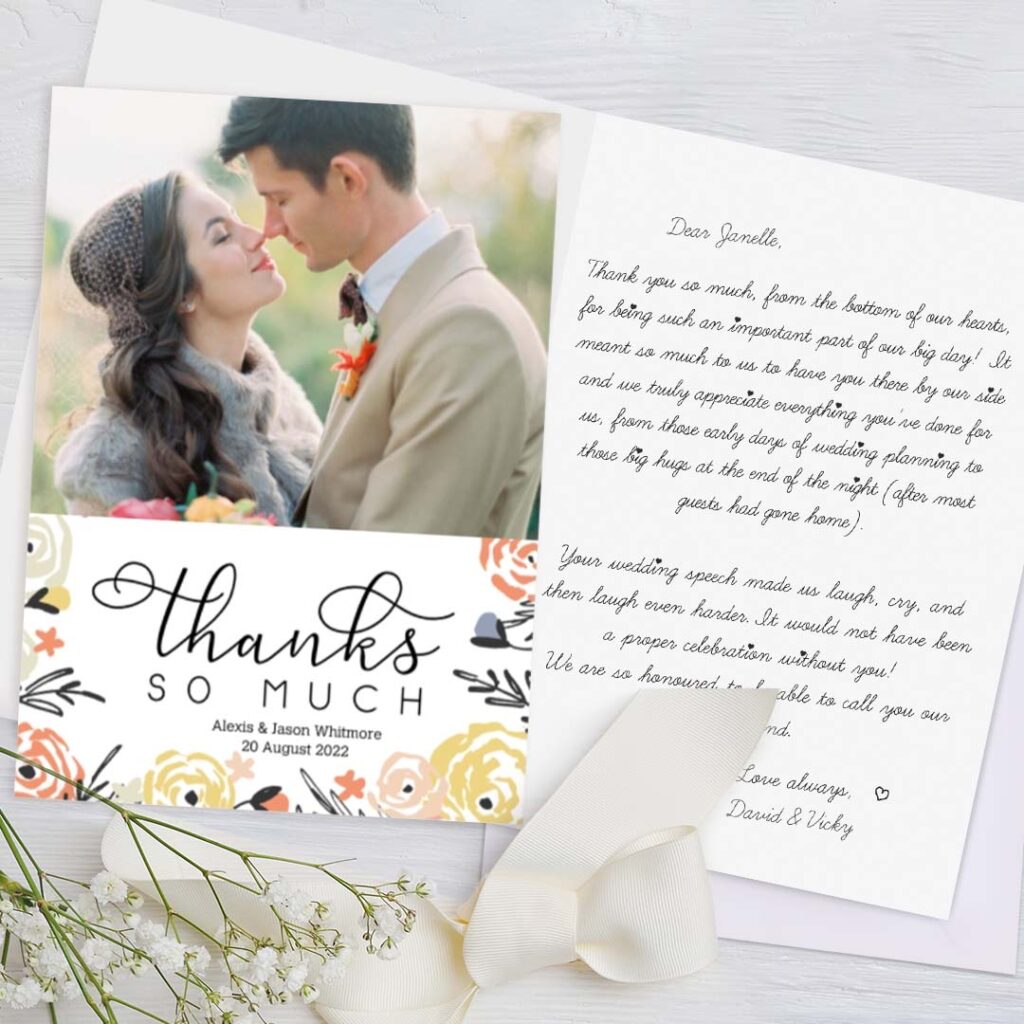 Dearest Janelle,

Thank you so much, from the bottom of our hearts, for being such an important part of our big day! It meant so much to us to have you there by our side and we truly appreciate everything you've done for us, from those early days of wedding planning to those big hugs at the end of the night (after most guests had gone home).

Your wedding speech made us laugh, cry, and then laugh even harder. It would not have been a proper celebration without you!

We are so honoured to be able to call you our good friend.

Love always,

Vicky & Dave
---
Dear Mel,

Thank you so much for being my maid of honour! You mean so much to Tom and I. Having you there by my side throughout this whole intense journey means more to me than you know. I am forever thankful for our friendship and all of the wild and beautiful moments we've shared (and will continue to share).

Much love,

Lily
---
Wedding Thanks + Best Wishes For Guests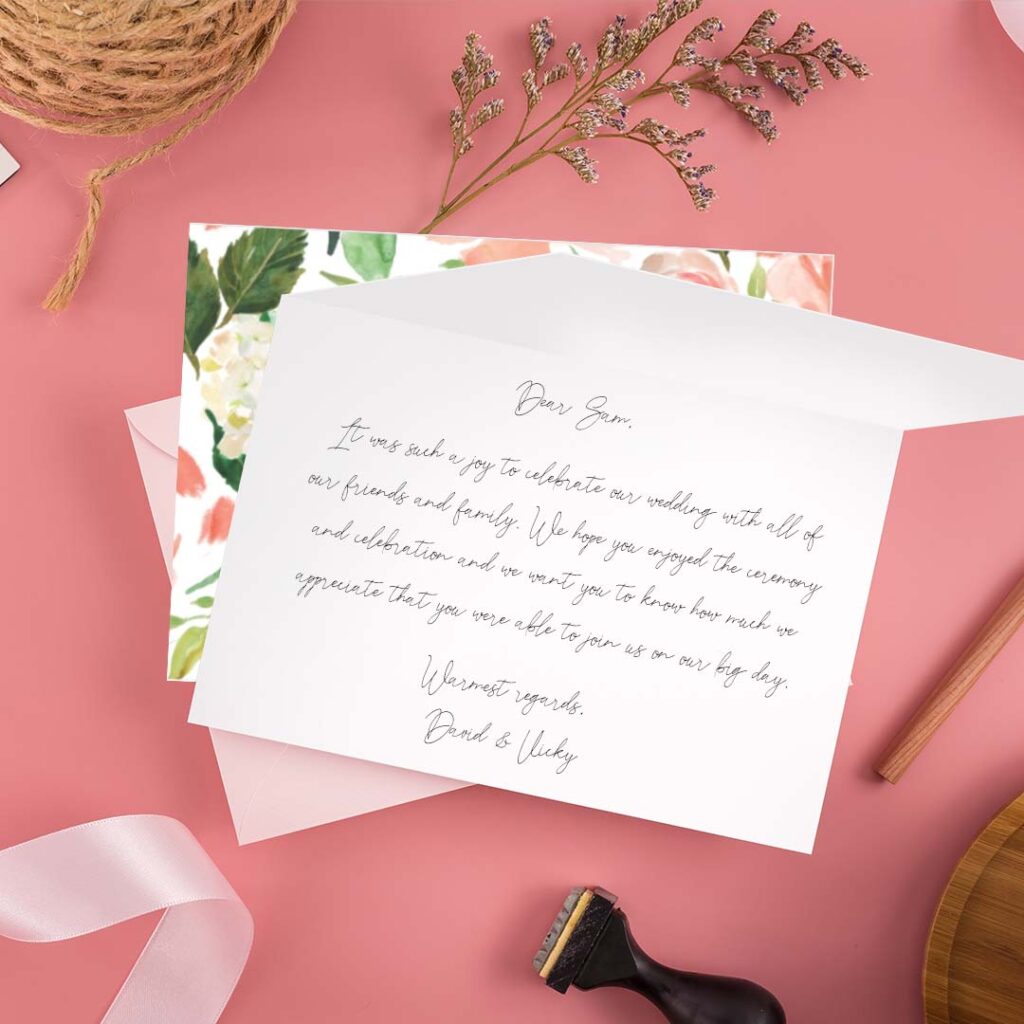 Dear Sam,

It was such a joy to celebrate our wedding with all of our friends and family. We hope you enjoyed the ceremony and celebration and we want you to know how much we appreciate that you were able to join us on our big day.

Warmest regards,

David & Vicky
---
Dear Rita,

Thank you for the stunning vase. It will look lovely in our new apartment. It was so wonderful to see you at the wedding, and Peter and I were so happy to finally meet you!

Sincerely,

Kate
---
View all wedding thank you card designs on Snapfish, and read our custom wedding ideas on the blog to help you create the best marriage ceremony ever!
If you end up using a beautiful wedding sentiment for your thank you card not seen here, feel free to share! Make sure you tag us with @snapfishuk on Instagram or Facebook with your photos or use the hashtag #snapfishuk. You can also follow us on YouTube, Twitter and Pinterest, too!