Have fun getting creative with your own personalised towel! Customise with your initials, favourite quote or family photos! See how these 5 bloggers decided to decorate their beach towels, and what they think of our latest addition.
Perfect for a mid-day twirl!
"I also had a blast making a beach towel with Snapfish! To make it, all I did was upload a design of one of my favorite quotes to make the perfect summer towel. This towel is beyond cute, it's huge, and it's soooo soft. I need 10 of them! Willa and I loved sitting on it on our roof, twirling and sipping our pineapple drinks!" – Pretty Life Girls
Ideal for a garden picnic… or even as a photo backdrop 😉
"I customized this gorgeous beach towel from Snapfish with a tropical leaves print I purchased online… Once the salad was done, my mom and I took it outside to enjoy a little at-home picnic on my new beach towel." – Emilie Eats
Mix & match our designs with your own text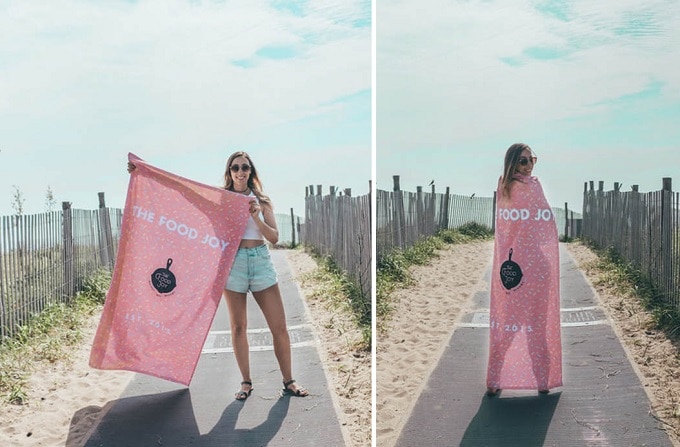 "Check out how adorable this beach towel is! It's pretty soft and I liked that its on the thinner side because it was easy to stuff in my backpack for a recent weekend beach trip. I used their pre-existing sprinkles background and then over-layed some text and my logo" – The Food Joy
Playtimes never looked so fresh!
"I decided I wanted to do a fun first day of summer post, I couldn't wait to have this photo of lemons I took printed on a set of coasters, glass cutting board, and beach towel! I now have the perfect props to use each year to go along with this lemonade stand and treasure these photos year after year. If this doesn't set the perfect scene for summer, I don't know what does" – Healthy Little Vittles
Better your beach time with your very own personalised towel.
"And my picnics just got a whole lot more fun thanks to Snapfish! I was able to create a custom cutting board, coasters and beach towel to help me prepare for picnic season. I felt #fancyaf preparing all my snackies with my cutting board and everything felt more special while eating on my Blonde Gone Clean towel. You can never have too much branding amiright!?" – Blonde Gone Clean
Discover more about our new personalised beach towels here.
What did you create on Snapfish? Share it with us on social media! You can tag us with @snapfishuk in your photos on Instagram or Facebook or use the hashtag #snapfishuk. Don't forget to follow us on YouTube, Twitter and Pinterest, too. We love seeing what you create.