If you're anything like us, just the thought of your favourite furball strikes an overwhelming feeling of warmth and excitement into your heart. They deserve the world for all of the unconditional love they bring into our lives. Why not take a little time today and make something special for both of you? We'll get you inspired with these fun and easy-to-make pet products for you and your four-legged FBF (furry best friend).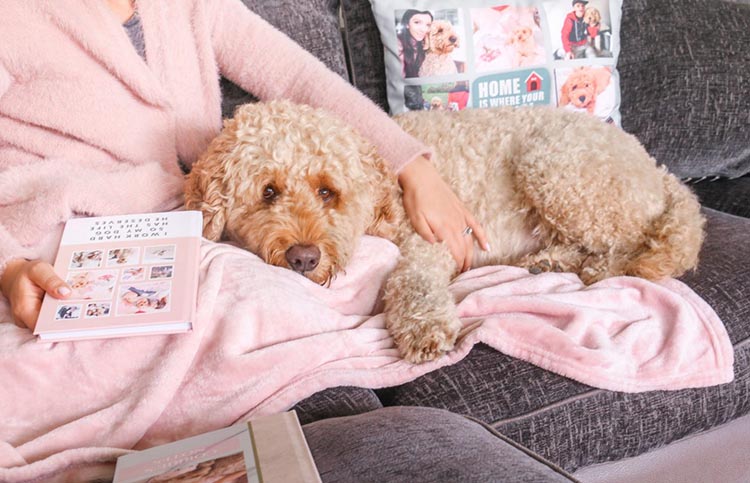 For the office
Share your office space with someone who sheds a lot? Overcome any case of the Mondays with a customisable calendar like this one Maitri and Ari of Honey I Dressed the Pug created with our Wanderlust design. Customise special dates with photos of your four-legged office assistant.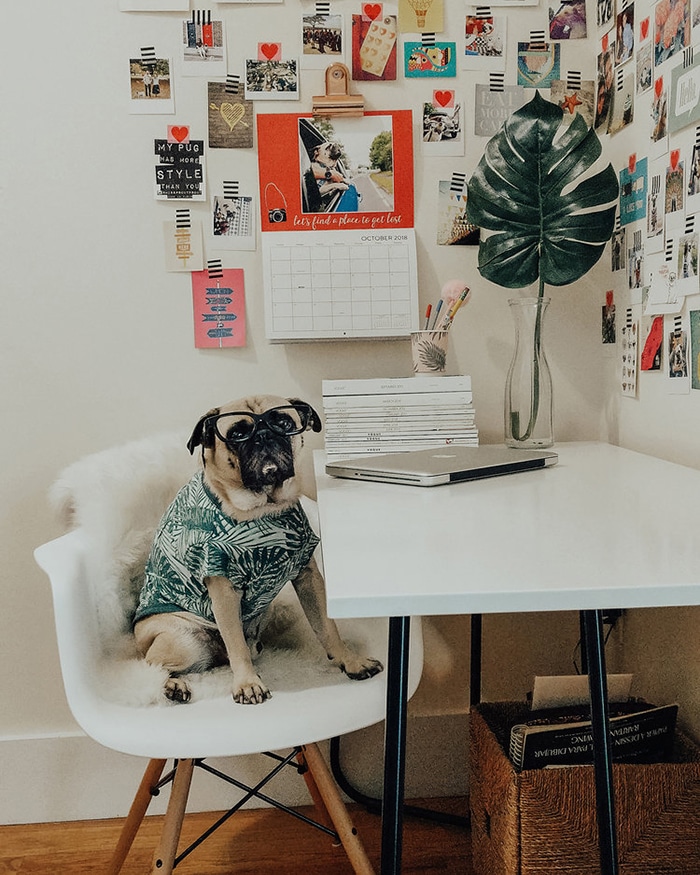 "It was so much fun playing around with the layout and designing our calendar. Every month has an inspiring quote, fun colour themes and pictures from our travels. There are tons of different templates that you can choose from. Even within each template, there are plenty of customisation options."

For the kitchen
There's plenty of things to keep organised and clean when it comes to pets, your kitchen shouldn't have to be one of them! Our fridge magnets take clutter off the table, and put spills in their place.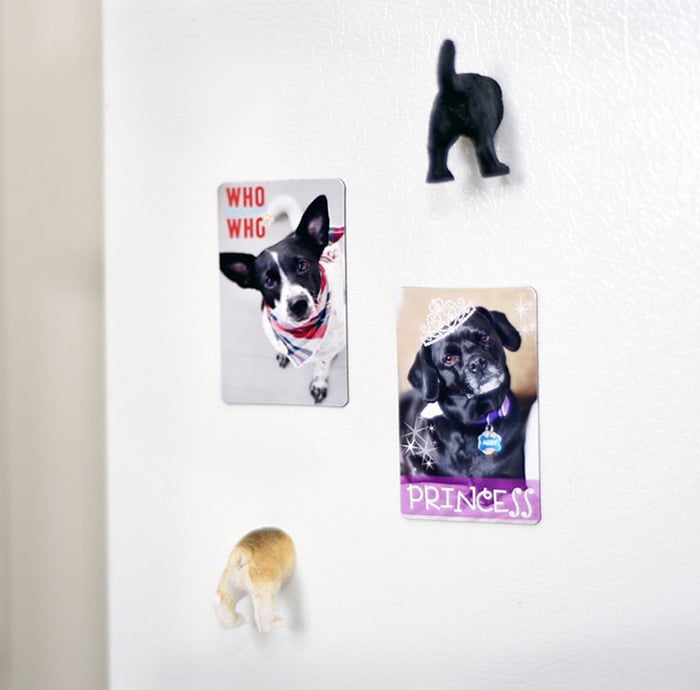 "We have three weddings to attend this September. Yes, you read that right: THREE. All of those weddings mean a lot of invitations to stick on the fridge. Our magnet selection is sorely lacking, so I figured that a magnet with Henry's face on it will be the perfect solution to our problem!"

"I couldn't forget to decorate our fridge! I knew I had to upgrade our fridge with a custom magnet. Snapfish has a ton of fun pet and family designs, or you can create your own. I started off with a template and then decided to make it my own using embellishments. I used fun clip art from the "family" section to celebrate our little family's first photo at our house a year ago."

– JENN OF HELLO RIGBY
For lounging on the couch
What's better than quiet time on the couch? For those moments of perfect calm, might we recommend you make a cosy blanket and a cushion or two.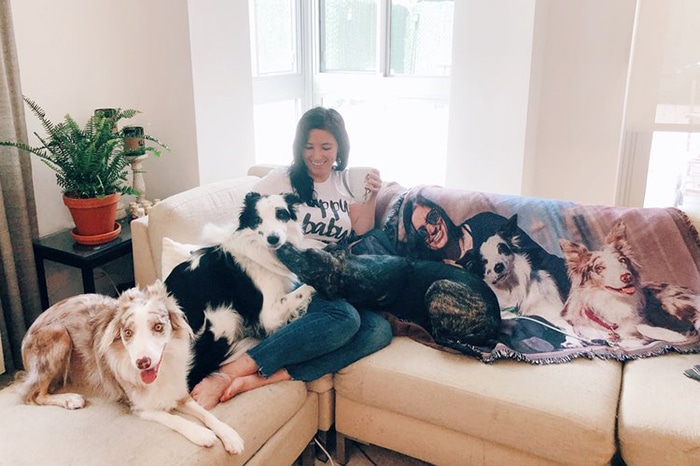 "When I got the opportunity to choose a few things for me and the pups, I was so excited to get started and Snapfish made the process so easy. I wanted something different and something I could use and show off for a long time. First up, I decided to get the blanket. I was so overwhelmed with joy with the way it turned out! The photo was SO clear and the quality of the blanket was way more than I could have ever expected! One of the best things about this amazing blanket is that it was so affordable, like seriously. This is such an amazing gift for the dog lovers in your life and it won't even break the bank."
Is a colour scheme your thing? Add fun snaps of your pet to almost anything, from matching phone cases to keyrings, notebooks, and more!
"I have him as my phone wallpaper, and Snapfish recently helped to aid my dog obsessed status with their pet gift range where you can personalise gifts such as keyrings, phone cases and even cushions with photos of your pet, to make a wonderful keepsake. Perfect for any other dog or cat or any other pet obsessed parents out there, as it means you can carry your pet with you, or decorate your home with photos of your pet."
For the kids
Partners in crime. Sidekicks. BFFs. Do your little ones call their pet their best friend? Make something special for them to always have the comfort and closeness of their bond to carry around.
"Aria has had a lot going on her life lately, what with the introduction of baby Carrie and the responsibility of being a big sister, so we decided that she deserved a cosy treat. Needless to say Aria was over the moon when her personalised fleecy blanket arrived, along with a cushion, both easily designed. The print quality is absolutely fantastic. I was worried that with the photo being blown up so much it may not be great, but I needn't have worried, the larger than life size Aria and Dobby look fantastic and fit in with the decor in Aria's bedroom perfectly."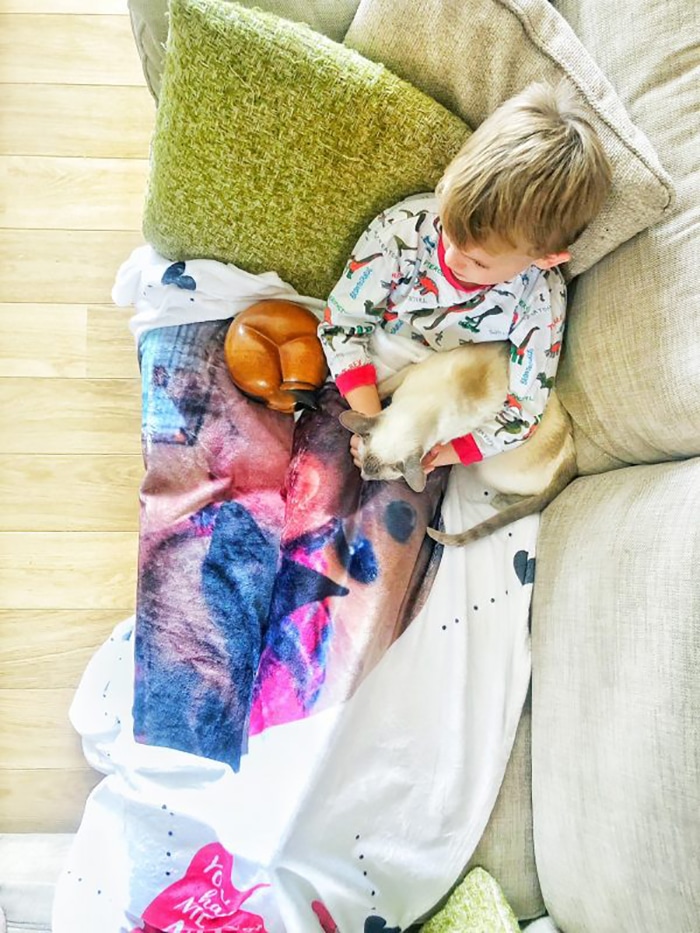 "Another great thing to do is to keep pictures of your beloved pet for them, or even take it one step further and, like Toby has in the picture, go for a gorgeous blanket with a picture of your pet that they can snuggle whenever they want to."

Don't forget to take plenty of photos
On your way out the door? Be sure you grab your camera, too! Emma and Alfie of Alfie Bear love taking long, muddy walk, and Emma now tries to always keep her camera in hand. Their special moments together make for some beautiful memories.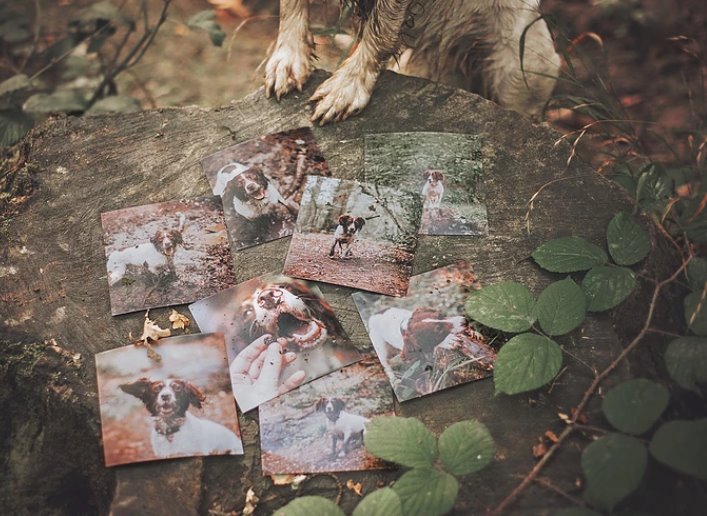 "It's the little things I want to cherish on these walks, the way his tail constantly wags as he jumps on every single log en route…Glancing back for five seconds to pose before charging off again. The little muddy moustache he gets after he drags his head through the puddles. I wanted to capture these moments, ready to print with Snapfish – I do believe any walk with your dog can be special, with so many great photo opportunities…No matter how significant they feel at the time. You will look back on these years later with a smile."
Do you have oodles of pet photos to turn into keepsakes? Check out our Snapfish Deals page for the latest offers and get started now!
Don't forget to tag us in your posts on Instagram with @SnapfishUK and #SnapfishUK to share what you've made!