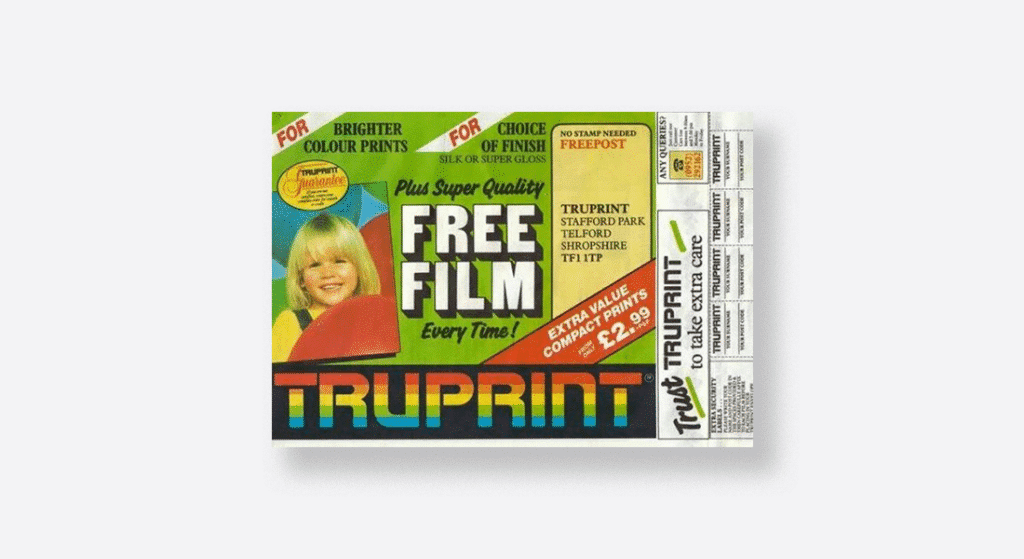 It's time to say "Goodbye Truprint", and "Hello Snapfish". But, before we do, say "Truprint" one last time. Go on. Try it. "Truprint". In fact, strike a pose. Your best pose. Hold it. Smile wide. Now say it. "Truprint". Bring back any memories? What about "Free film every time"? Try that instead. "Free film every time". 
For a while in the '80s and '90s, it seemed almost everyone and their dog said "Truprint" at one time or another. Especially the dogs… And those envelopes we all used to send our precious film off to be developed in? Do you remember the TV ad?
Truprint was a household name and a trusted friend. The kind of friend you invited to all of your special occasions. It's likely they were there when you were born. They were probably invited to your first birthday, but thankfully didn't have to clear up afterwards. They probably saw your first steps, shared your first holiday, beamed with pride on your first day of school, shed a wistful tear on your last.
From your firsts to your lasts and everything in between, they were probably there.
In fact, you've probably got the photo packaging in the loft right now, on that photo prints pouch with the red, yellow, green and blue word Truprint printed across the front.
For many of us, those photo print envelopes held treasure, or at least the promise of it. Not treasure in the form of gold or jewels, but treasure in the form of something with far greater value. Memories.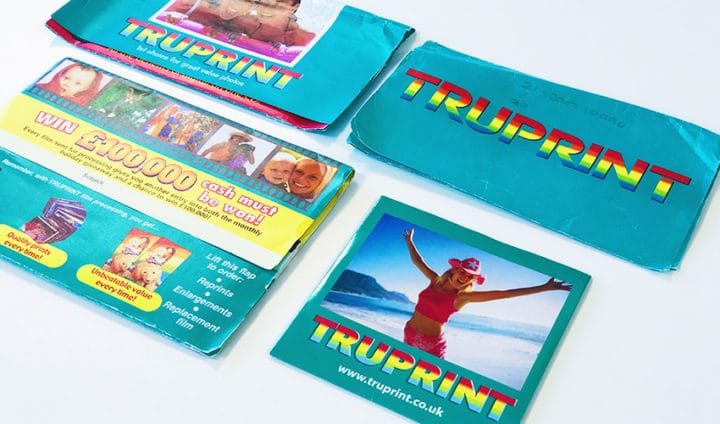 Once-only, never-have-another-chance-to-record-it memories, all expertly preserved in the physical form of photos. Lovely, glossy, wonderful photos. Photos of you maybe?
There were magical moments, miserable moments and mundane moments. There were picture-perfect moments. There were picture-imperfect moments. There were plenty of happy and not so happy accidents. It was all of life, unfiltered. 
Remember it? The careful removal and posting of the film? The unbearable fortnight wait until it magically re-appeared again, transformed into a slick, green, chunky envelope shining on your doormat? The eagerly anticipated opening? It was a process filled with apprehension, excitement and wonder. And you did wonder.
You wondered whether Auntie June's head would be missing again. You wondered whose idea it was to put the tall ones at the front. You wondered who was secretly smearing your lenses with butter.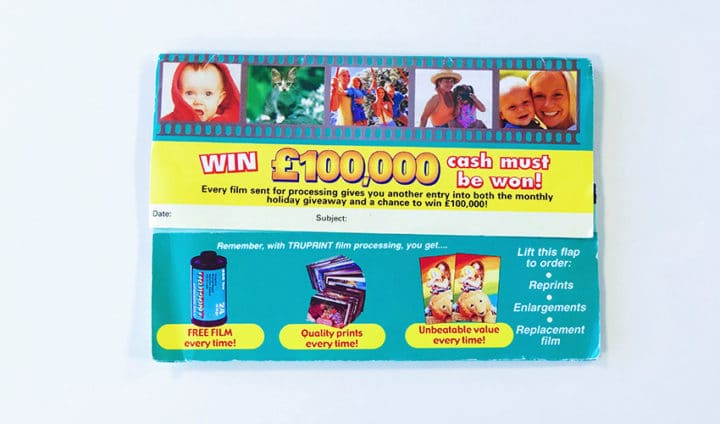 Would there be sun squint, red eye, eyes elsewhere, eyes closed? Would little Johnny be biting his finger nails? Again? Would things be too close or too far or too dark? Would there be thumbs? 
Not that it mattered. You got a free film. There was always next time.
It's almost impossible to imagine now. Not in the Digital Age. Imagine taking a picture and having absolutely no guarantee that what you thought you saw would be what you'd actually get. Now you see what you get instantly and, if you're not satisfied with it, you can change it in a hundred different ways.
It makes us sad because we loved all of that. We loved the uncertainty, the not knowing. We loved the variety and we loved the honesty of it.
So, like we said, it's time to say "Goodbye, Truprint".
Goodbye, because that time has truly gone. Like all things, who and what we were then is not necessarily who and what we are now. But looking back has helped remind us of something. Something very important.
The photo printing business is and always has focussed on delivering been the honest, genuine, faithful, exact reproduction of your pictures. We still love paper. We still love photo printing. But, most of all, we still love the honest and the genuine. That is why we are happy to welcome Truprint to become part of the Snapfish family. 
Snapfish were at the forefront of the digital printing age when they launched their online photo printing service in 2000, and over the past 20 years have been a key partner for Truprint, looking after your memories, holiday after holiday, birthday after birthday, photo after photo. Remember the free film? Well, if you download the free Snapfish photo app, you can receive 50 free 6×4" prints a month -no catches. You just pay standard postage costs. So, good things remain – free prints!

Nothing has changed to your photo account. Since Truprint was already operating in partnership with Snapfish UK Ltd., all Truprint accounts will continue to be available through the Snapfish website. Your photos, credits and existing projects will be available on the Snapfish website. We encourage you to visit Snapfish.co.uk (or the Snapfish App) at any time and login using your Truprint login credentials to access all your treasured memories, and continue to create cherished photo prints, personalised gifts & cards with us for years to come.
Please contact the Snapfish Customer Service Team if you have any other questions or concerns and welcome to the Snapfish Family!