What to write in a wedding card.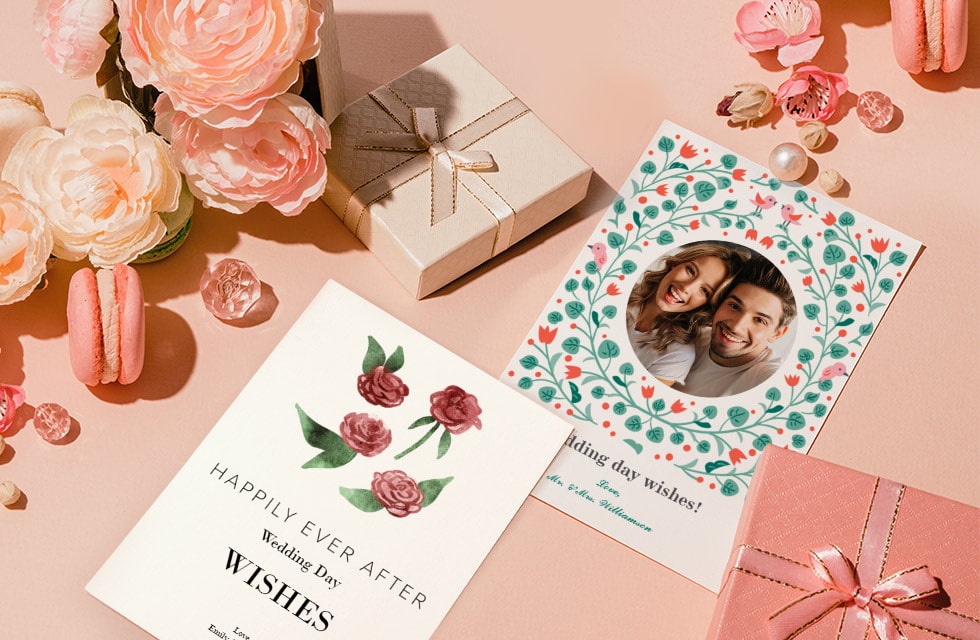 To get you started, we've created a simple guide to help take the guesswork out of what wedding wishes to write in your wedding card and how to phrase a personalised wedding message. Whether you are looking for religious wedding wishes, wedding sentiment for family or friends, funny wedding messages, or something in-between, we have you covered.
Whatever you decide to write, say it from the heart and make it extra meaningful by adding photos to your wedding card to commemorate fond memories of you with the newlyweds. They'll appreciate your well-chosen words when they return post-honeymoon and have a thoughtful look through their treasure trove of cards.
The Message
The ideal wedding greeting card message should be specific to the couple, crafted from the heart with personal touches. If you're feeling pressured to write the perfect words, read on. Our easy-to-follow guide to wedding card message etiquette lists some handy card sentiment examples that will have you reaching for your pen in no time.
Congratulate them on their happy news! No matter what your personal writing style, this common expression is a great way to warm up your wedding greeting.
Tailor your wedding best wishes to the newlyweds-to-be. Write a couple of lines in the card to personally give the happy couple your best wedding wishes. Think about your relationship with the couple and how you can celebrate their happy news.
Thank the couple. Finish your wedding message with a line thanking the bride and groom for inviting you to be a part of their big day.
Remember, before you sign your name, leave the newlyweds with a heartfelt sign-off.
Wedding Congratulations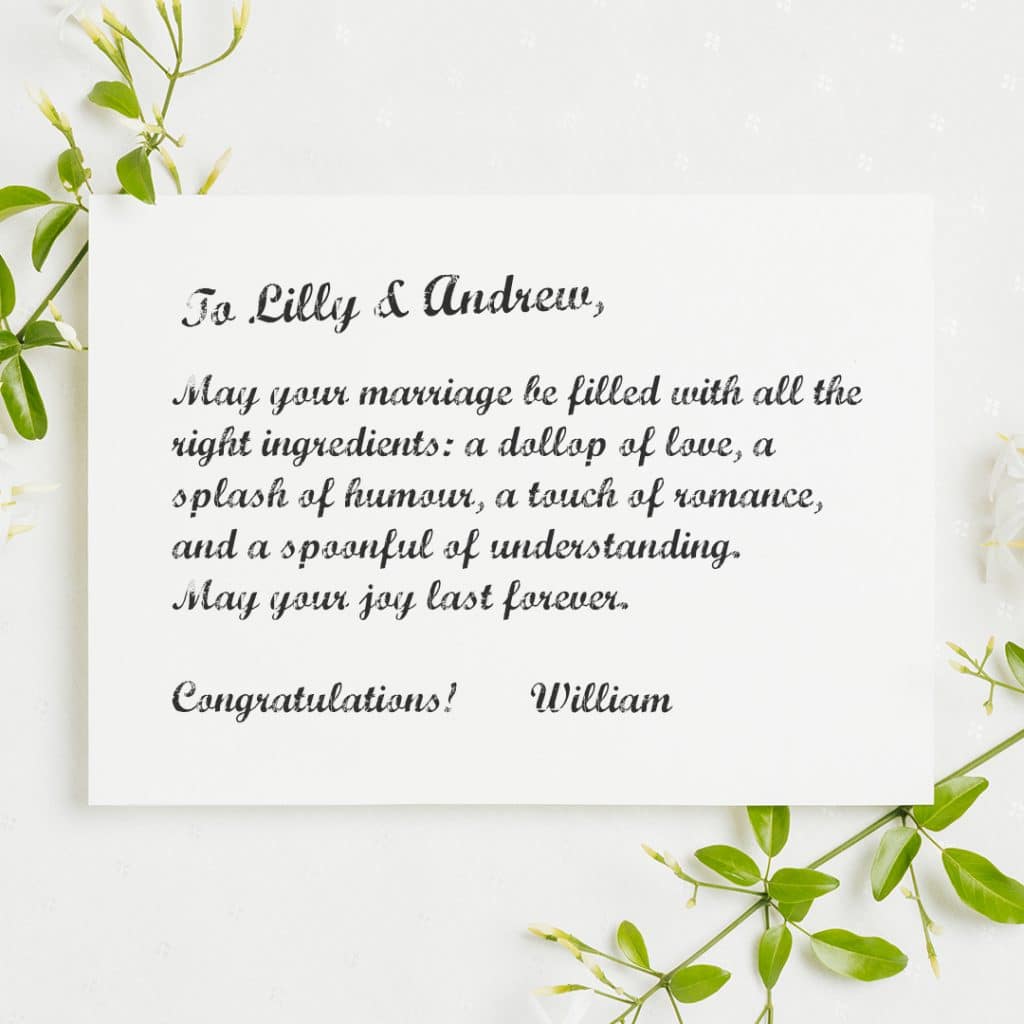 Congratulating the happy couple is often how people choose to start their wedding greetings. Whether you have been best friends with the bride for years and have just met the groom or have known both parties since primary school, you can never go wrong with a sincerely worded wedding congratulations message. Follow step one from above and pick one of your favourite congratulations messages below or write them in your own words!
Examples:
Congratulations to you both!
This calls for congratulations and probably champagne.
I hope through the years you share every possible kind of happiness life can bring. Congratulations.
May your marriage be filled with all the right ingredients: a dollop of love, a splash of humour, a touch of romance, and a spoonful of understanding. May your joy last forever. Congratulations!
Your wedding day may come and go, but may your love forever grow. Congratulations to the perfect couple!
Through the storms of life, may your love for one another be steadfast and strong. Wishing you joy and happiness on your wedding day. Congratulations!
Congratulations on finding each other! Your greatest adventure has just begun.
Congratulations to you both on your very special day! May your wedding be filled with special memories you can treasure forever!
The two of you are great together. So happy for you both!
'Two become one' – what a beautiful thing. Congratulations!
Heartfelt congratulations.
Warmest congratulations and love to you both!
Congratulations on your wedding day and best wishes for a happy life together!
Feeling so much joy for the two of you as you join your lives in marriage!
Seeing the two of you step forward into the future together is so inspiring and wonderful.
Informal Wedding Wishes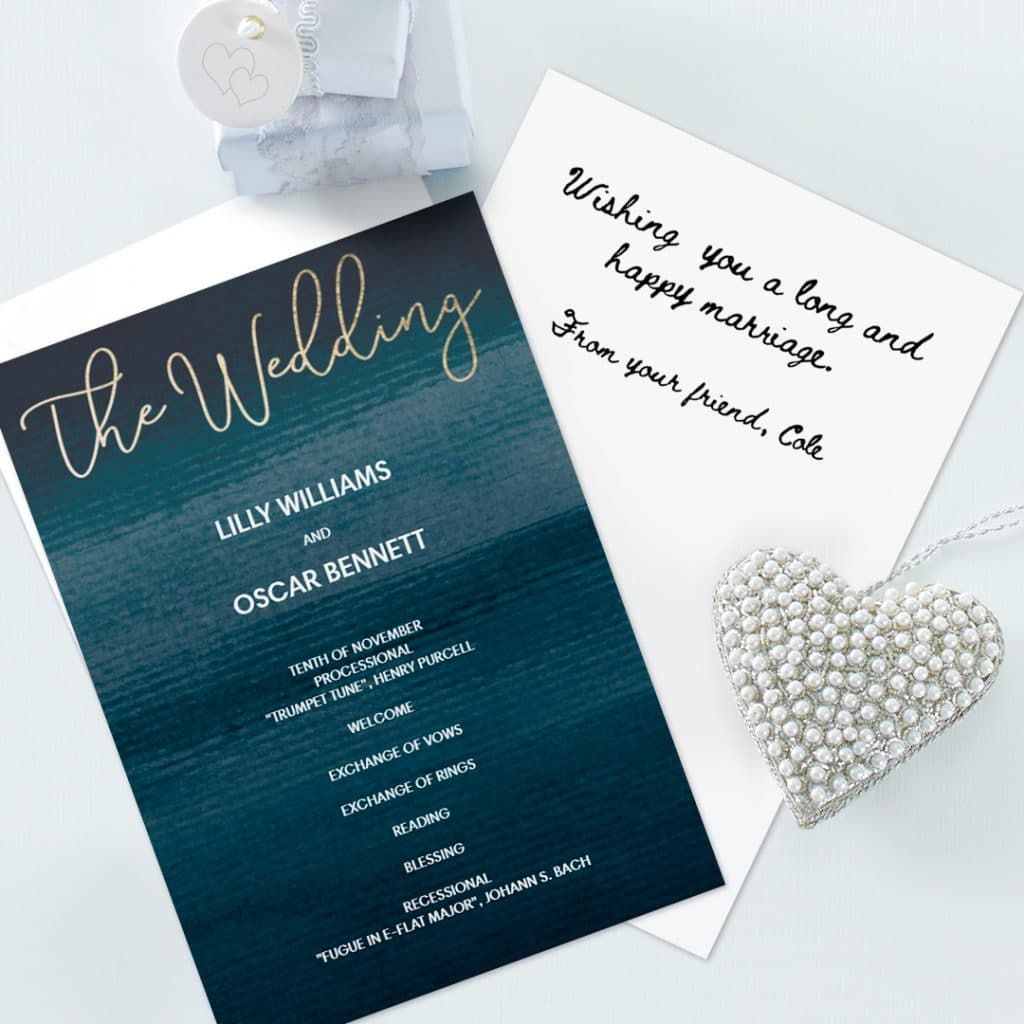 When the couple opens their wedding cards after the marriage ceremony, they are going to enjoy reading the sentiment in each card because of who they came from; and there is nothing wrong with keeping your wishes short and sweet if you are a less-is-more person. Just make sure that you build upon your congratulations and say something thoughtful and relevant to the couple.
Examples:
Best wishes!
We're/I'm so happy for you!
Wishing you lots of love and happiness.
Wishing you a long and happy marriage.
Wishing you the best today and always.
So happy to celebrate this day with you both!
Best wishes for a fun-filled future together.
Wishing you fulfilment of every dream!
Formal Wedding Wishes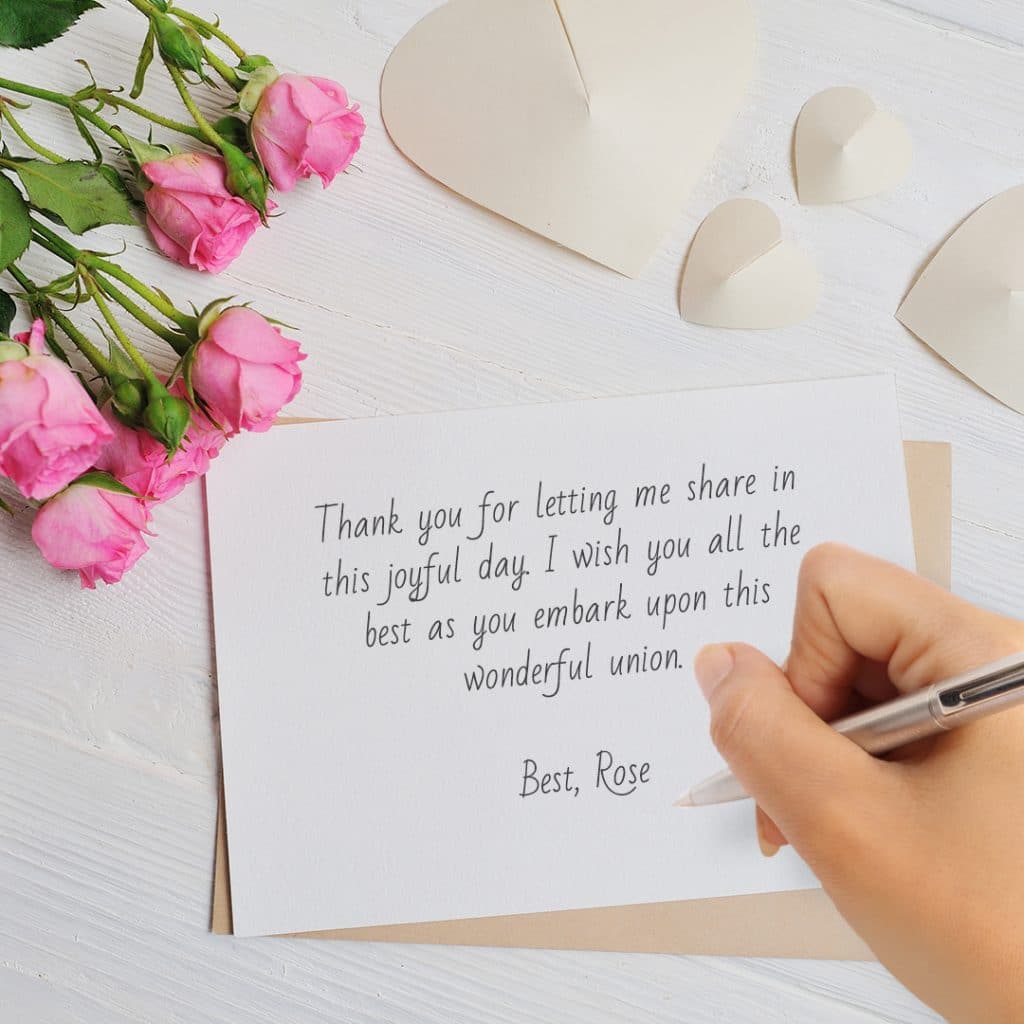 If you are a stickler for tradition, you can use your wedding wishes to mirror the theme of the ceremony. Formal wedding wishes are perfect for when you want your message to be timeless, traditional and romantic. If formal attire, long dresses, sparking chandeliers and lavish table displays are their dream, then look into using a more formal manner to express your happiness for the happy couple. Below are some examples of formal wedding wishes.
Examples:
Wishing you a lifetime of love and happiness.
May the years ahead be filled with lasting joy.
Best wishes on this wonderful journey, as you build your new lives together.
Thank you for letting me share in this joyful day. I wish you all the best as you embark upon this wonderful union.
Wishing you joy, love and happiness on your wedding day as you begin your new life together.
May the love and happiness you feel today support you through the years to come.
Funny Messages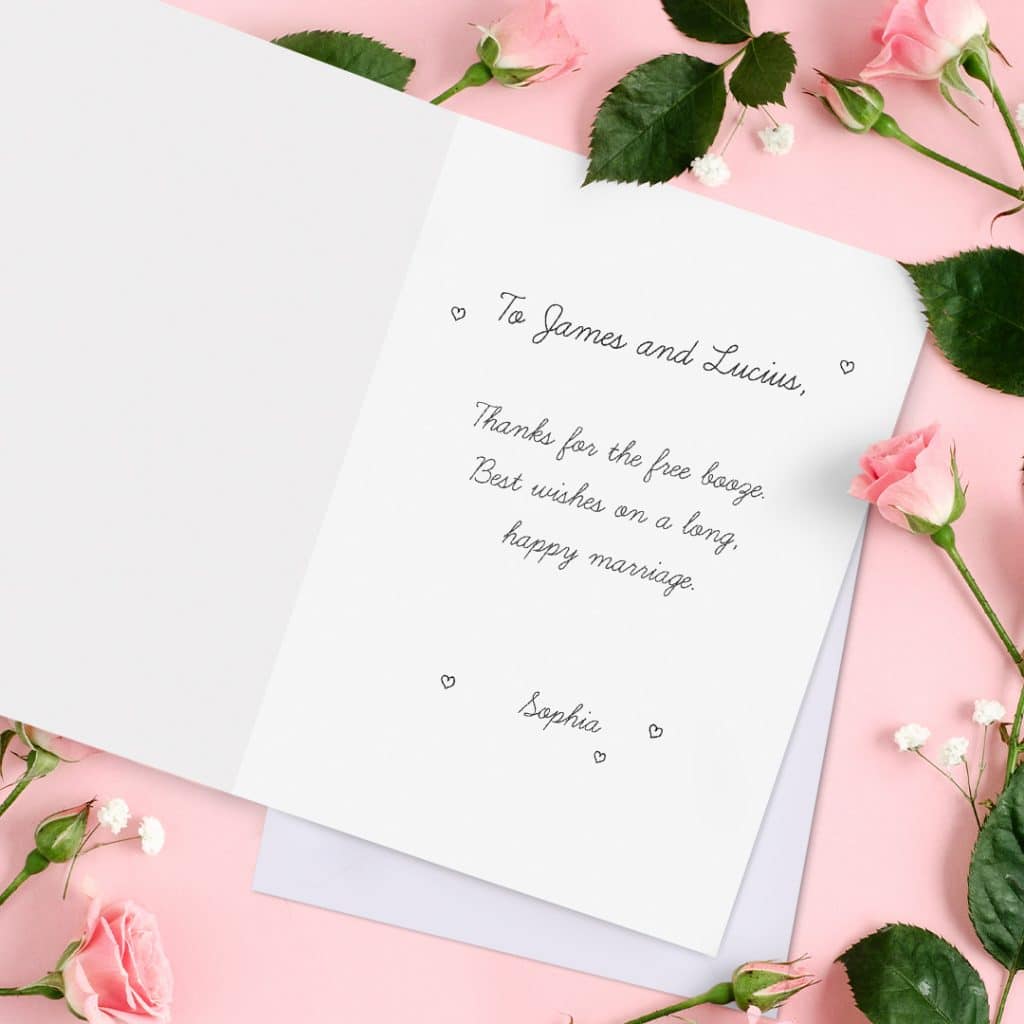 If you think a humorous wedding card message will put a smile on the bride and groom's faces, just remember that a funny sentiment or joke might be taken the wrong way when written down. Use your best judgement when writing your funny wedding message and you'll be well on your way to making them giggle and laugh.
Examples:
Thanks for inviting us to eat and drink while you get married. Congrats!
Thanks for the free booze. Best wishes on a long, happy marriage.
Marriage is not just spiritual communion, it is also remembering to take out the bins.
I'll tell you the secret of a happy marriage. It remains… a secret to all! Wishing you all the best of times ahead.
Remember. The most important four words for a successful marriage: "I'll do the dishes".
Getting married is like going to drama school. May there be more comedy than melodrama.
Marriage is so beautiful. You have finally found that one person you get to annoy all through your life.
Religious Wedding Wishes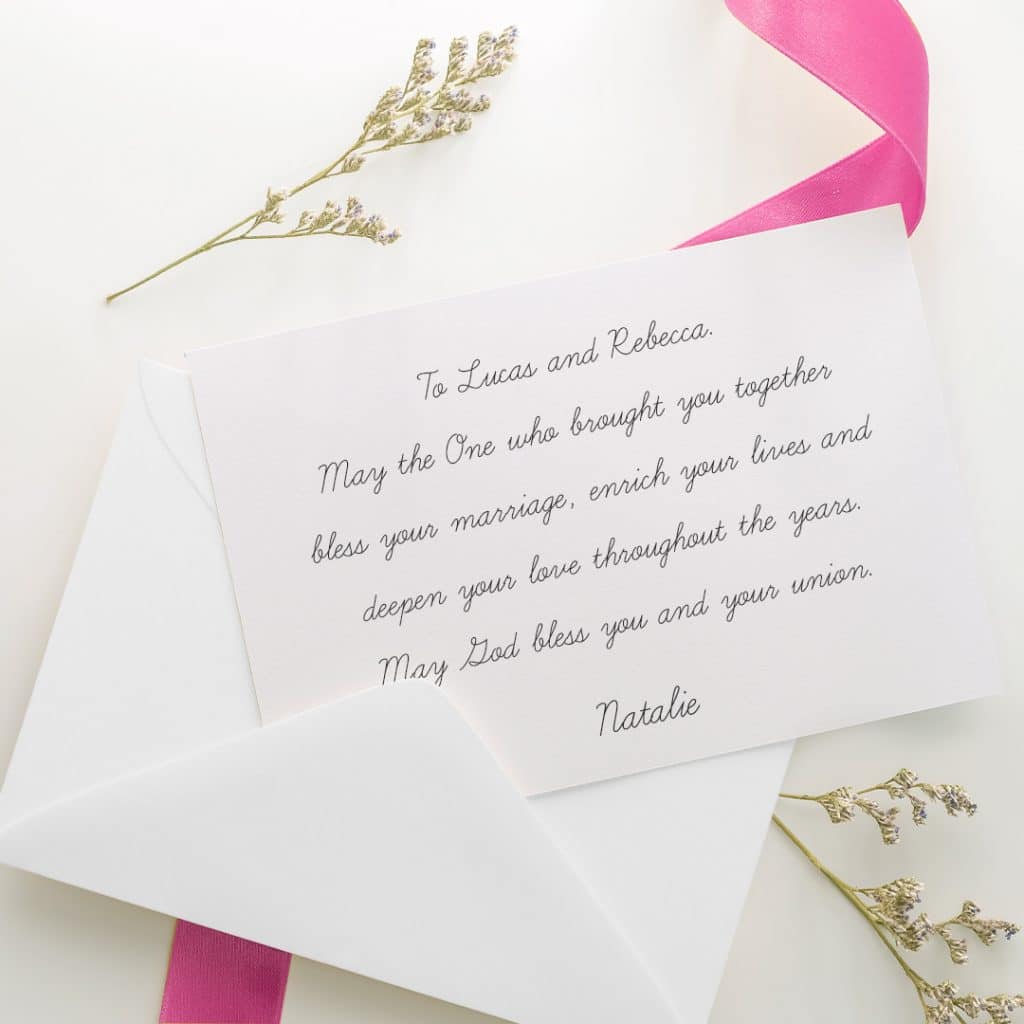 Religious wedding messages let the soon-to-be-wed couple or newlyweds know that you're thinking of them and asking for God's blessings for their marriage. Make sure you tailor your religious message to their beliefs and think about the couple's own spiritual views before you write your wedding wishes.
Examples:
May God bless you and your union.
May God grant you all of life's blessings and love's joys.
Love God first and it will be easier to love your spouse second.
We are looking forward to finding out what God has planned for you two.
Your marriage will be strong because the two of you are strong in your faith.
May God's love be the glue that holds your marriage together.
We pray that God will bless your marriage and guide you in your new journey together.
May the One who brought you together bless your marriage, enrich your lives and deepen your love throughout the years.
'God has poured out his love into our hearts.' Romans 5:5
'Love is patient. Love is kind…Love never fails.' 1 Corinthians 13:4-13
Messages For Friends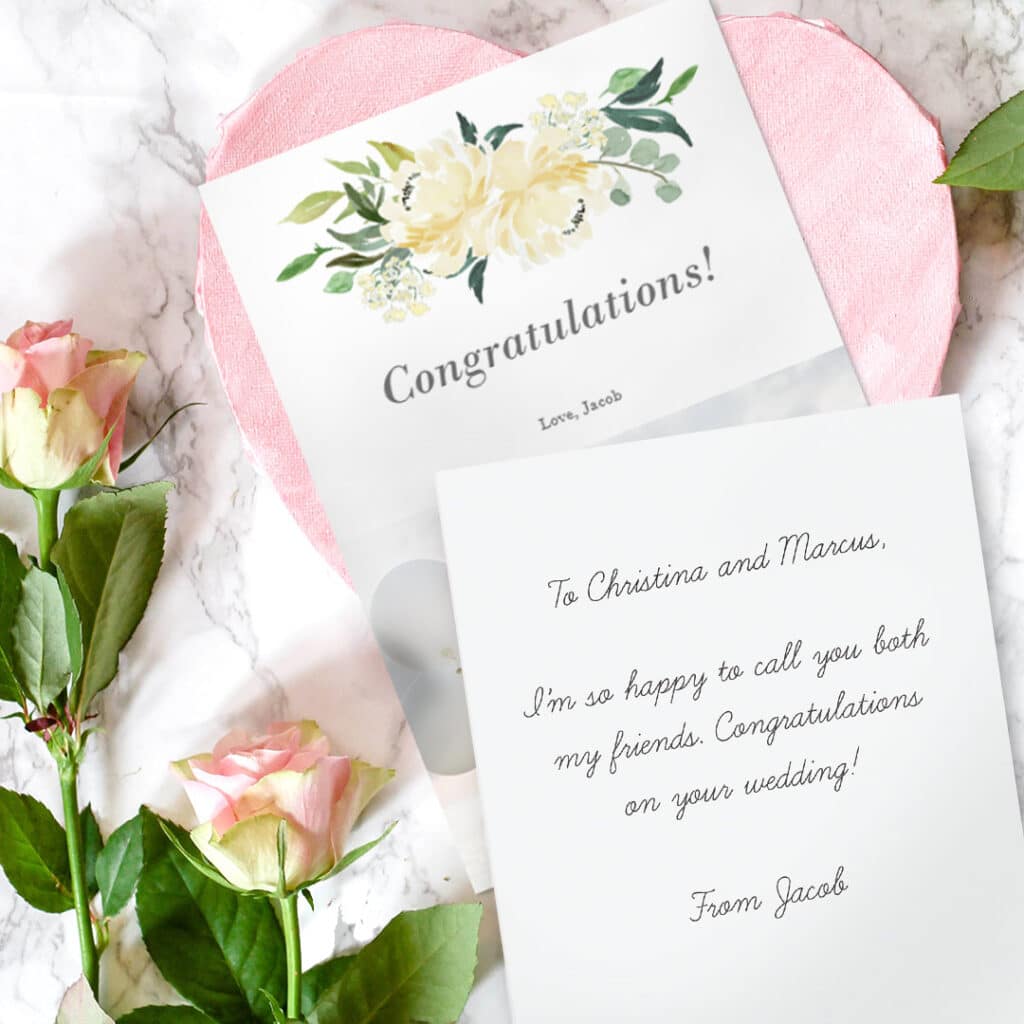 Is your best friend is getting married? Wish him or her well on their new marital journey with the perfect greeting. When writing a wedding message for friends, you could either be personal or keep things more general. The key is to think about your relationship with him or her and their other half. If you stick to these general rules, your love for these newlyweds will shine through your wedding greeting.
Examples:
I'm so happy to call you both my friends. Congratulations on your wedding.
May you bring each other as much happiness as your friendship has brought to my life–congratulations!
I'm really happy that my best friend has found their special person. Congratulations on your wedding and may your life together be a continuous honeymoon.
We're so thrilled to celebrate this wonderful day with you both.
Wedding Wishes For Family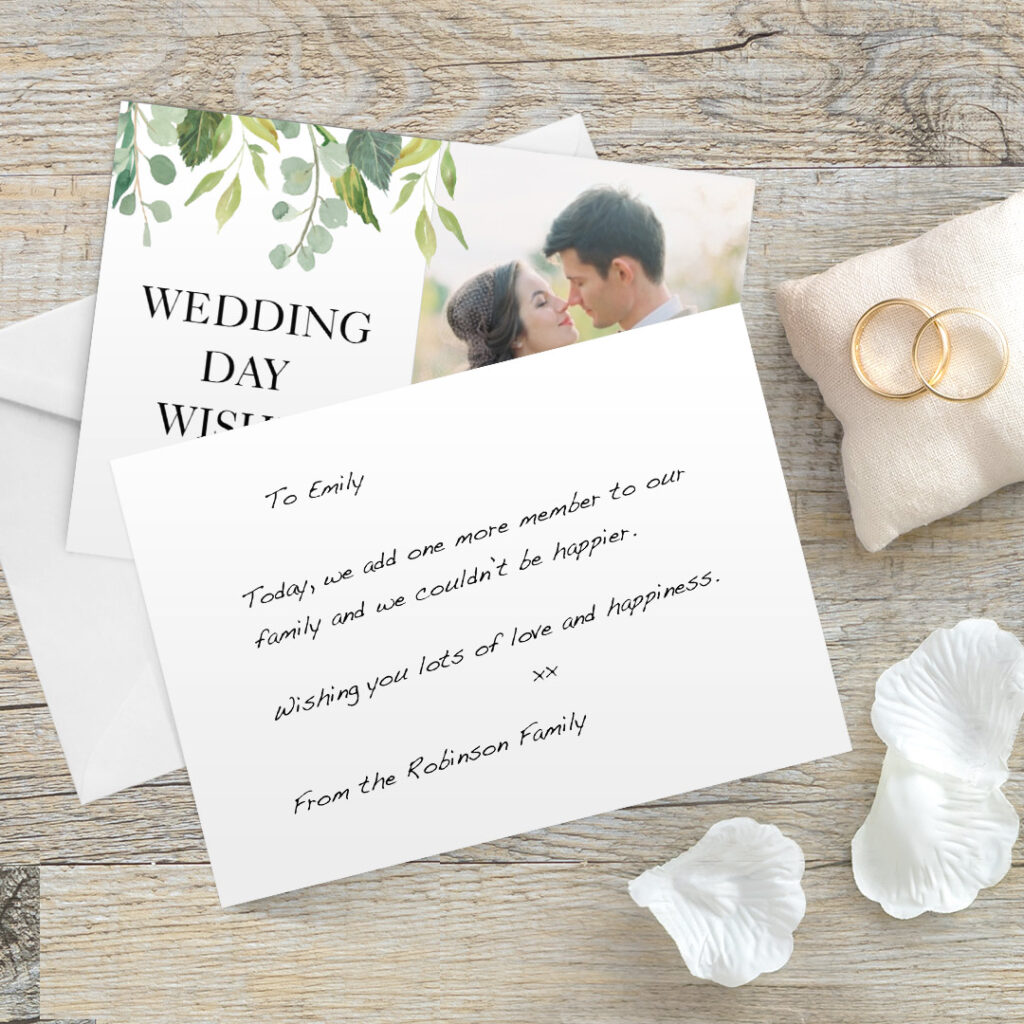 Celebrating the wedding of a close family member? Writing a personal wedding message is a great way to welcome their new partner into the family. Whether you're thinking of the wedding messages for mum, dad or your siblings, these family-friendly wedding wishes are sure to hit the mark. You might want to personalise your wedding card wording to include one of the following sentiments. For those that know you best and whom you know best, you'll want to create an over the top wedding wish.
Examples:
Welcome to the family. Best wishes to you both!
We're delighted to share this day with you.
Today, we add one more member to our family and we couldn't be happier.
I love you both. Thanks for letting me share in your celebration.
Wedding Sayings For Siblings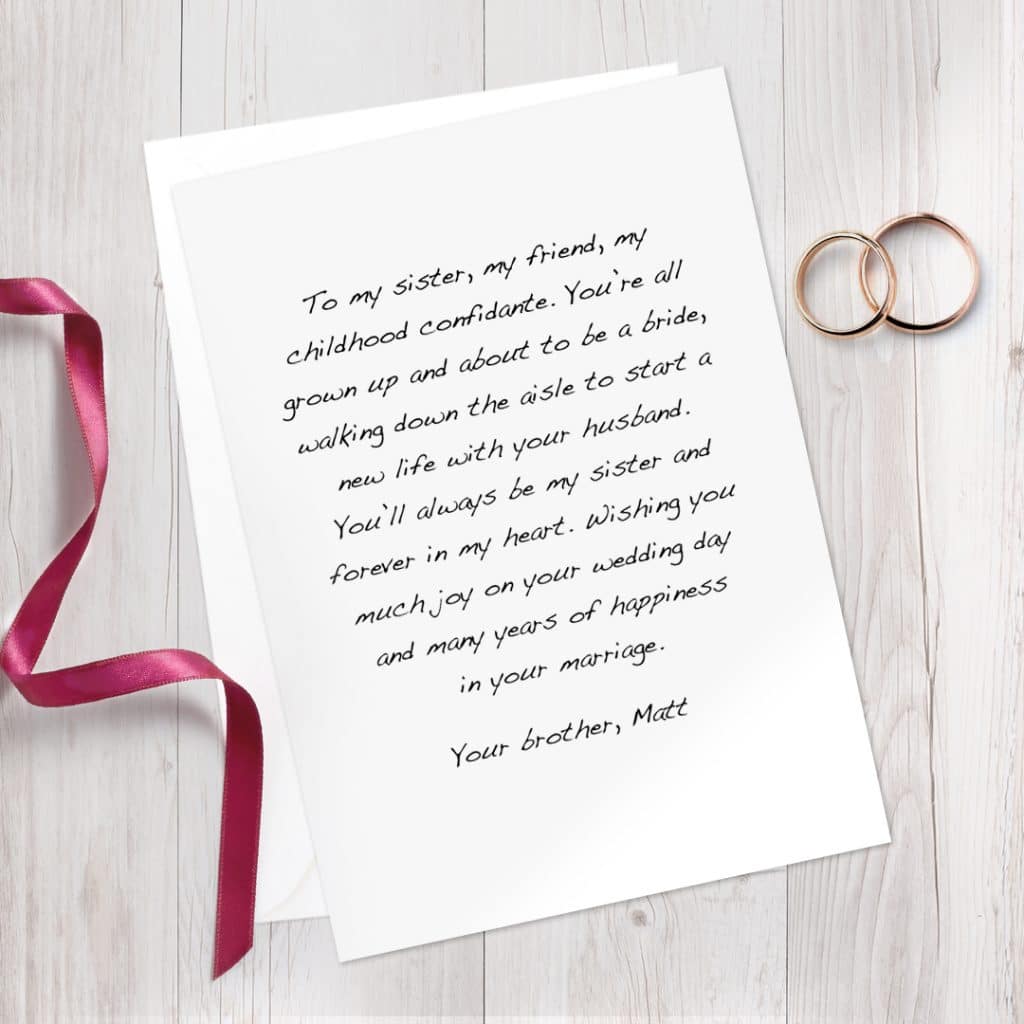 When writing a card to one of your siblings who is getting married, just write what feels natural. You grew up with this person and have shared many of life's greatest memories with them. Today is one of those new memories that will top this list and you can make it even sweeter by sharing a sweet moment or inside joke from the past. Make sure that you also mention the new addition to the family!
Examples:
For my sister who's found love. May your wedding be the first day of many years of happiness to come.
To my beautiful sister who deserves only the best, may your wedding day be everything you've dreamt of. Wishing you love, joy, and a long life spent together.
Sister, as your wedding approaches I wish for you every happiness. May you both enjoy all that this life has to offer.
To my sister who has always meant so much to me. I am so happy for the wonderful love you've found. May your marriage be everything you're hoping for. I'm wishing you all the best on your wedding day.
To my sister, my friend, my childhood confidante. You're all grown up and about to be a bride, walking down the aisle to start a new life with your husband. You'll always be my sister and forever in my heart. Wishing you much joy on your wedding day and many years of happiness in your marriage.
Brother, thank you for showing me what it means to have someone to count on. Take care of my new sister, and congratulations to you both.
We may have squabbled as we were growing up, and you and your love may struggle as you grow together; but you will grow closer for it, as we did. Congratulations!
We have shared both good and less good times, brother. I am happy to have shared the joy of you finding love and confirming it for all to see. Love you.
I cannot be happier as a brother than I am to see you so happy now on your wedding day.
Wedding Sayings For Son Or Daughter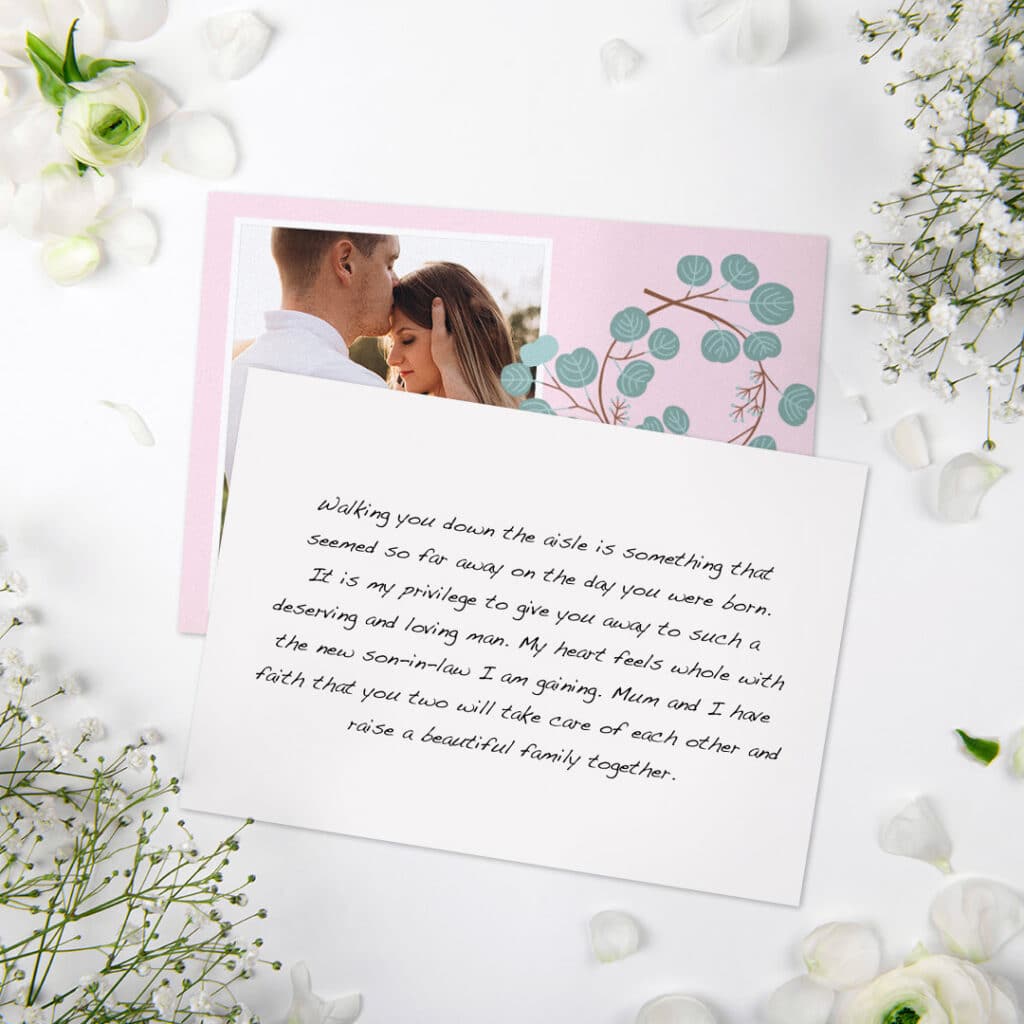 As a parent, it's a major milestone when your son or daughter gets married. In fact, you may even be asking yourself where all the time went. In addition to that, when their wedding day rolls around you will also be feeling a multitude of emotions and won't even know how to start your wedding speech. Start by wishing the new couple well for the life that awaits them. You could also offer some of your own advice about marriage and love. This occasion is going to be one of those that's extremely hard to put into words, so let these example wedding sayings inspire you.
Examples:
Walking you down the aisle is something that seemed so far away on the day you were born. It is my privilege to give you away to such a deserving and loving man. My heart feels whole with the new son-in-law I am gaining. Mum and I have faith that you two will take care of each other and raise a beautiful family together.
You look so beautiful today in your wedding dress. You've got a lot of your mother in you, but you've always had my smile. Best of luck on the future adventures and memories with your new husband. We love you.
I have watched you grow into a fine young lady who can take care of herself. And now you are married, it is no longer our job to worry about how late you are coming home. Look out for each other, and don't forget to do the little things.
Your new husband has found a place in our hearts like a son of our own. Love one another as best you can with every single day that the sun rises.
I am so happy to see that you have grown into the man / woman you are. As you move forward into the unknown with a sense of adventure, I wish you both so much happiness and hope you know how much you are loved!
We are so happy to be adding this wonderful young woman/man into our family! It's so wonderful to see how happy s/he makes you, and how happy you make her/him. Congratulations on this special occasion. May you have only peace and love in your hearts for the rest of your lives.
You are reaching a milestone in your life as you marry your beautiful bride. I couldn't ask for a better daughter-in-law and am so happy to see the wonderful man you have become. I love you both.
May you both be blessed on your future together, and please know how much we will always love and support you both.
What To Say To A Co-worker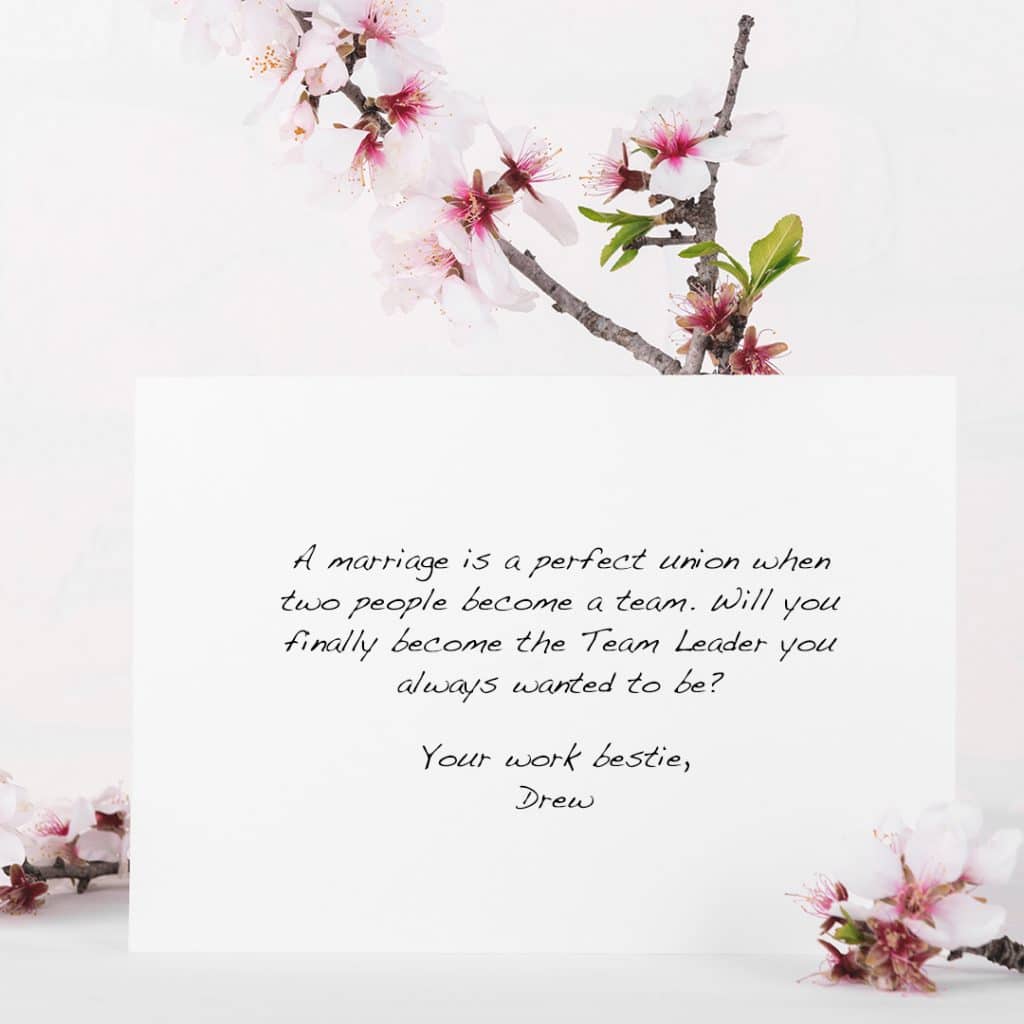 When working out what to say in a wedding card to a co-worker, remember that you'll probably want to keep your greeting fairly neutral. You could look for a wedding quote that inspires you but ultimately what you write in the card will all depend on your relationship with your colleague. If you have a close relationship, you might find message inspiration under what to write in a wedding card for a friend. If not, these office-appropriate wedding greetings are just the ticket.
Examples:
You're giving hope to all of the single people left in the office. Best wishes to you and your new spouse with your new life together.
A marriage is a perfect union when two people become a team. Will you finally become the Team Leader you always wanted to be?
Congratulations on your marriage and we wish you the best during this new stage of life.
Thank you for inviting me to share in this day with you and your family.
I wish you and your new husband/wife a long happy life together.
Wishing you success (and most of all happiness) in your marriage.
All the best to both of you in marriage.
Everyone at the office is so happy for you. Congrats!
Signing Off
Basically, if your wedding card wishes are warm, genuine and written from the heart, you really can't go wrong. Just think about the kind of sentiment you'd like, and use this as inspiration to get started. Just remember to sign it off, so they know it is from you!
Examples:
With Love,
Lots of love to you both,
Congratulations Lovebirds,
Congratulations to the newlyweds,
Best wishes for your future together,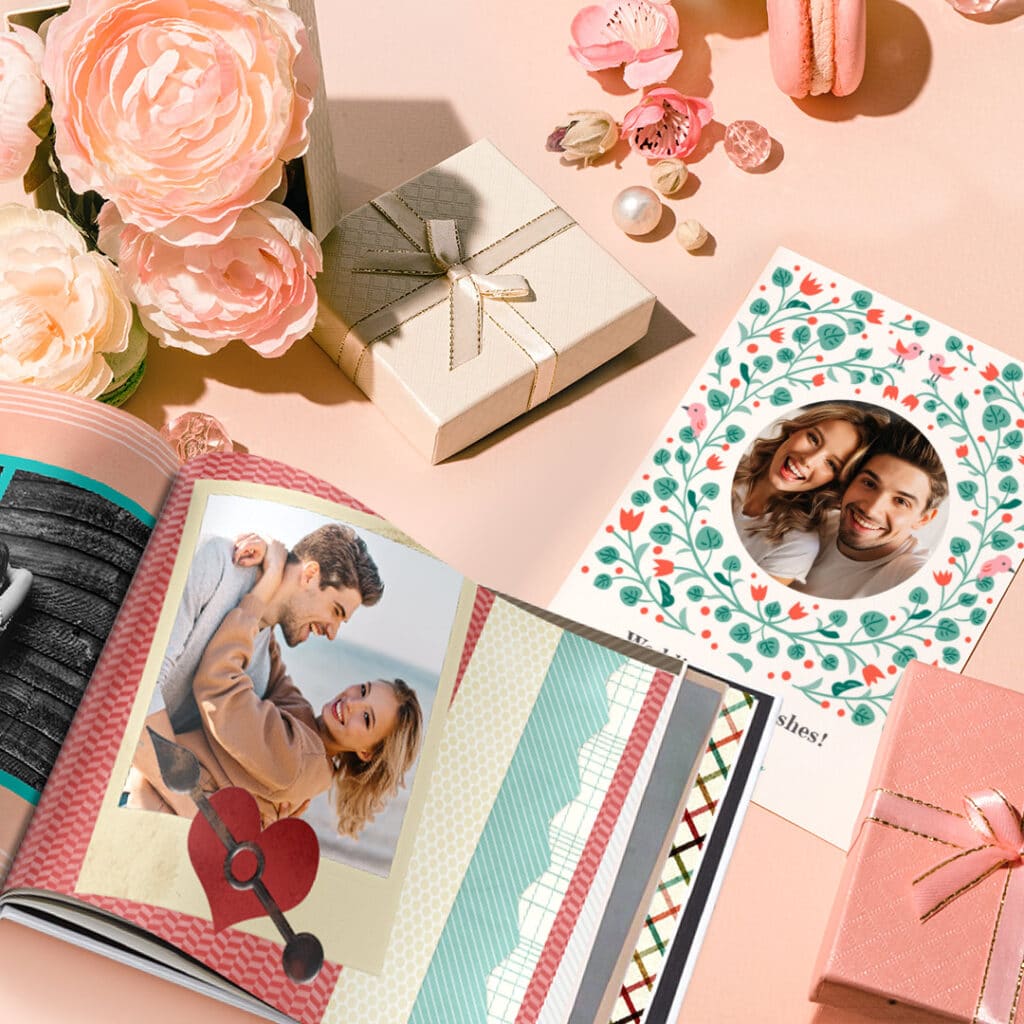 Use your wedding congratulations card to make the newlyweds feel special. A well-written card is the perfect addition to a personalised wedding gift, especially with the right words scripted inside. You could even add one of these sweet wishes for the couple in a wedding photo book, or print on a photo canvas print of the happy couple.

Snapfish + Macmillan are working in partnership to raise vital funds. For every greeting card or flat card set sold, Macmillan receive up to 15p.
Ready to get started? We can't wait to see what you'll create and customise for weddings! Tag us with @snapfishUK and #snapfishuk when you share your photos on Instagram, Pinterest and Facebook. You can watch some of our How To tutorials on YouTube as well.