Spring has nearly sprung and we can't wait! Not only does it meannew adventures, it's also an excuse for new home decor! We asked some of our favourite mummy bloggers to put a fresh spin on spring home decor, and share a few tips along the way.
Tip 1. Share meaningful memories 
Make an impact with your Spring home decor, and decorate with memories that are meaningful and important to you. Fritha from TigerLilly Quinn chose to decorate her new work space with her favourite summer photo printed on to a wooden wall panel. 
"We're so guilty of not printing out our photos and the kids have rarely seen images that aren't on the screen. So for them to see us all on this lovely wooden hanging was a real treat and has reminded me to get more printed out. My family are always my biggest inspiration in my life and my job so being able to see us on this beautiful wall art every day really gives me the motivation to plough through my emails!" – TigerLilly Quinn
Create your own 14×11" Wood Wall Photo Panel >
Tip 2. Focus on one colour
Jenny from Let's Talk Mommy created a navy fleece photo blanket to compliment the other navy accents in their playroom.
"Making things like photo memorabilia is the perfect way to keep these smaller memories alive as much as the big ones. We made this gorgeous Snapfish Photo Blanket out of our favorite "home memories" from either our park next door, our backyard, or inside our home just being silly. It's another thing that can become apart of our making memories at home. We can use it during movie time, reading time, or just having a lie in on the weekends all snuggled together. It's gorgeous fleece is super soft and warm." – Let's Talk Mommy
Create your own Fleece Photo Blanket >
Tip 3. Keep costs down 
Changing home decor from season to season can be expensive, which is why Alex from Bump to Baby recommends starting with the basics like cushion and bed covers. They're easy to change and can immediately give a 'fresh' look to any room.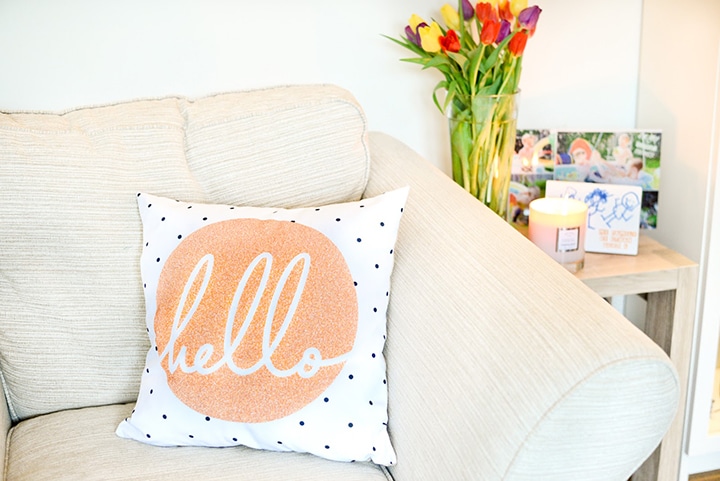 "I designed the 'Hello' pillow you can see here myself over on Snapfish.co.uk. Via Snapfish you can personalise cushions however you like matching the design to your home, you can even have your own photos printed on them!" – Bump to Baby
Create your own Photo Cushion >
Tip 4. Don't just post your pictures, print them too
Alice from New Young Mum printed some of her favourite Instagram photos from 2017 onto square prints and cushions to decorate her home.  It reminds you of all the fun you've had in the last year, and gets you excited for all the adventures to come! Our square prints, canvas prints, cushions and coasters are perfect for your square Instagram photos. 
"I loved using the Snapfish service and creating the products I chose. It is such a great reminder of an amazing year of adventures and has given me plenty of inspiration for the year to come." – New Young Mum
Create your own Photo Cushion and Square Prints >
Tip 5. Get the kids involved
Jess from Along Came Cherry gave full design responsibility to her children, giving them chance to get creative. They picked everything from the theme to the photos and embellishments used.
"When the blanket arrived I was actually so surprised at how good the photo quality was, the one of us dressed up was only taken on my phone but it actually looks better on the blanket than it does on the screen!" – Along Came Cherry
Create your own Fleece Photo Blanket >
We'd love to hear see your spring home decor tips
What did you create on Snapfish? Share it with us on social media! You can tag us with @snapfishuk in your photos on Instagram or Facebook or use the hashtag #snapfishuk. Don't forget to follow us on YouTube, Twitter and Pinterest, too. We love seeing what you create.
Shop all Home Decor.