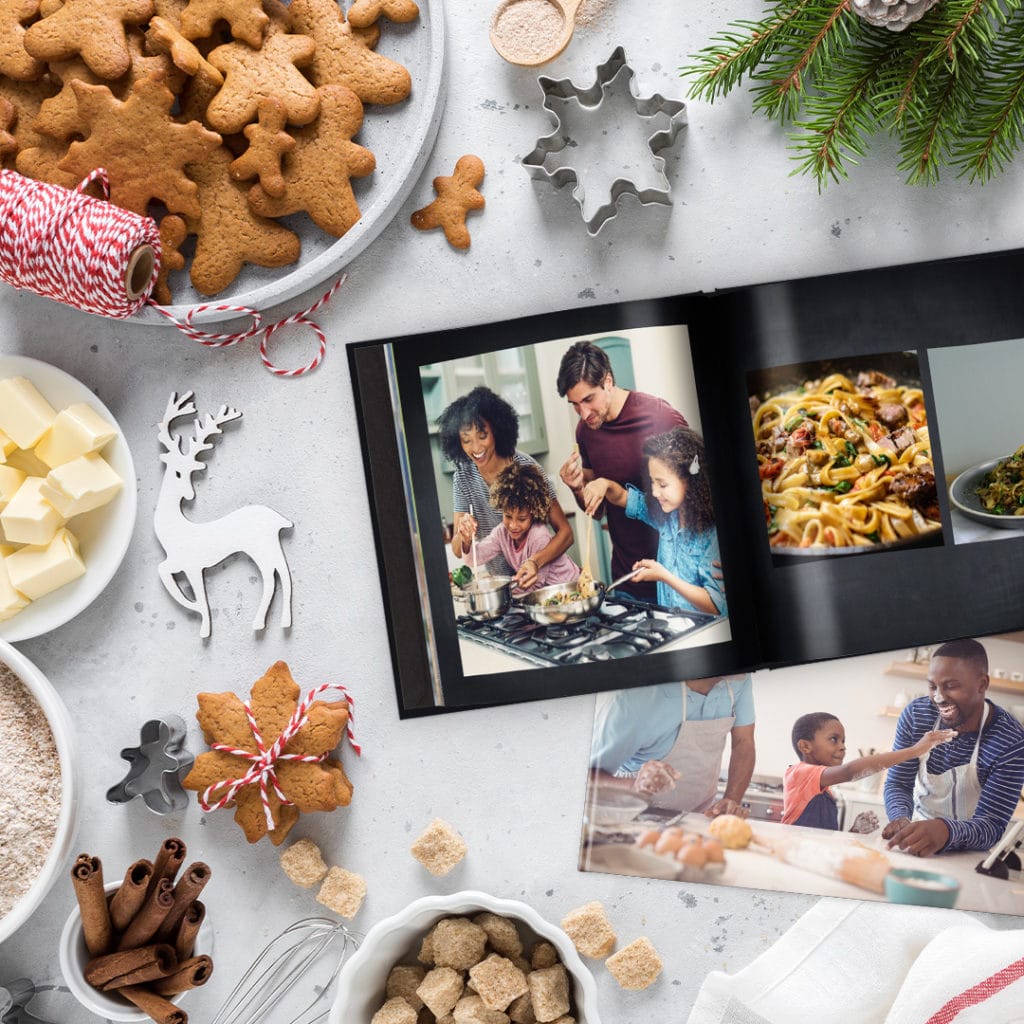 'Tis the season for home-cooked meals! Nothing says Christmas-time like cooking family recipes with your loved ones. A custom cookbook is a perfect keepsake photo gift that can be passed on for generations. Keep Grandma's top-secret stuffing recipe and all your festive favourites together in a photo book, along with photos you've taken of your delicious dishes. 
Showcase your favourite recipes in a book with custom designs  
It's easy to design a custom recipe book! First, select the size and type of photo book. We offer a variety of sizes for you to choose from – 8×8″, A4 (11×8″), 12×12″, A3 (15.5″x11″), A5 (8×6″), and 6×4″. Our cover options include hardcover, matt hardcover, softcover, paper cover, linen, and leather. 
After selecting your book, pick a design. You can try one of our premade photo book designs, like our Farm to Table Cookbook, or select the "Design Your Own" option for complete creative freedom over your book.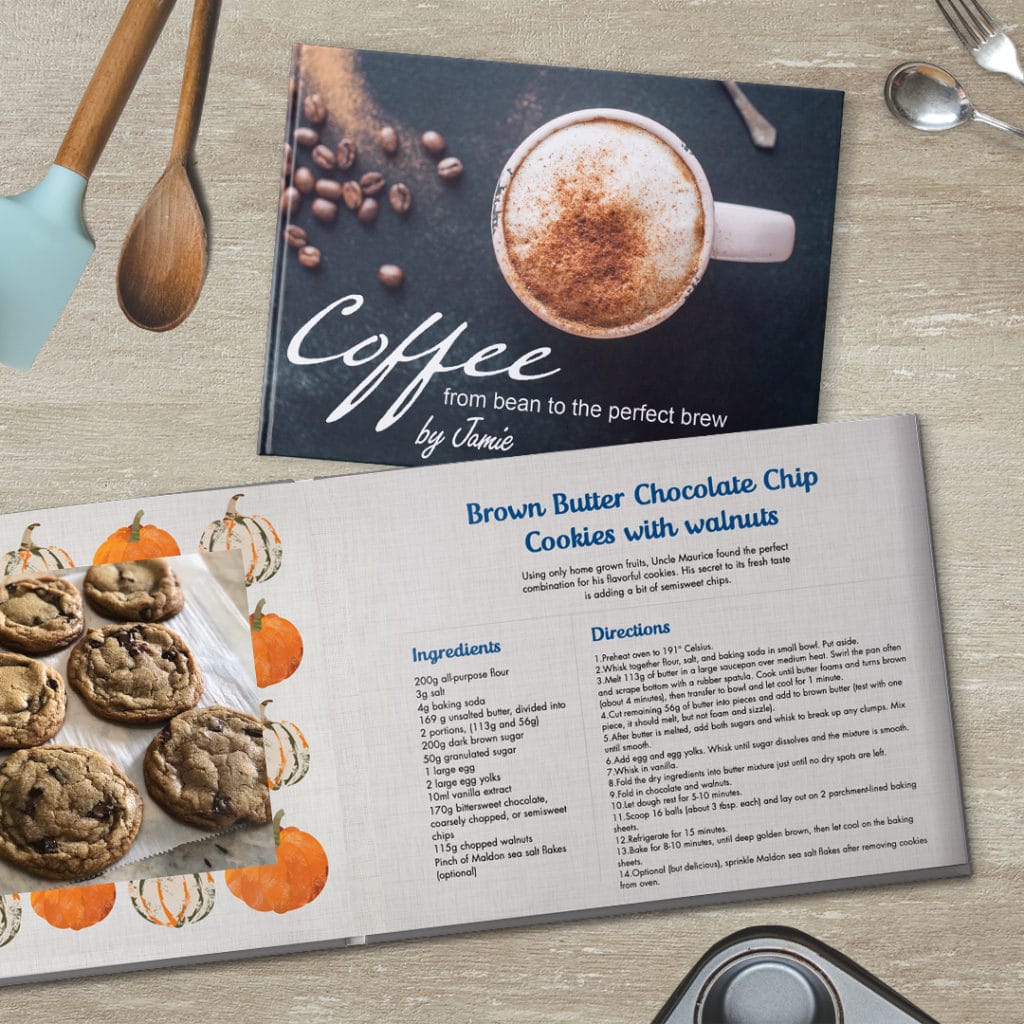 Once you've chosen your design, it's time for the fun part — personalise your cookbook with your recipes, photos, seasonal embellishments, and backgrounds! For more information on the process of creating a photo book, check out this helpful article or watch these handy YouTube Tutorials. 
Make it a family activity 
The most memorable family bonding is over food. We love the idea of creating your seasonal cookbook with the entire family, so you can reminisce on memories and traditions together. Keep the classics in the recipe book and have every family member add a dish of their own to make the cookbook completely unique to your crew.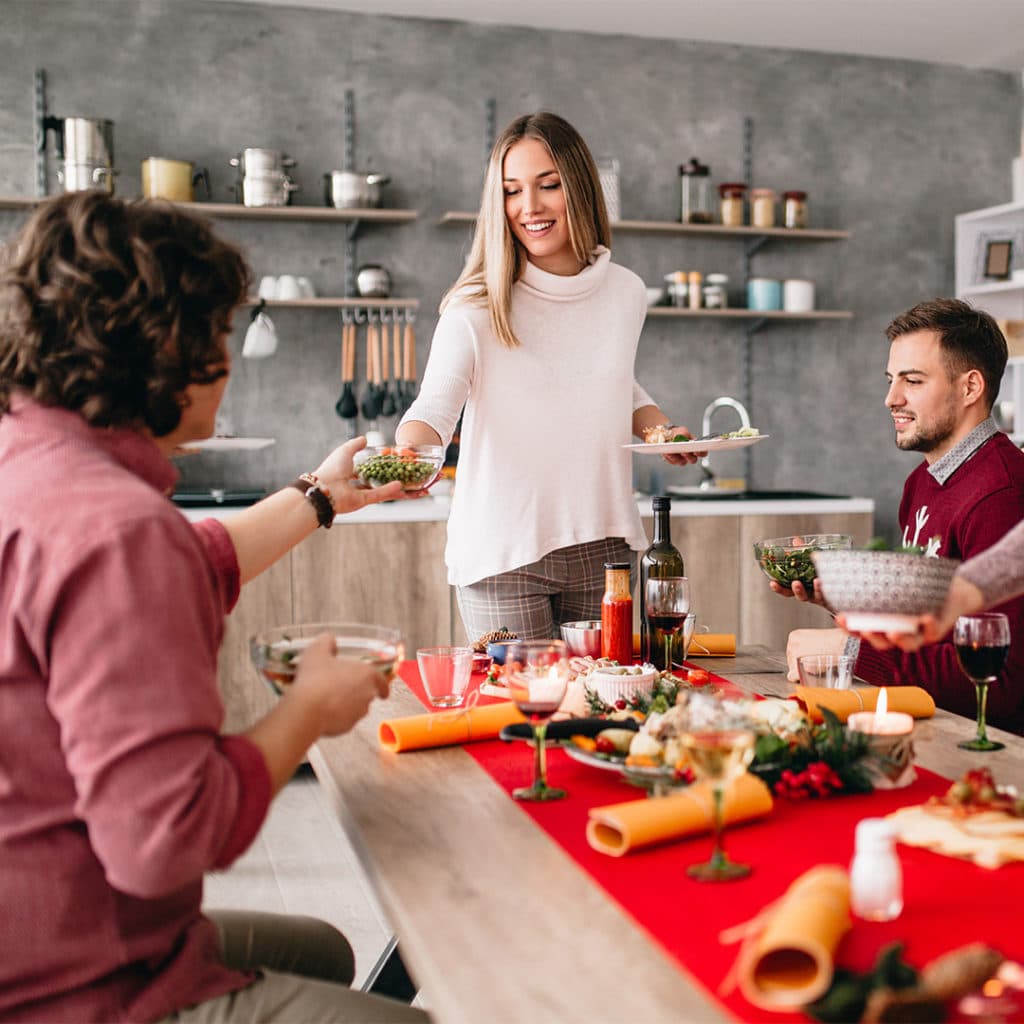 After receiving your cookbook, you can spend time with your loved ones preparing the dishes. Fun tip: try playing a "What's for dinner?" game with the family. During the chilly months, have one family member close their eyes, flip to a random page, and point — whatever they're pointing to is what you're cooking that night! 
Give the perfect Christmas gift 
A seasonal recipe cookbook is a perfect gift for friends and family. Has your sister-in-law been pestering you for your prized quiche recipe? Surprise her with a cookbook of all your favourite dishes.  Another idea is to show grandparents the legacy of their recipes by gifting them a cookbook with photos of loved ones making their dishes (and maybe even a scan of the original hand-written recipe). A custom cookbook is a perfect gifts for anyone in your life who enjoys food, from the novice cook to the master chef.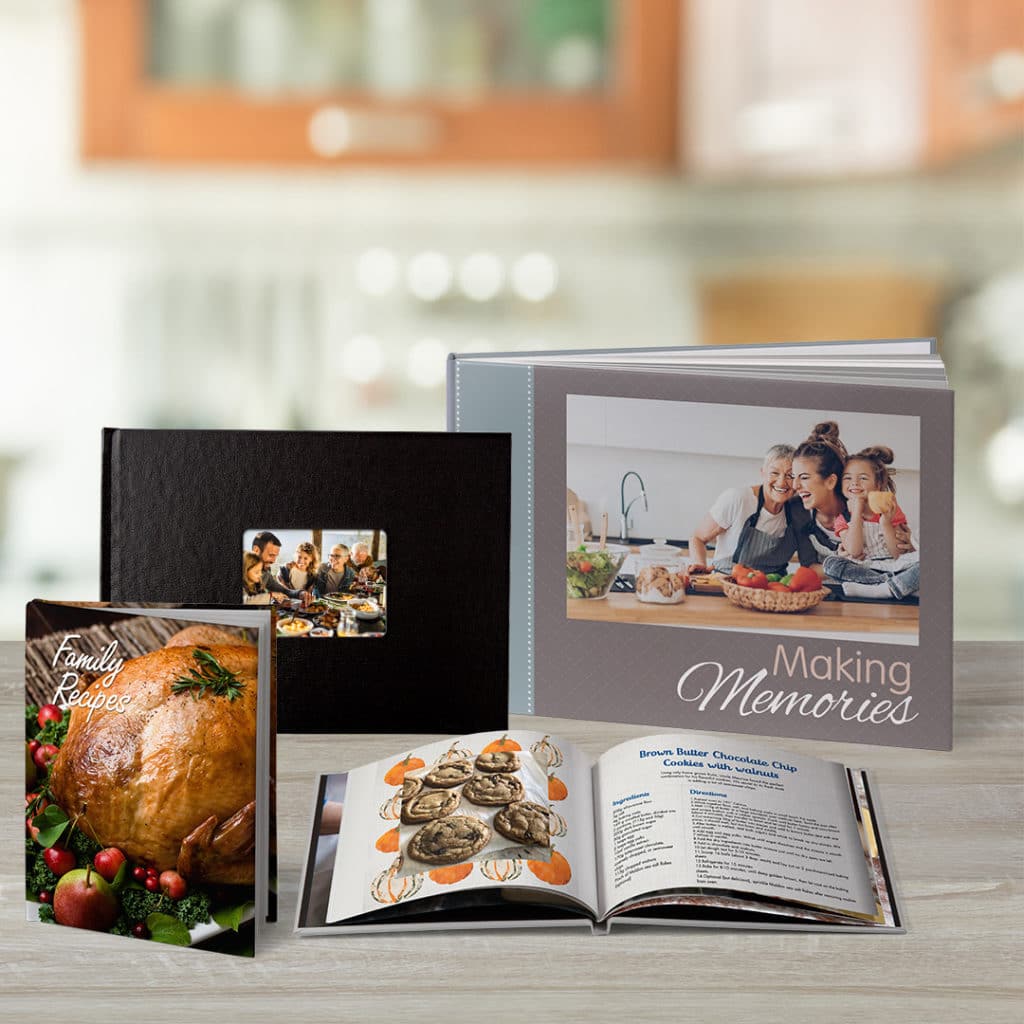 Try this recipe— from the Snapfish family, to yours!
These Brown Butter Chocolate Chip Cookies with Walnuts are guaranteed to be a hit at your next family get-together. Warning — you might have to fight over the last one. 
Ingredients: 
200g plain flour
3g salt
4g baking soda
169g unsalted butter, divided into 2 portions, (113g and 56g) 
200g dark brown sugar
50g granulated sugar
1 large egg
2 large egg yolks
10ml vanilla extract
170g dark chocolate chips
115g chopped walnuts
Pinch of sea salt (optional) 
Instructions:
Preheat oven to 191°C.
Whisk together flour, salt, and baking soda in small bowl. Put aside. 
Melt 113g of butter in a large pan over medium heat. Swirl the pan often and scrape bottom with a spatula. Cook until butter foams and turns brown (about 4 minutes), then transfer to bowl and let cool for 1 minute.
Cut remaining 56g of butter into pieces and add to brown butter (test with one piece, it should melt, but not foam and sizzle). 
After butter is melted, add both sugars and whisk to break up any clumps. Mix until smooth.  
Add egg and egg yolks. Whisk until sugar dissolves and the mixture is smooth. 
Whisk in vanilla.
Fold the dry ingredients into butter mixture just until no dry spots are left. 
Fold in chocolate and walnuts. 
Let dough rest for 5-10 minutes. 
Scoop 16 balls (about 3 tbsp. each) and lay out on 2 greaseproof paper lined baking sheets. 
Refrigerate for 15 minutes. 
Bake for 8-10 minutes, until deep golden brown, then let cool on the baking sheets. 
Optional (but delicious), sprinkle sea salt flakes after removing cookies from oven.
Enjoy!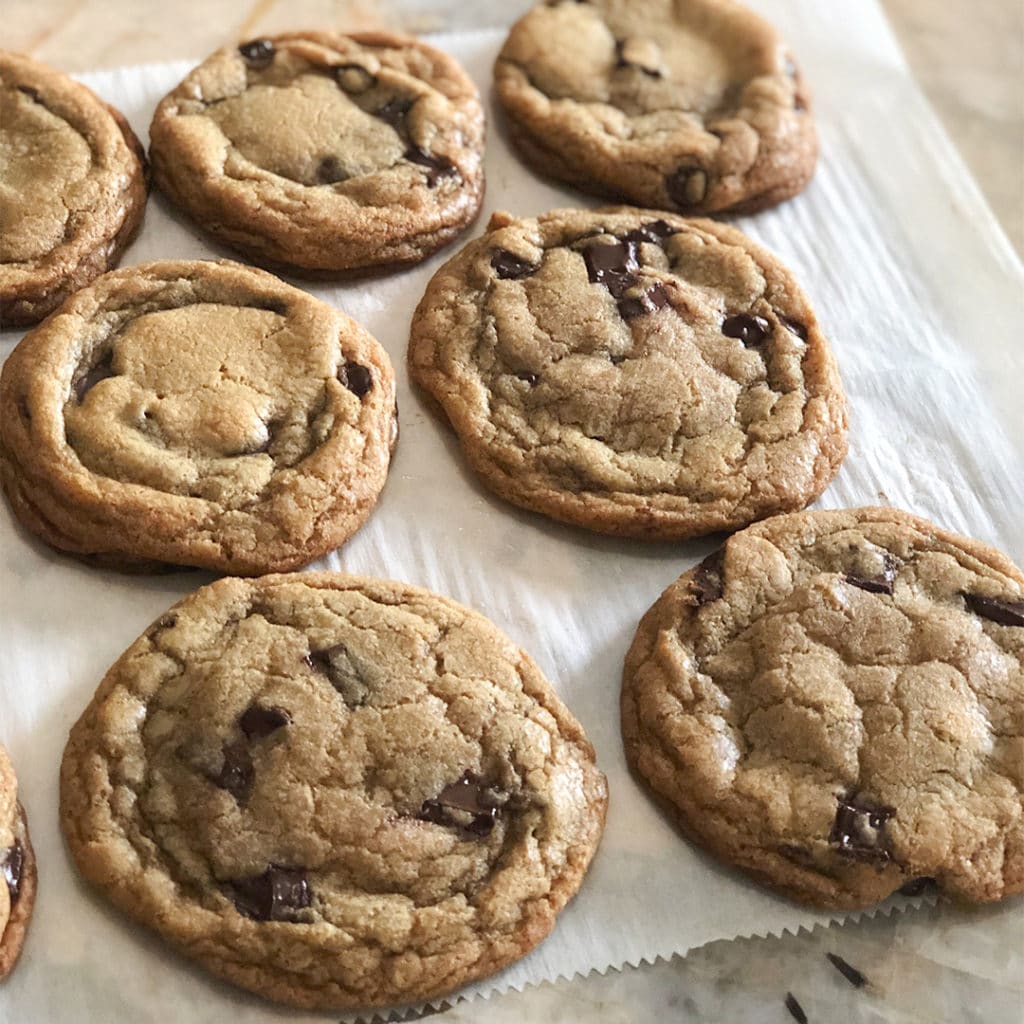 If you order a custom cookbook, don't forget to share pictures of your recipe book and food with us on social media!  You can tag us with @snapfishuk in your photos on Instagram or Facebook or use the hashtag #snapfishuk. Don't forget to follow us on YouTube, Twitter and Pinterest, too.