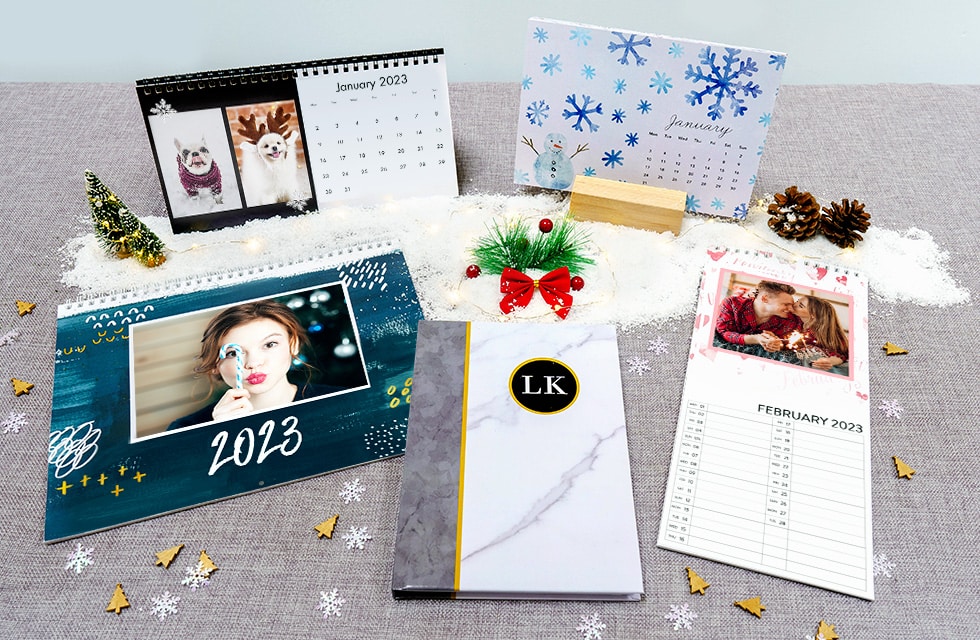 Ring in the New Year with a custom 2023 calendar made with Snapfish
It's so easy to make the best calendar using the Snapfish online calendar maker because you can truly customise it with your key events and special dates. With Snapfish, you can personalise a 2023 calendar for your kitchen, office, study, or anywhere else you need one. When you make a custom photo calendar, keeping track of all your important 2023 dates, such as dentist appointments, birthdays and bank holidays, is fun!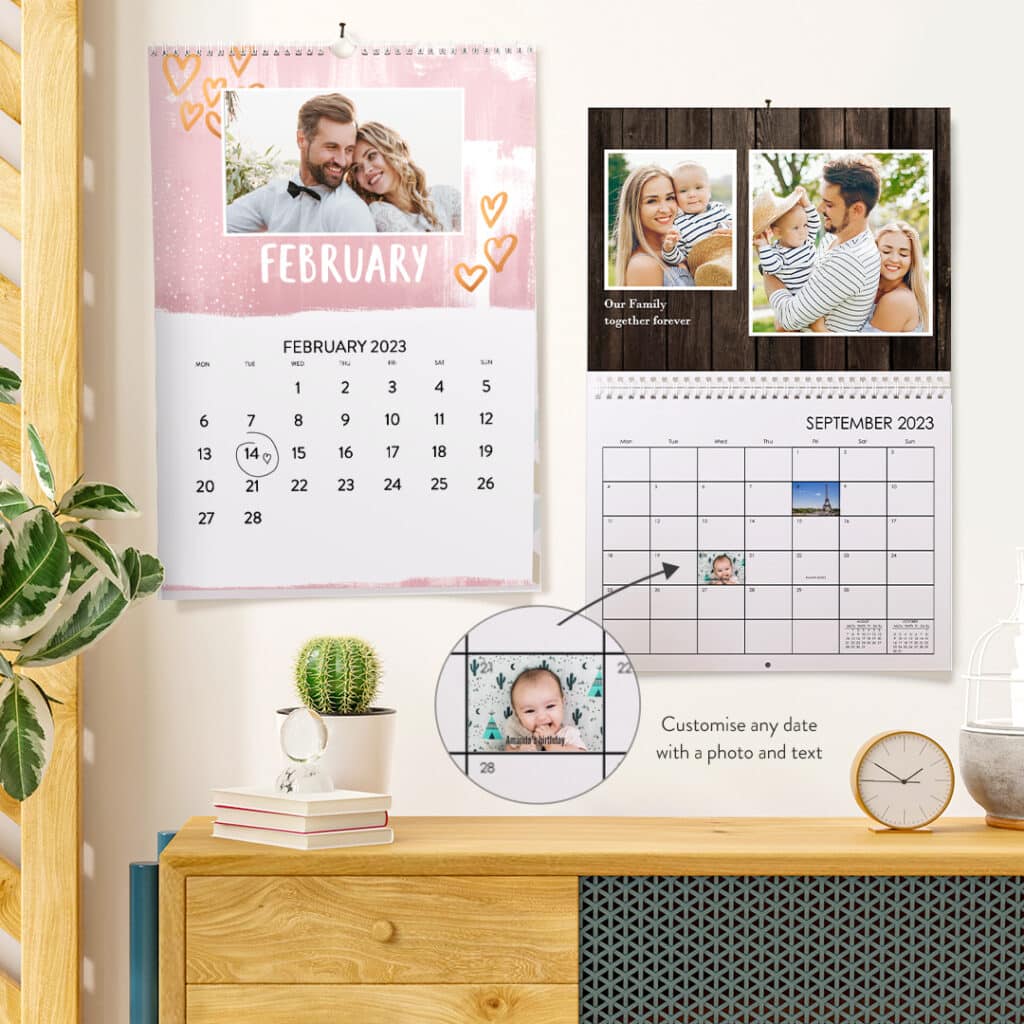 Creating a personalised calendar online is a doddle. All you need to do is choose your calendar style and design, upload photos and add important events to our pre-made calendar layouts. We'll print it and deliver it to your door within days.
What Types Of 2023 Calendars Does Snapfish Sell?
Wall Calendars
Before choosing your 2023 calendar, think where you'll be using the calendar. A monthly wall planner is the best option for regular use and writing down daily notes in a high traffic area, while a slimline kitchen calendar could be the best for glancing at those key dates each month. Your custom Snapfish wall calendar will make all your important dates 'pop' and help you stay organised when you add custom text and photos.
Snapfish offers a wide range of wall calendars and small wall calendars to put up in any room or office from the large 14×22" calendar to the smaller 11×17" calendar (and when you buy the charity calendar, we'll donate £1 to Macmillan Cancer Support at no extra cost!).
Choose between our three wall calendar formats
Creative Calendars (available as 14×22", 12×24" or 11×17"), where the calendar opens up to show a separate page for the monthly grid.
Classic Calendars (available as A3, A4, or A5), where the imagery and grid are printed on the same page or,
Our ever popular slimline kitchen calendars (5.5×12").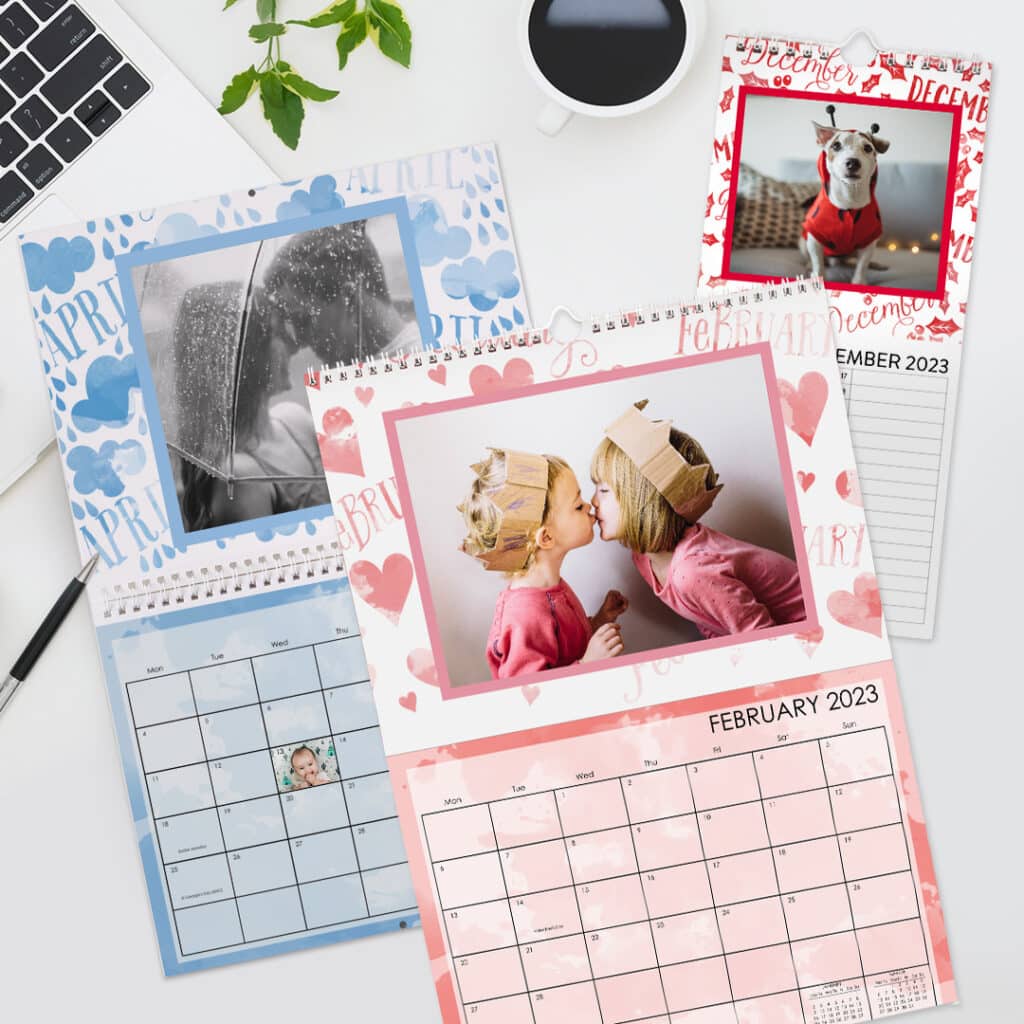 Our wall calendars are printed on high quality 250gsm paper which means your calendar has a beautiful professional finish. To make the wall calendar your own, our pre-made calendar layouts have space to include a large photo for each month or you can create a unique photo layout on each page with all your best pictures. Don't forget to include photos and text on important dates – for free – when you order one of our Creative Calendar options!
Table-top Calendars
Our desk calendars and wood block easel calendars are suited for desks and hallways, where you want to see your favourite memories and just circle key dates to keep track of those special occasions. With Snapfish, it's easy to make the perfect calendar online, for your home, the family, and the office.
We even have a 2023 diary for when you need to keep track of multiple tasks and appointments.
Easel or Wood Block Calendars
Easel calendars, also called Wood Block Calendars, double as beautiful home decor for your shelves, mantelpieces and coffee tables. With an easel calendar, each month is printed on thick, durable 300gsm recycled matt cardstock that you can customise with your personal photos and fun designs, and comes with a beautiful American White Ash stand. Just circle those key 2023 dates so you can see everything at a quick glance and remember to order calendar refill sets that you can insert into the attractive wooden calendar insert bases year after year.
Desk Calendars
Desk calendars are perfect for office or home desks. The Snapfish desk calendar stands flat on the table top so you can easily see the calendar while you're working and flip the month over when it's time for a new month. Desk calendars make great at-a-glance calendars as you can simply highlight those key dates and flip through all those memories throughout the year.
Personalised Diaries
A custom 2023 diary is perfect for staying organised on the go; and as a week is shown across two pages, there is plenty of space for all your calendar events and notes. You can customise a Snapfish diary by adding your photos to the front and back covers, and the Snapfish custom diary is the best calendar option for writing in those details you need to remember monthly, weekly, or even daily. Personalised diaries are perfect for showcasing photos of the kids or inspirational holiday pictures that will lift your spirits throughout 2023!
Why create a custom calendar with Snapfish?
If you're looking to create a UK calendar with specific national holidays, our calendars and diaries come pre-loaded with the full list of 2023 UK Bank Holidays, but there may be other key dates you might want to add into your custom calendar which can be printed into the Creative Calendar range, but will need to be handwritten into our other calendar formats.
The main UK bank holidays & key events for 2023 are listed below.
| | |
| --- | --- |
| New Year's Day (ENG, WAL, NIR, SCO) | 3rd Jan 2023 |
| Hogmanay (SCO) | 31st Dec 2023 |
| St Patricks Day (NIR) | 17th Mar 2023 |
| Good Friday (ENG, WAL, NIR, SCO) | 7th Apr 2023 |
| Easter Monday (ENG, WAL, NIR) | 10th Apr 2023 |
| May Day (ENG, WAL, NIR, SCO) | 1st May 2023 |
| Spring Bank Holiday (ENG, WAL, NIR, SCO) | 29th May 2023 |
| Platinum Jubilee Bank Holiday (ENG, WAL, NIR, SCO) | 2nd June 2023 |
| Battle of the Boyne (NIR) | 12th Jul 2023 |
| Early August Bank Holiday (SCO) | 1st Aug 2023 |
| Late August Bank Holiday (ENG, WAL, NIR) | 28th Aug 2023 |
| St Andrews Day (SCO) | 30th Nov 2023 |
| Christmas Day Bank Holiday (ENG, WAL, NIR, SCO) | 25th Dec 2023 |
| Boxing Day Bank Holiday (ENG, WAL, NIR, SCO) | 26th Dec 2023 |
As well as listing the UK public holidays on your custom 2023 calendar, you might also show solstice and equinox dates as well as when the clocks change. Knowing these dates will make it easier to use your creative calendar for planning, gardening, and even help you remember when to change the kitchen clock!
| | |
| --- | --- |
| Spring Equinox | 20th March, 2023 |
| British Summer Time (Clocks go forward) | 26th March, 2023 |
| Summer Solstice | 21st June, 2023 |
| Autumn Equinox | 23rd September, 2023 |
| Greenwich Meantime (Clocks go back) | 29th October, 2023 |
| Winter Solstice | 22nd December, 2023 |
Top selling designs for your personalised 2023 calendar
We have a wide range of calendar designs to suit your style and below are a few of our favourites.
Instagram Friendly Photo Calendar Layout
The "My Instagrams" wall calendar design is perfect for printing all your favourite Instagram pictures.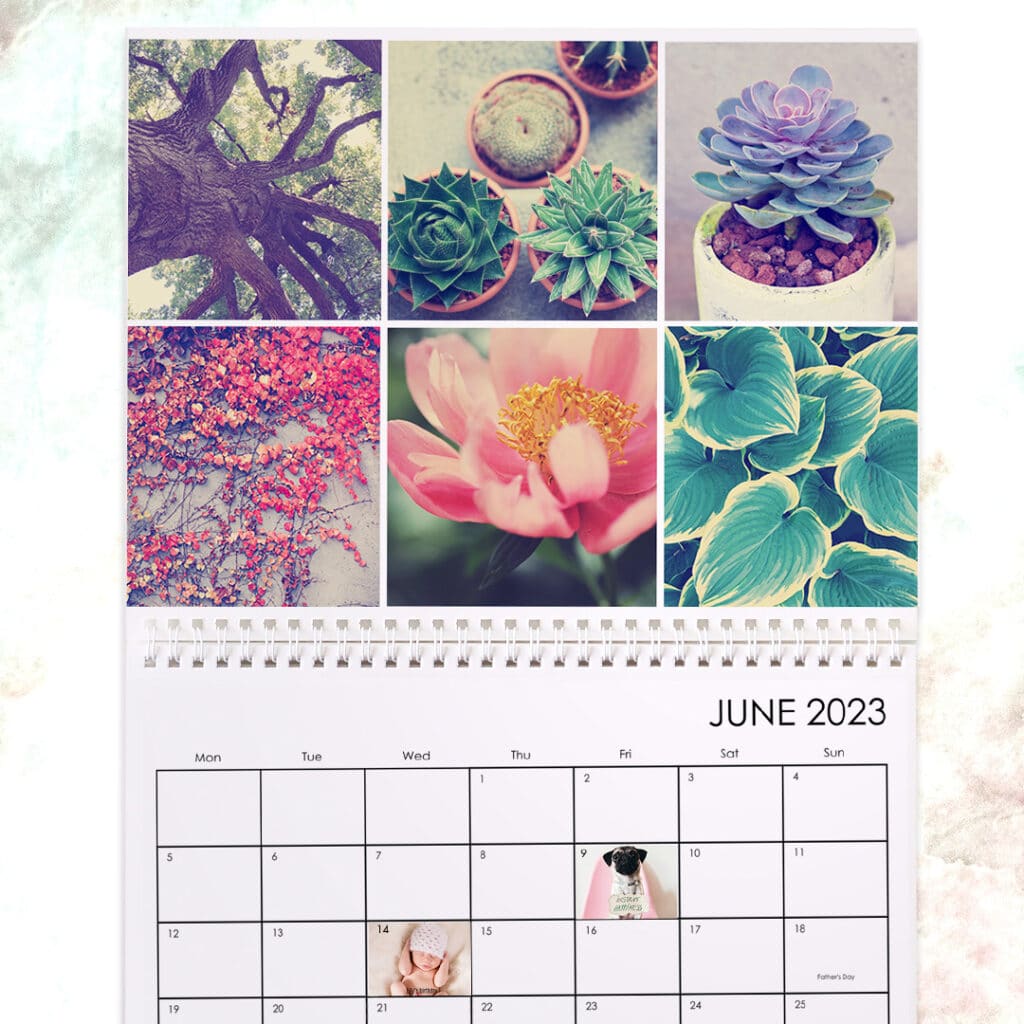 Make My Instagrams Calendar
Classy Chalkboard Calendar Backgrounds
The "Chalkboard Seasons" calendar design is perfect for when you want to achieve that minimalistic monochrome look in your home.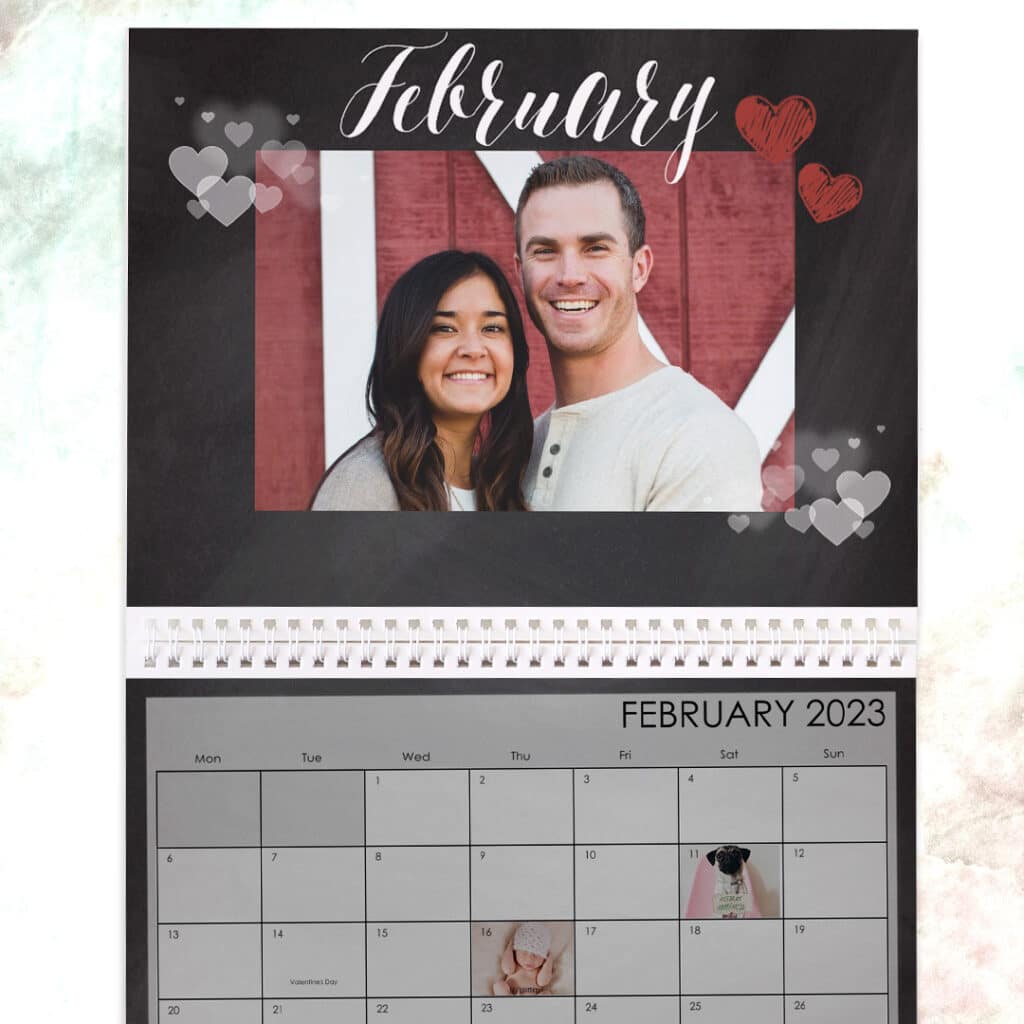 Make Chalkboard Seasons Calendar
Watercolour Sketchbook Calendar Layout
Add embellishments for a handcrafted effect, with design options from top to bottom. Personalise special dates with photos and text.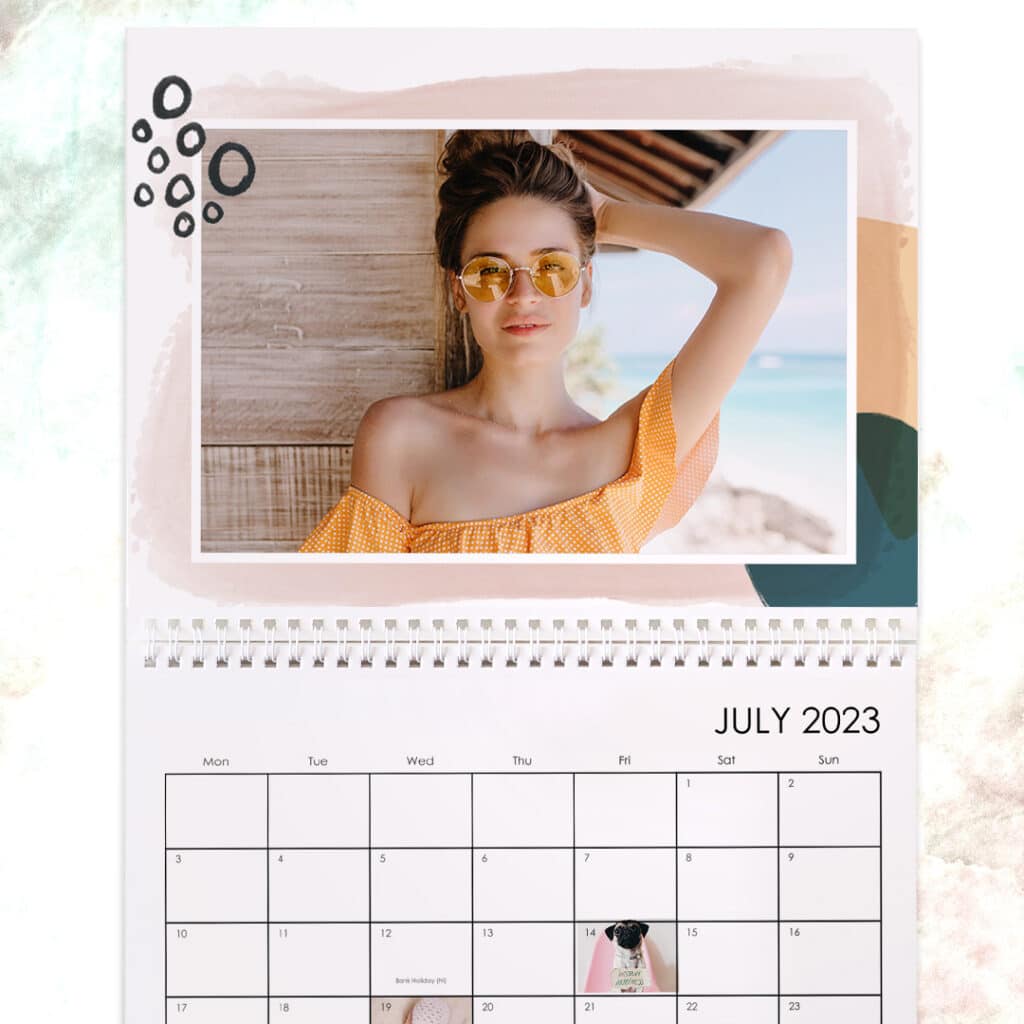 Make Watercolour Sketchbook calendar
Pressed Flowers Calendar
This pretty botanical themed calendar design is lovely and will easily match feminine or bohemian home decor.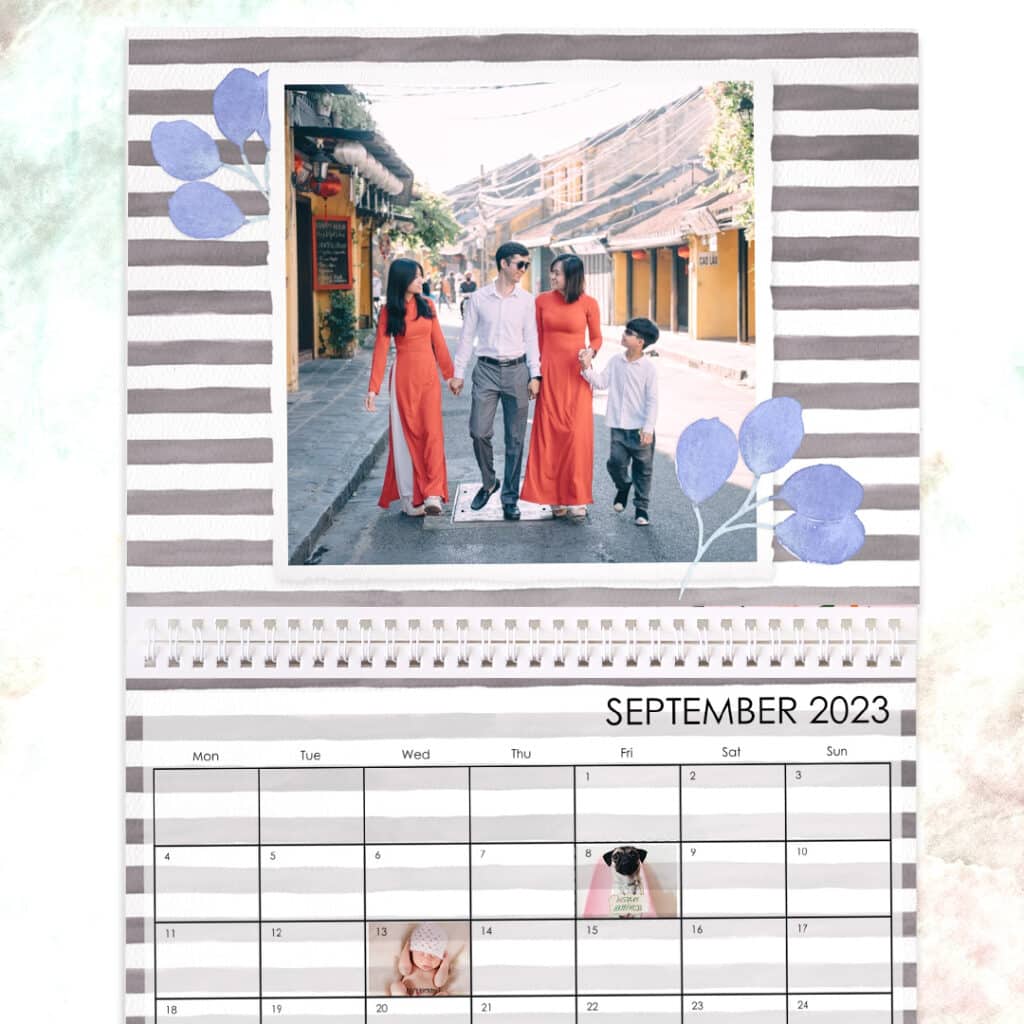 Make Pressed Flowers Calendar
Colouring Book Calendar
The Colouring Book photo calendar design allows you to get creative with all types of artistic media – crayons, coloured pencils, markers, glitter, glue, feathers… your kids can go crazy!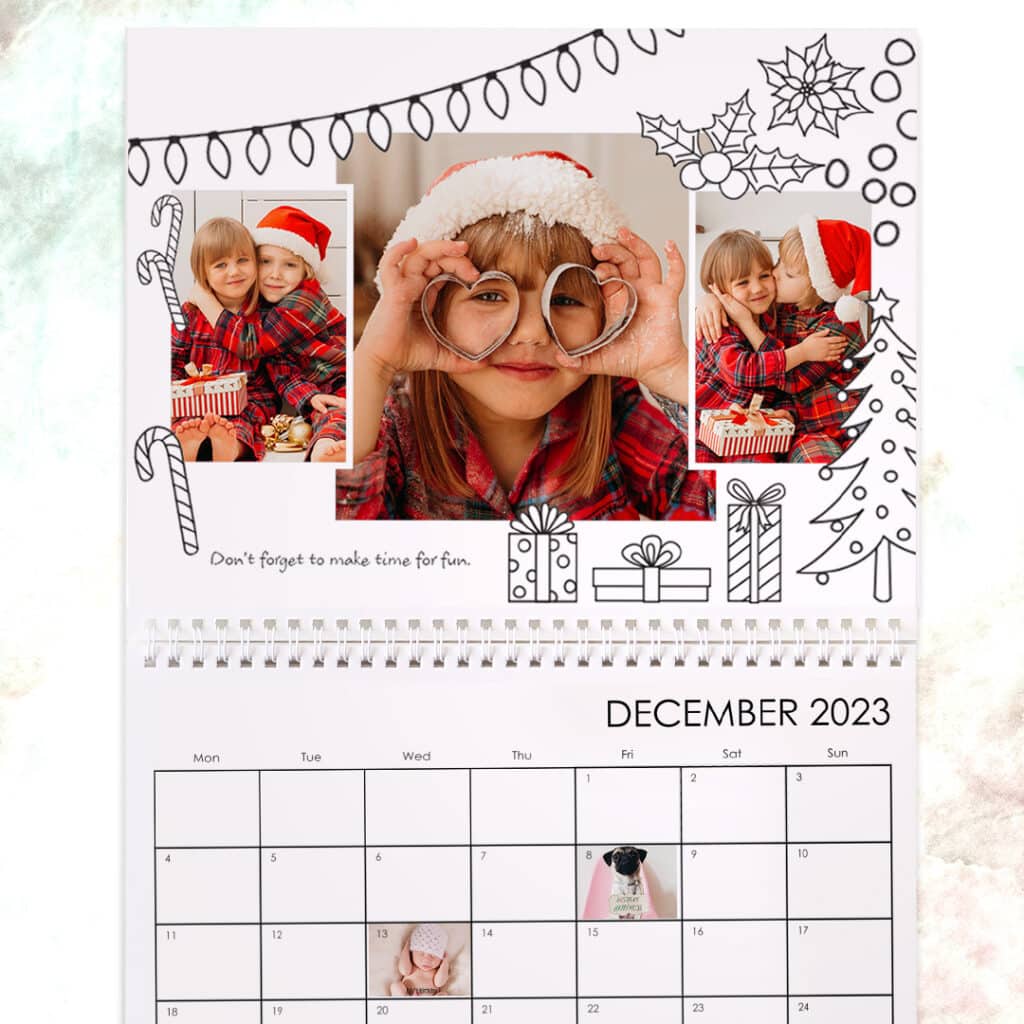 Make Colouring Book Calendar
DIY Calendar Design
Upload photos, select and customise the calendar layout to suit. You can select different layouts, backgrounds or designs for each month.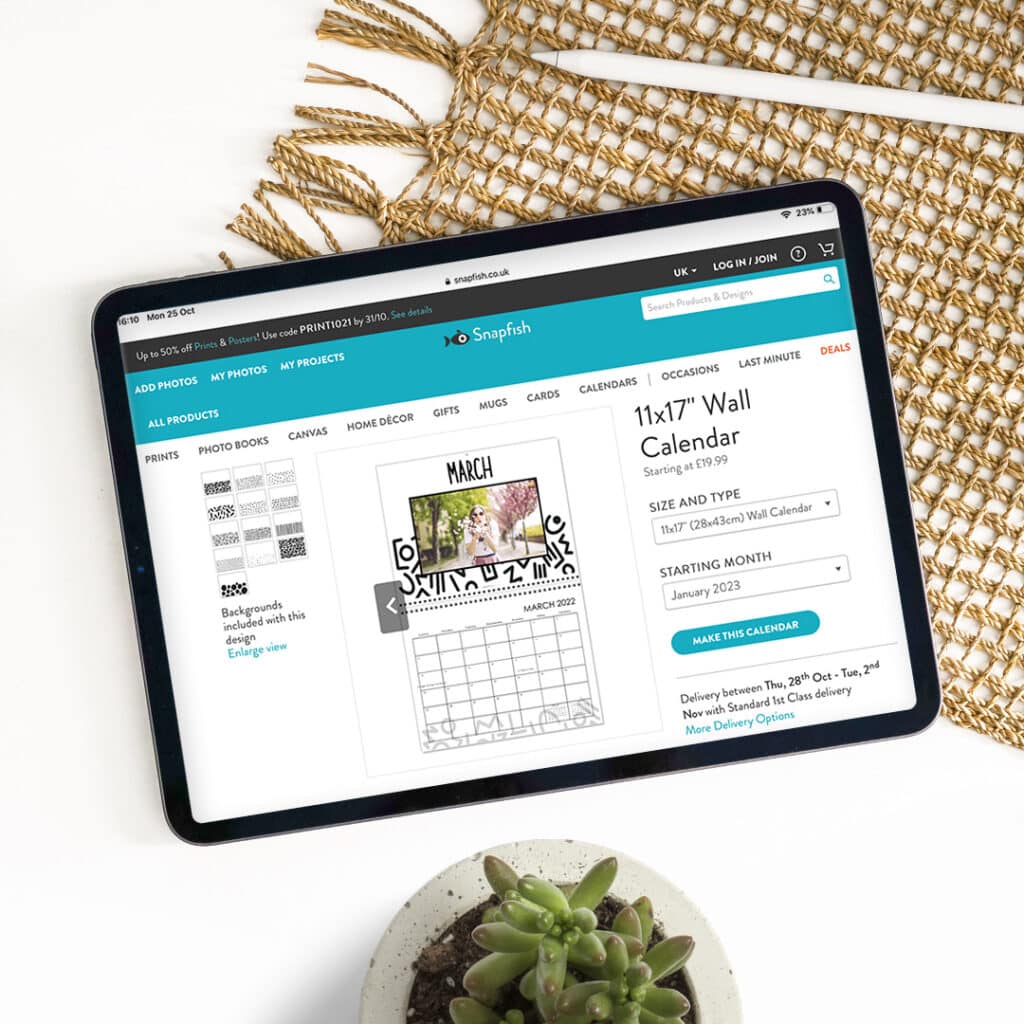 Design your own custom calendar
How Do You Customise A Snapfish Calendar With Your Key Dates?
The Snapfish online calendar maker is easy to use. Firstly, select the calendar size and template you want, upload photos and then create a calendar. Our calendars have the UK public holidays built into the calendar templates, but you can also add personal calendar dates when you create a Creative Wall Calendar. For the eco-friendly customers, Snapfish also sells re- fillable calendar inserts for the Wood Block Easel Calendars, and you can customise these inserts with photos and embellishments to make it more unique before it even reaches your letterbox.
Tips For Choosing A 2023 Calendar
A creative wall calendar is a great family calendar since you can hang it up anywhere in the home and it has lots of space for writing key calendar details. Snapfish also offers a simpler classic or slimline kitchen wall calendar option when you are needing a smaller, at-a-glance slimline calendar option.
Alternatively, choose the functional desk calendar or eco-friendly re-usable wood block calendar for people who can't hang calendars on their wall, or like to have a table-top calendar near where they are sitting.
Once you select your calendar type and theme, you can customise further using the online calendar design tools to swap layouts, backgrounds, text, and embellishments to suit your needs.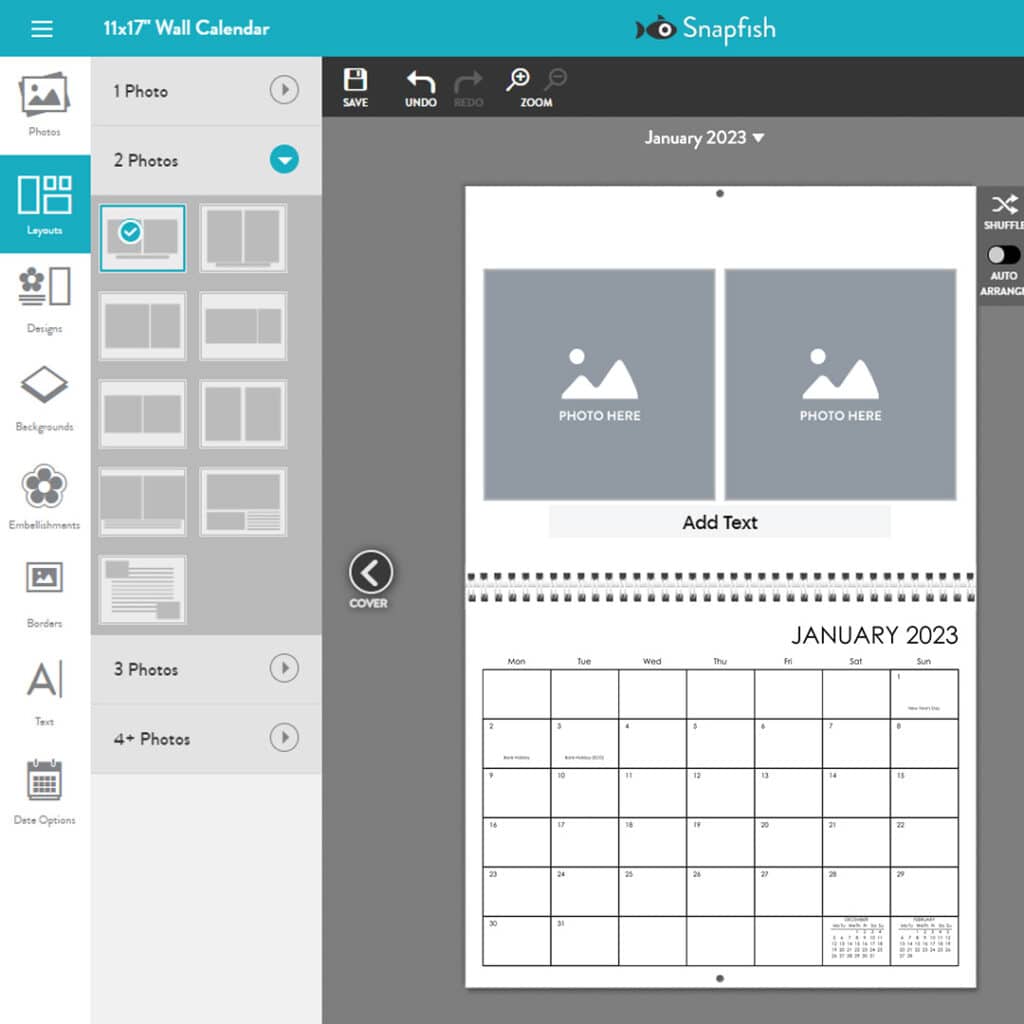 The best part of creating a 2023 calendar online is being able to ensure your photos are exactly where you want them on the page. Depending on the type of calendar you choose, you can use multiple photos on each page or a single photo to set the theme for the month. You don't have to choose a standard year calendar if you don't need one – you can choose to create an academic calendar (perfect for teachers or students) or to start at a specific month if needed.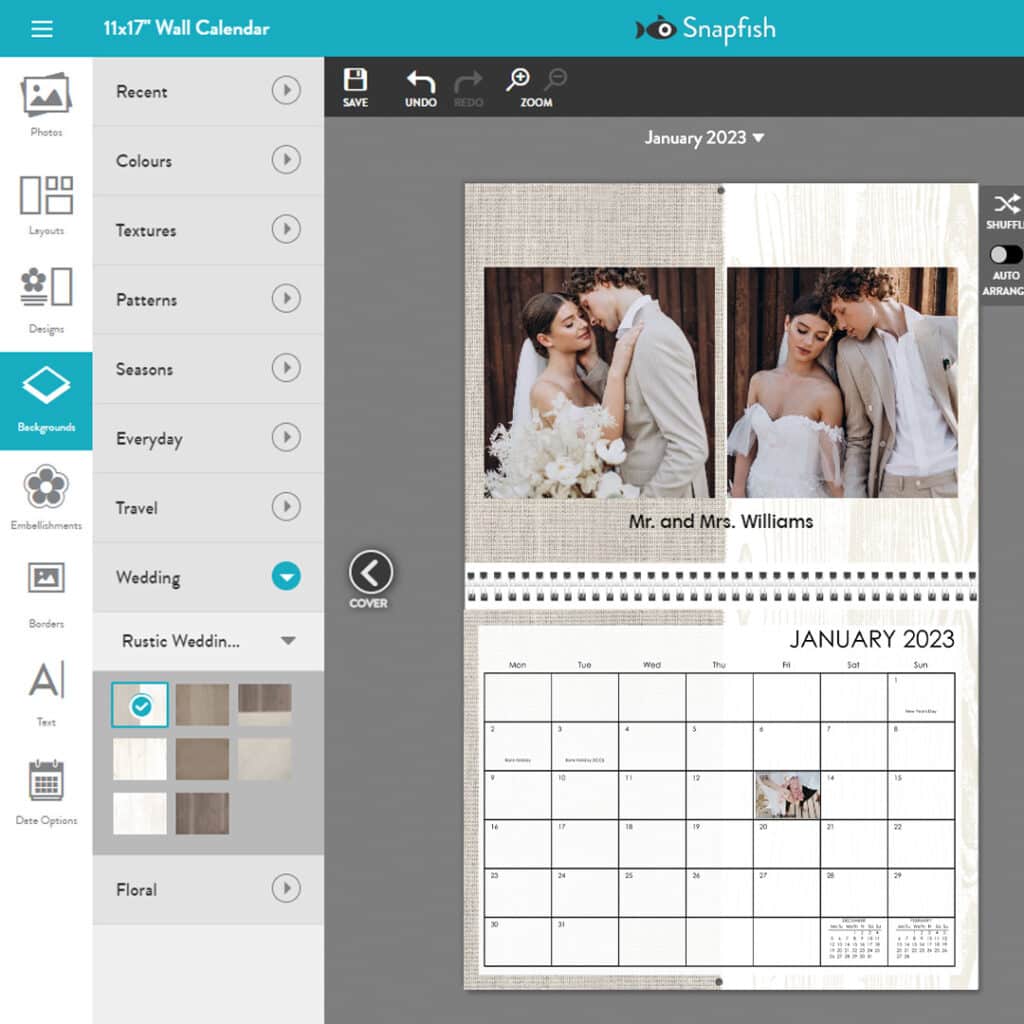 Use the following tips below to create the best 2023 calendar for you and your family & friends this year:
Make each month special by selecting seasonal photos and backgrounds
Remember to take advantage of the free photo dates on Creative Calendars to highlight those important dates
Include all your favourite pictures so you can relive your best memories from last year, each month
Whatever calendar type you create, have fun making it unique with pre-designed photo layouts and backgrounds that you can customise. Your calendar can showcase pictures of the family, pets, travel spots, kids, and many more memories and they also make the best Christmas gifts for your family year after year!
Feeling inspired to create your own calendar? Please share your creations with us on social media! Just tag us with @snapfishuk on Instagram or Facebook with photos or use the hashtag #snapfishuk. You can also follow us on YouTube, Twitter and Pinterest, too!