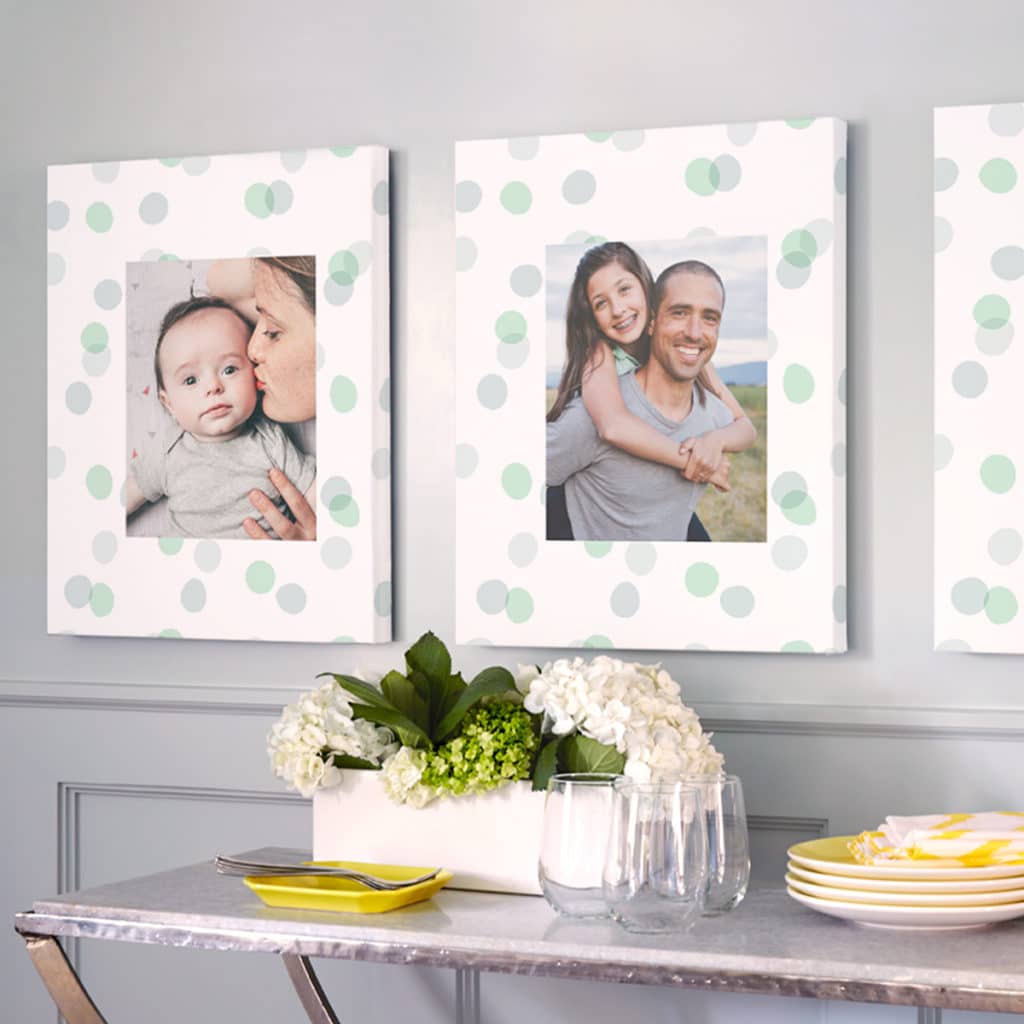 What exactly is a personalised canvas print? When people hear the word canvas, they usually picture a fancy work of art hanging in a museum. Canvas feels like it would be expensive or time-consuming to make. But that's not the case!
With advancements in printing technology, anyone can enjoy museum-quality wall art made with their own photos! What once felt out-of-reach is now within your budget. In fact, it's sometimes cheaper to get a canvas print of your favourite photos compared to printing out a regular photo and getting it framed.
How Is A Canvas Print Made?
Your image will be printed onto the canvas using archival-quality water-based (aqueous) ink. We offer two types of canvas prints, both constructed by hand in the UK. Premium canvas prints are printed on matt finish, premium satin canvas with a 1.5″ thick frame. Slim canvas prints are printed with a satin finish and wrapped around solid 0.7″ frame. We also offer slim canvas sets for maximum wow factor on your walls!
Too many photos to choose from? Try our photo collage canvas print layouts!
We use a gallery-wrapping technique to secure the canvas to the frame and you can opt for a photo or colour wrap. Colour Wrap features a black, grey, or white coloured edge and showcases your whole image on the front. Photo Wrap extends your image over each side of the canvas.
Here, you can watch a video of our talented team members in the process of creating a photo print! They take the canvas off the wide format printer, load the canvas and frame to a stretching and pinning machine, hand staple for a tight finish, and then carefully wrap and pack so it's ready for dispatch.
How Do You Hang A Canvas Print?
Hanging kits are included with all our premium canvas prints, but not with our slim canvas prints. If you're interested in hanging your canvas, the most common method is to attach sawtooth brackets to the back of the canvas and then hang to the wall with a nail. You can also attach D-ring holders and thread wire or cord through the rings. Once that is secure, you can hang the wire to the wall on a nail. Another quick solution would be to use nails or screws and let the wooden frame sit directly over the nail.
What Canvas Sizes Are Available?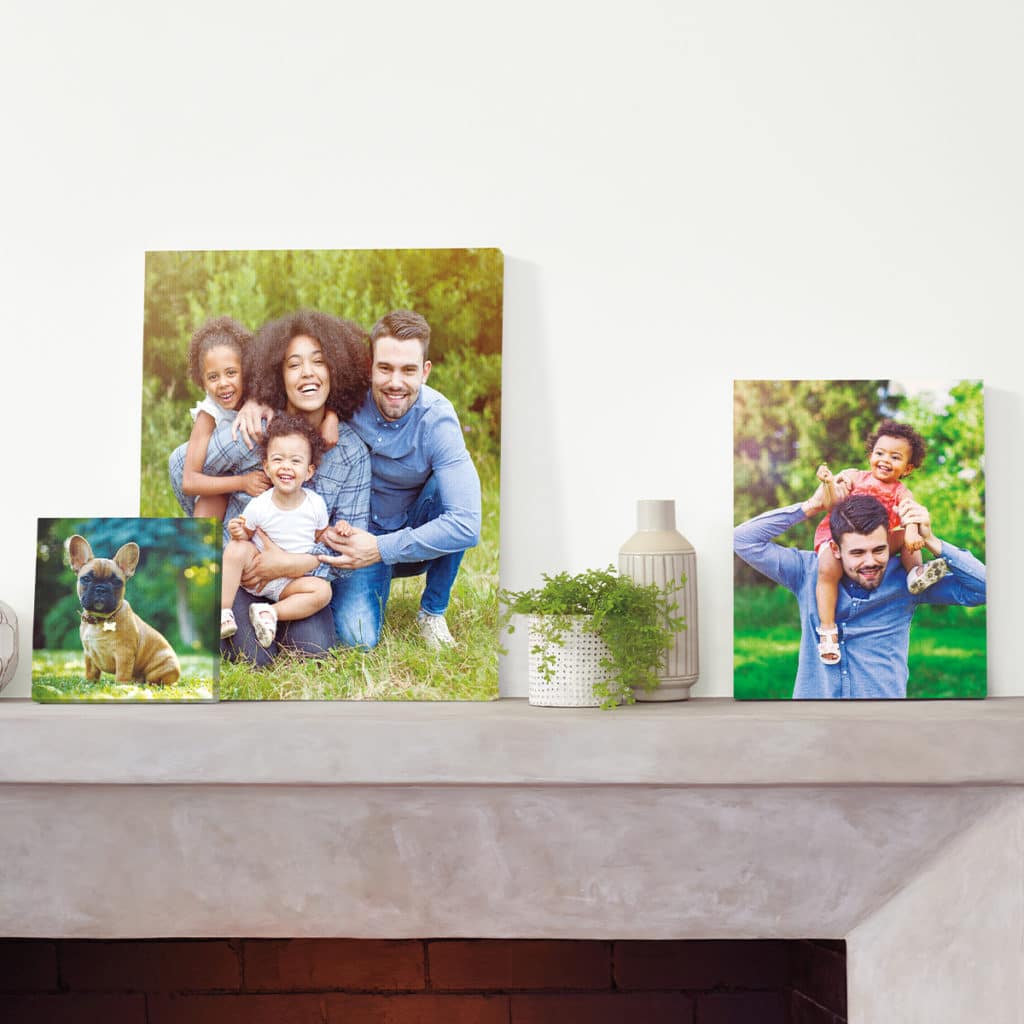 We have a wide variety of sizes to choose from, depending on where you want to display your canvas.
Square Canvas Print Formats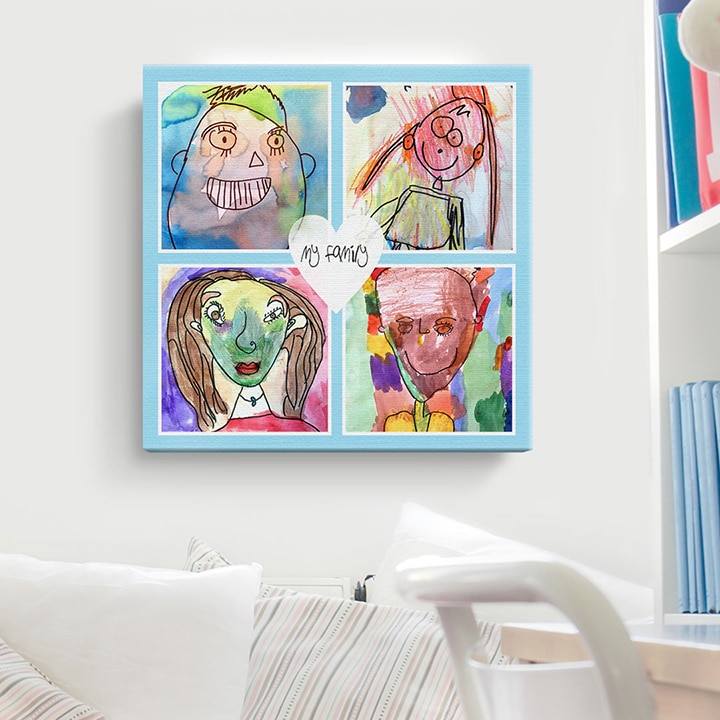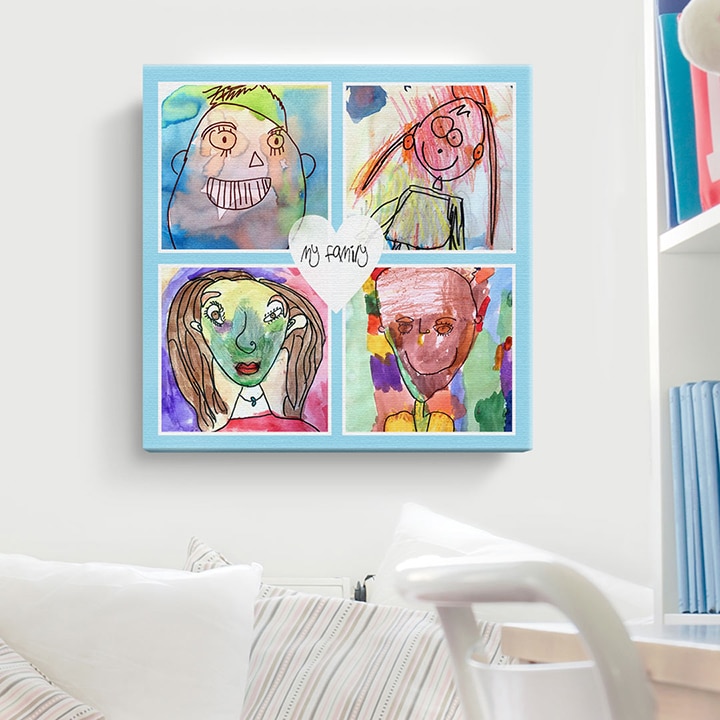 Portrait Canvas Print Formats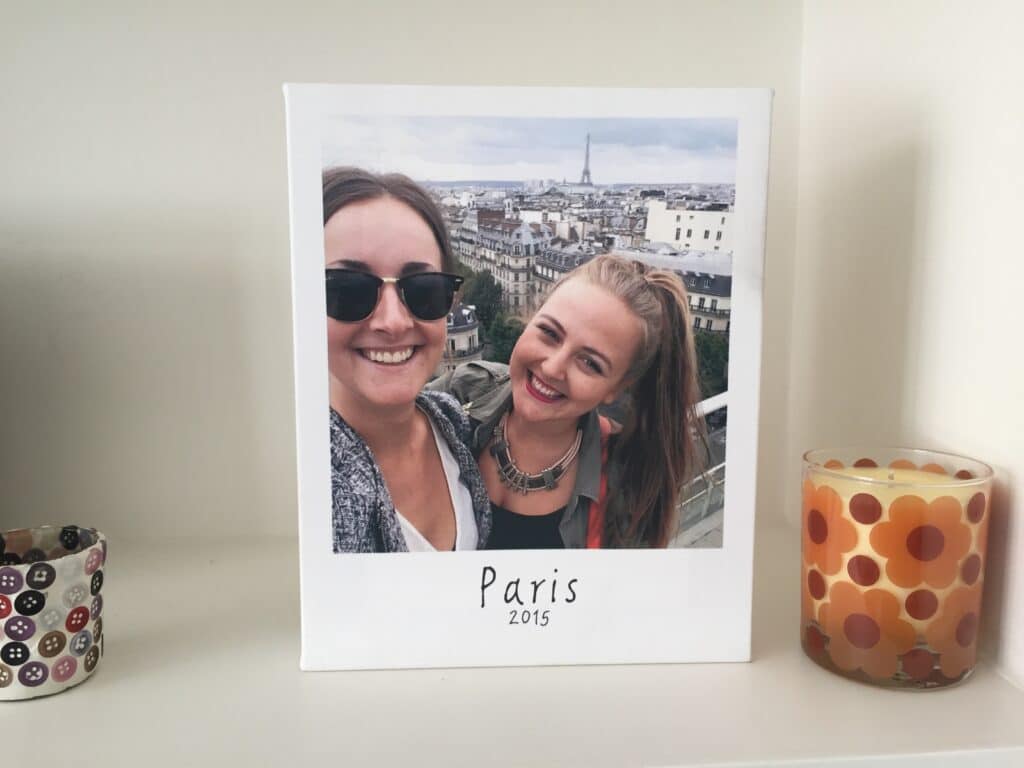 Landscape Canvas Print Formats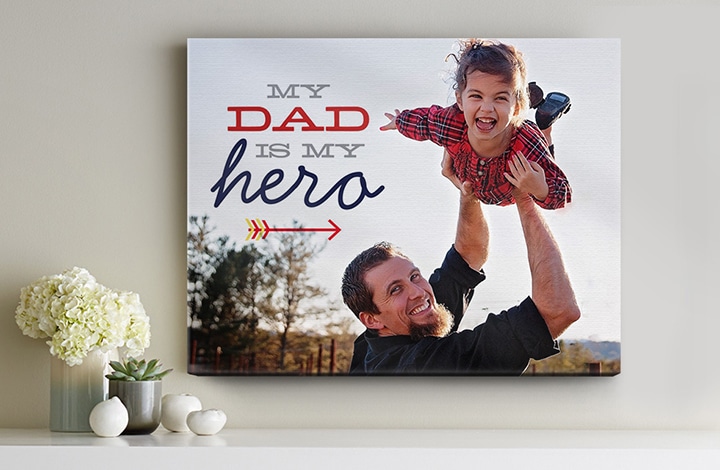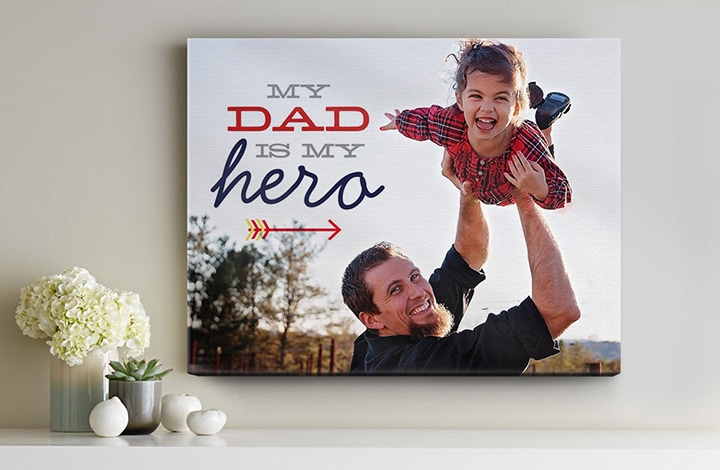 Panoramic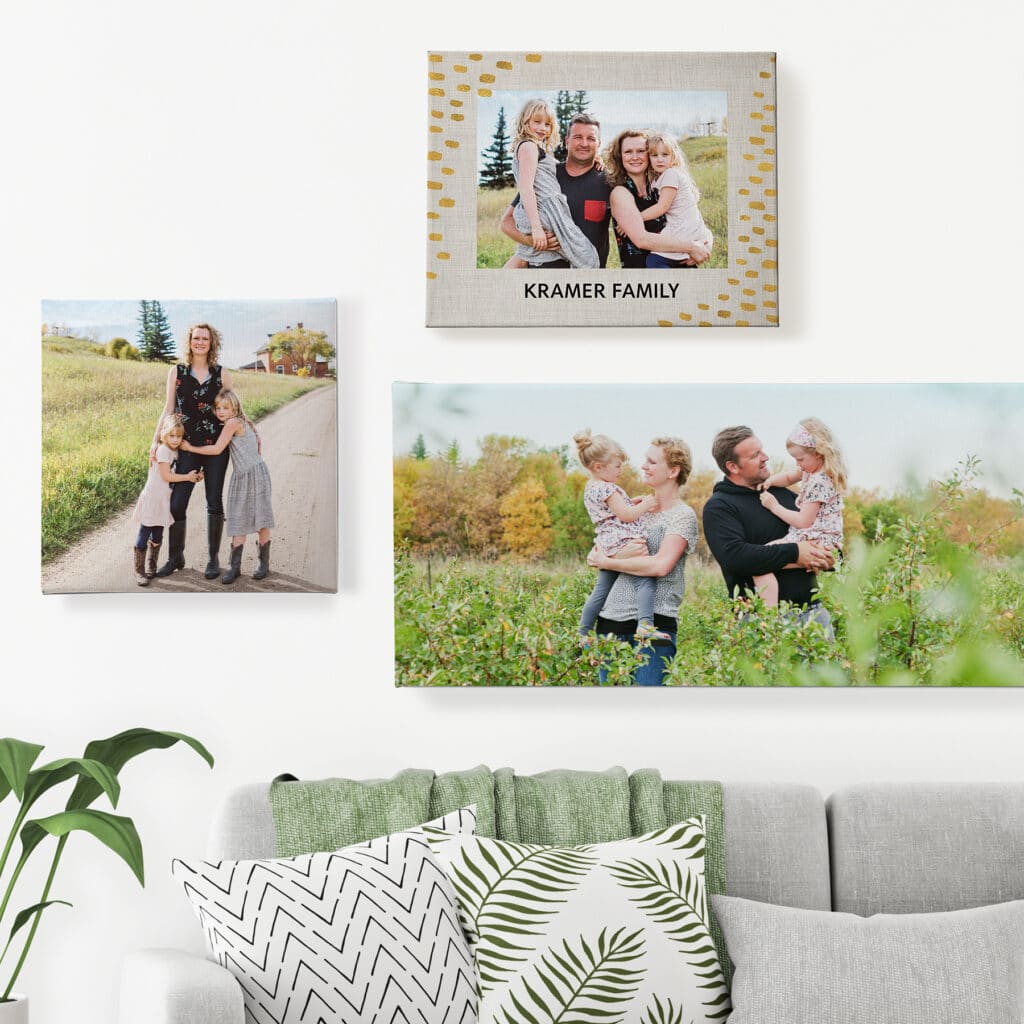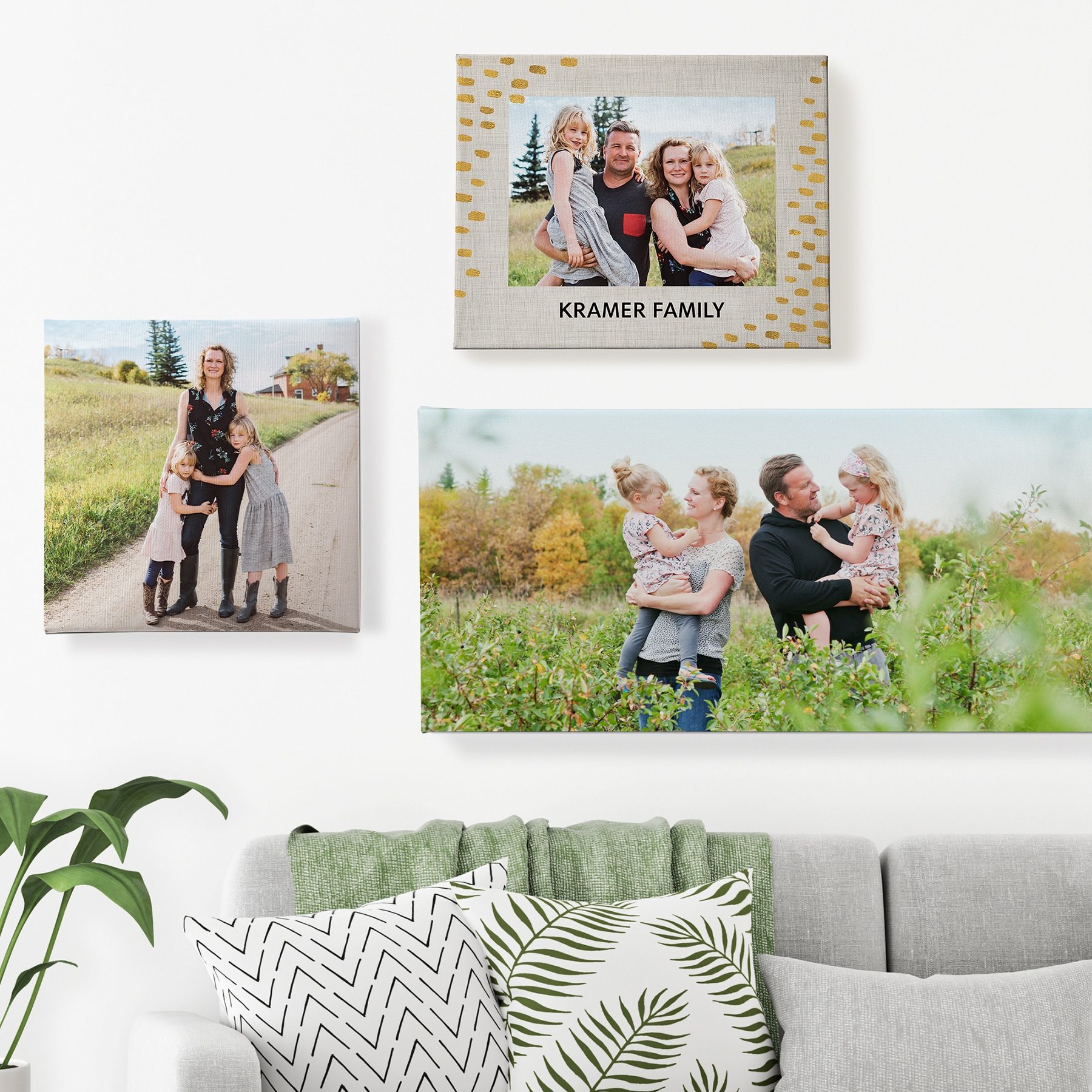 Canvas Print Styles
You can use one statement photo or choose multiple photos for a collage layout. If you have more wall space to work with, check out our new slim canvas sets! You can order the 8×8" size in sets of 2, 3, 4, or 6. The 8×10" size comes in sets of 2 or 3. Either way, your gallery will be one-of-a-kind!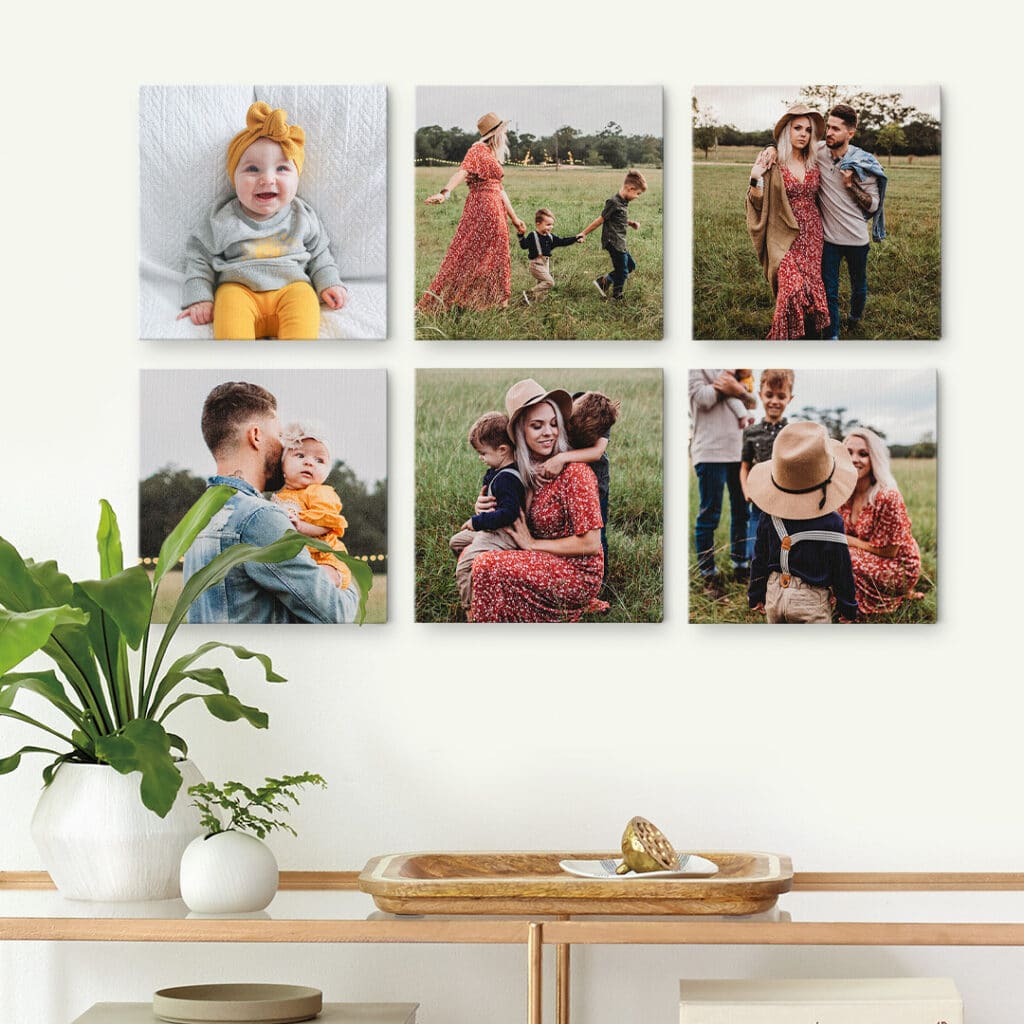 The Snapfish project builder makes it easy to access and upload your photos so you can easily choose the look you want. You can also add text, design elements and embellishments to make it your own.
Why Should I Choose A Canvas Print Over A Regular Print?
There's no right or wrong answer here, as both products have pros and cons. Regular photo prints are usually more costly to frame, whereas premium canvas prints come ready to hang! Framed photo prints usually have a glare or reflection whereas canvas prints don't. Canvas prints are usually lightweight and framed photos are typically heavier.
There's no need to choose one over the other, it's fun to mix different sizes and styles for a more interesting gallery wall.
Canvas Print Designs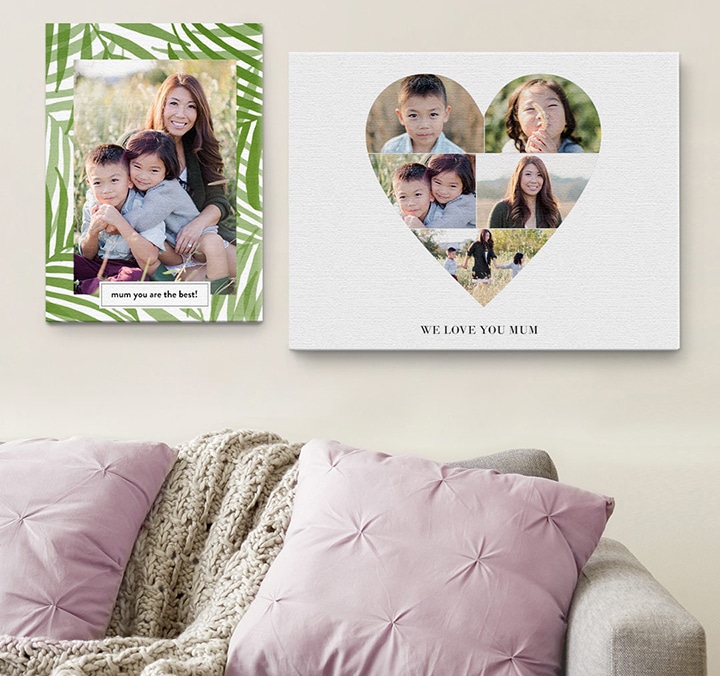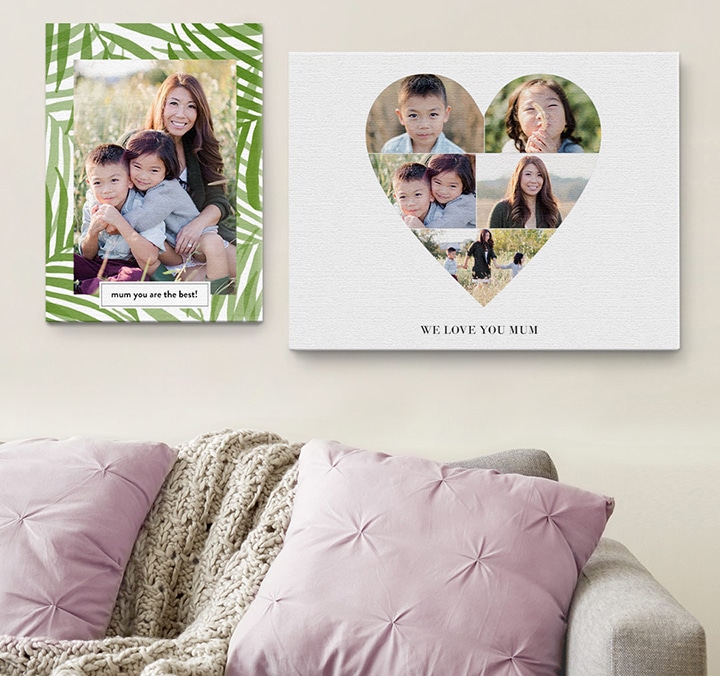 You might think it's difficult to create a canvas print, but we've made it really easy. Just open your Snapfish account and upload your image(s) into the photo album.  Our easy-to-use project editor will guide you through the process. You can choose from over 140 different background and design elements.
What Photo Resolution Do I Need for Canvas Prints?
The general rule is "The higher the resolution, the better the print." Larger size projects like canvas will typically need a higher resolution versus smaller projects. Our project builder will let you know if the resolution of your photo is too low. For more information, read our "Photo Resolution Tips" in the Snapfish Help guide.
How Much Do Canvas Prints Cost?
The cost of a canvas print definitely depends on the size you choose. Our smaller prints start at £12.99 and go up to £82.99, not including any additional add-ons or postage fees. Snapfish always has deals going on, so check back regularly and you're sure to find an amazing offer!
How Do I Order Canvas Prints?
Feeling inspired? If you're ready to create a canvas print, let's help guide you through the process!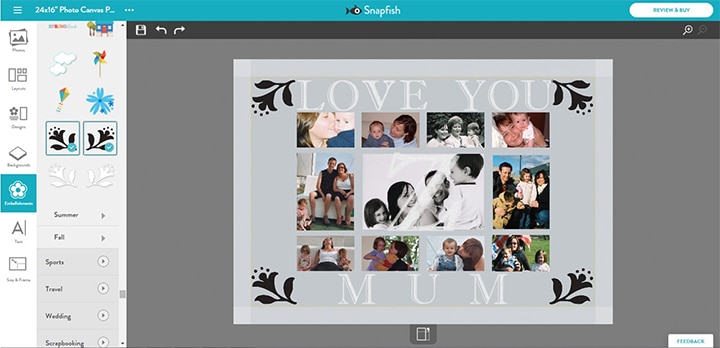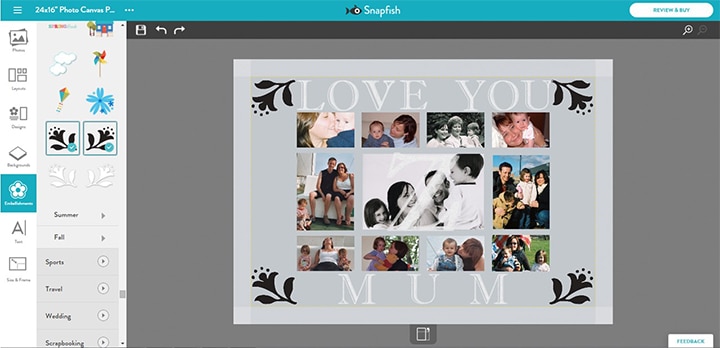 Desktop Instructions:
From the Snapfish home page, you can click on the Canvas tab. Here you can select any size or style you want. Once you find the right product, select "Make This Product."
App Instructions:
Once you install or open the free Snapfish app, you can scroll down to the Canvas section and click. Here you can select any size or style you want. Tap once you find the right product you want.
This will open up your photos from your phone. From here you can start choosing photos from "My Phone" or select the "Show My Albums" tab to access the different photo albums on your phone. Pro Tip: Start adding some of your favourite photos to your "Favourites" album ahead of time so you don't have to scroll through your whole camera roll! You can also choose from other sources such as your Snapfish account, Instagram, Facebook, and Google Photos.
Your selected photos will appear in the Photos tab in the Builder toolbar.
Place your picture(s) by dragging them to the designated space.
Once a picture has been added to the layout, you can click to shuffle and adjust orientation.
If your selected layout includes text boxes, you can click on those to add or edit text.
You can choose different layouts and backgrounds by using the options below.
When you're finished designing your canvas print, click "Preview" Then, click "Edit" to make additional changes, or "Order" to proceed to checkout.
Made a mistake? You can still cancel your order, but you will need to visit the website and click on the "Need to make changes" link on your order confirmation email or visit the Order Details page and select "Cancel Order".
Need more help?
Follow our handy "How To Create & Edit Canvas Prints" YouTube tutorial for more tips and tricks.
How To Care For Your Canvas Print
Once you've placed your order and received your custom canvas in the post, you'll want to protect it so you can enjoy it for years to come. Here's some helpful tips!
Keep it out of direct sunlight
Keep it away from humidity and moisture
Dust it with a soft cloth, no chemicals
Store canvas upright when not on display
Don't place anything on top of them
Hopefully you've found all the information here helpful. If you need more tips, tricks, and inspiration for Canvas or Wall Art, check out these other articles on our blog!
Feeling inspired to create your own wall art? We love seeing what you make, so be sure to share your photos with us on social media! You can tag us using @snapfishuk on Instagram or Facebook with photos or use the hashtag #snapfishUK. Don't forget to follow us on YouTube, Twitter and Pinterest too!