How To Properly Address Wedding Invitations & Announcements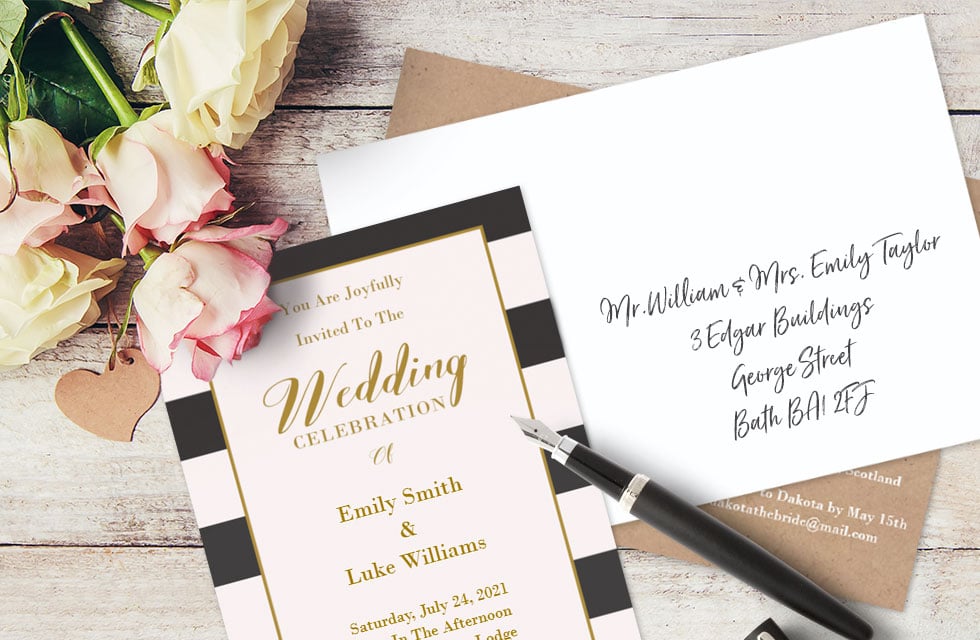 Your wedding is your special day and an opportunity for friends and family to get together and celebrate this next big step in your life journey together. So, even if COVID (or budget) restrictions mean you can't have everyone present on your big day, you can still let your loved ones know about your upcoming nuptials. Friends and family will share in your joy when they receive your coordinated wedding stationery, from personalised wedding invitations, wedding announcements, 'save the date' invitations, wedding programmes and wedding 'thank you' cards.
What Are Wedding Announcements?
Wedding announcements help you share the happy news of your upcoming or recent wedding, and are sent to friends and family. Photo announcement cards are perfect for couples who got married in a small ceremony or 'micro wedding' with only close family present, and who then want to announce it to their wider friendship group.
With customised wedding photo cards saying, "Merry & Married", "Just Married", and more, our range of wedding card designs are perfect for any couple announcing their marriage, and will allow you to share some of the gorgeous photos taken on the big day. You can also celebrate your engagement with a customised engagement card to announce the start of your lives together, such as "Engagement Gold Gemstone".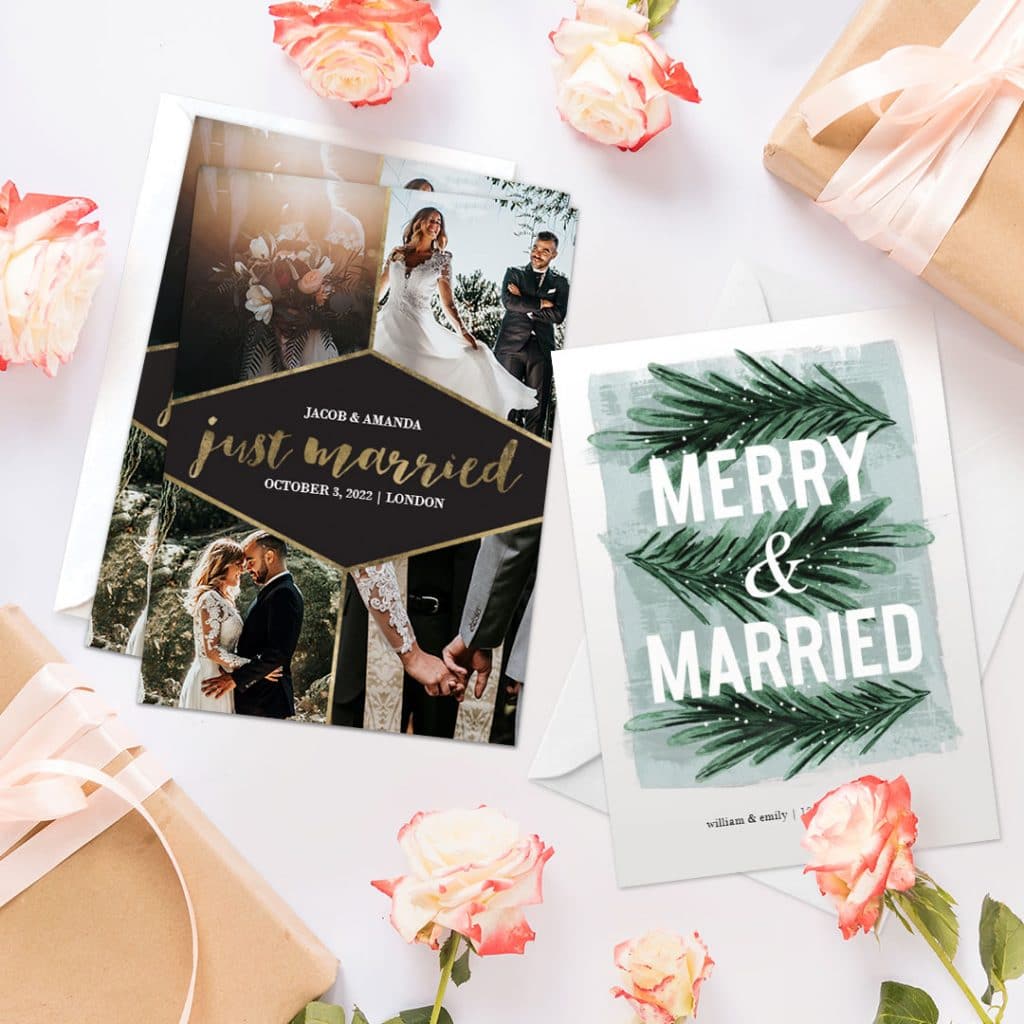 How To Address Wedding Announcements
Start by writing a list of all the people you'd like to send your wedding announcements to. Remember to buy first class stamps so that they receive your beautiful wedding announcement cards on time. (We also offer pre-printed return address envelopes in the builder to make sure none of your announcements get lost when addresses are incorrectly written.)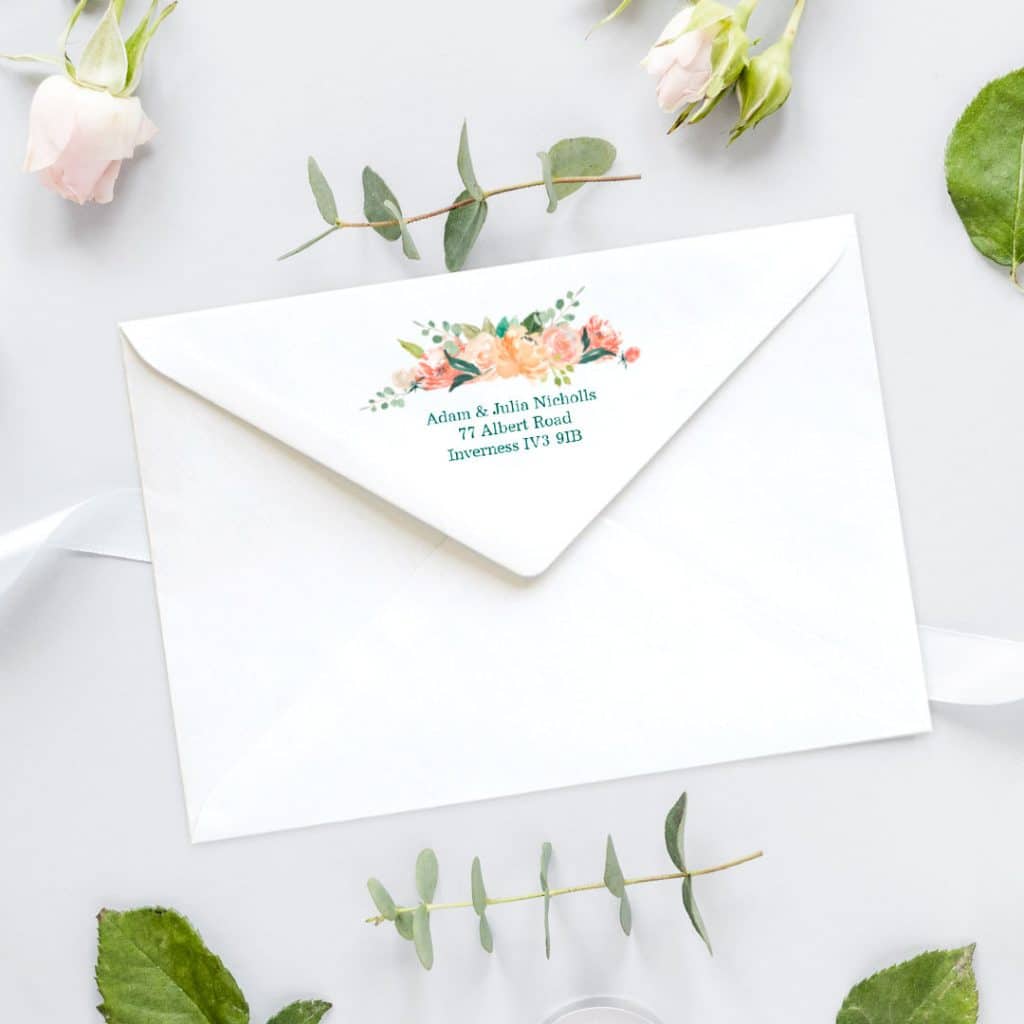 Not sure how to address your envelopes? Follow our tips on how to address your wedding announcements below:
Use formal names and correct salutations (Dr., Mr., Mrs., Ms., Miss., etc) when addressing a letter to your guests.
When addressing cards to a married couple, put both names on the address line, but convention states that the husband's name goes first (e.g. Mr. Jonathan & Mrs. Vera Jones)
If the couple are unmarried, write their names on a separate line. List the guest who is closest to you first, then add their partner on the following line.
Make sure the envelope is easy to read; create computer printed labels if your handwriting isn't the clearest or prettiest. You wouldn't want your wedding announcement card to get lost in the post!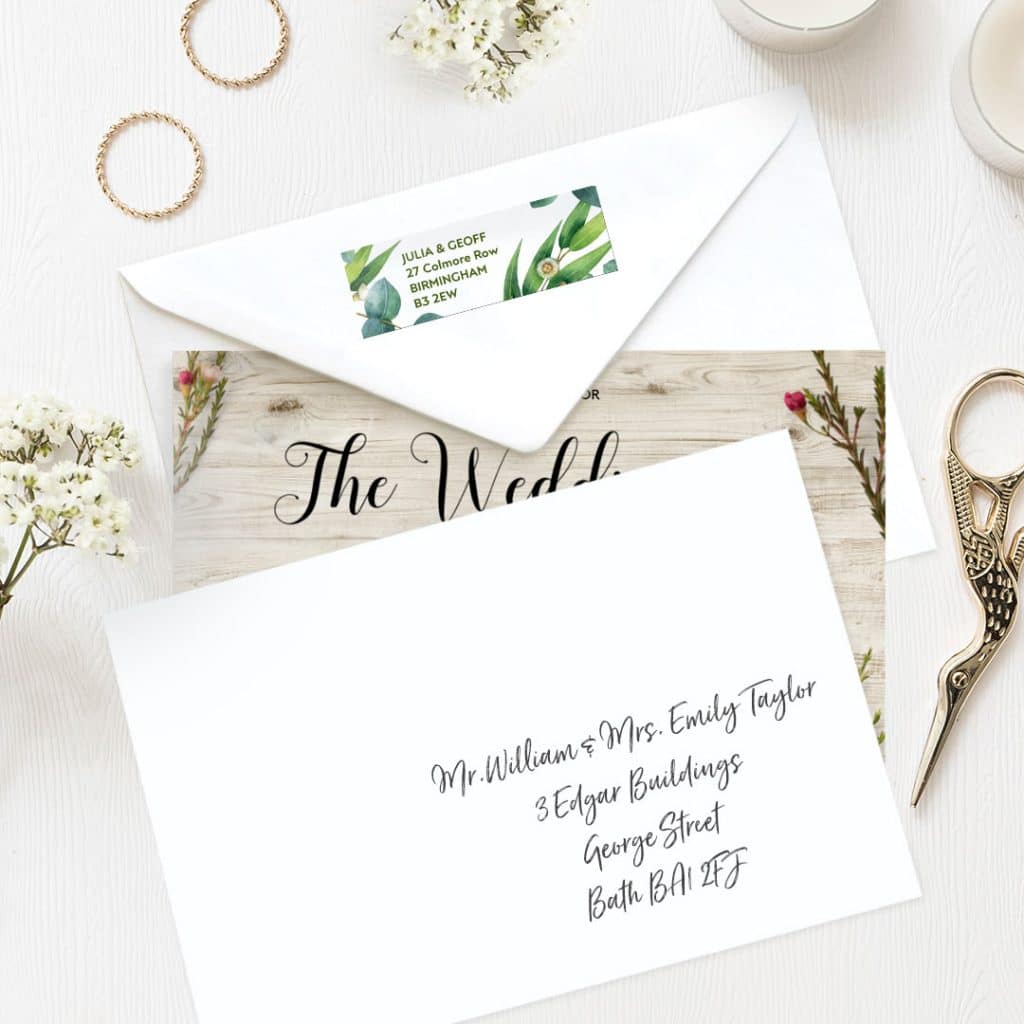 When Do You Send Wedding Announcements?
The best time to send your announcement depends on whether it's a wedding announcement or an engagement announcement card.
You can customise your engagement cards with pictures of the proposal, the engagement ring, or a beautiful picture of the two of you to make it a truly personal announcement. We would recommend sending engagement announcement cards before 'save the date' announcements.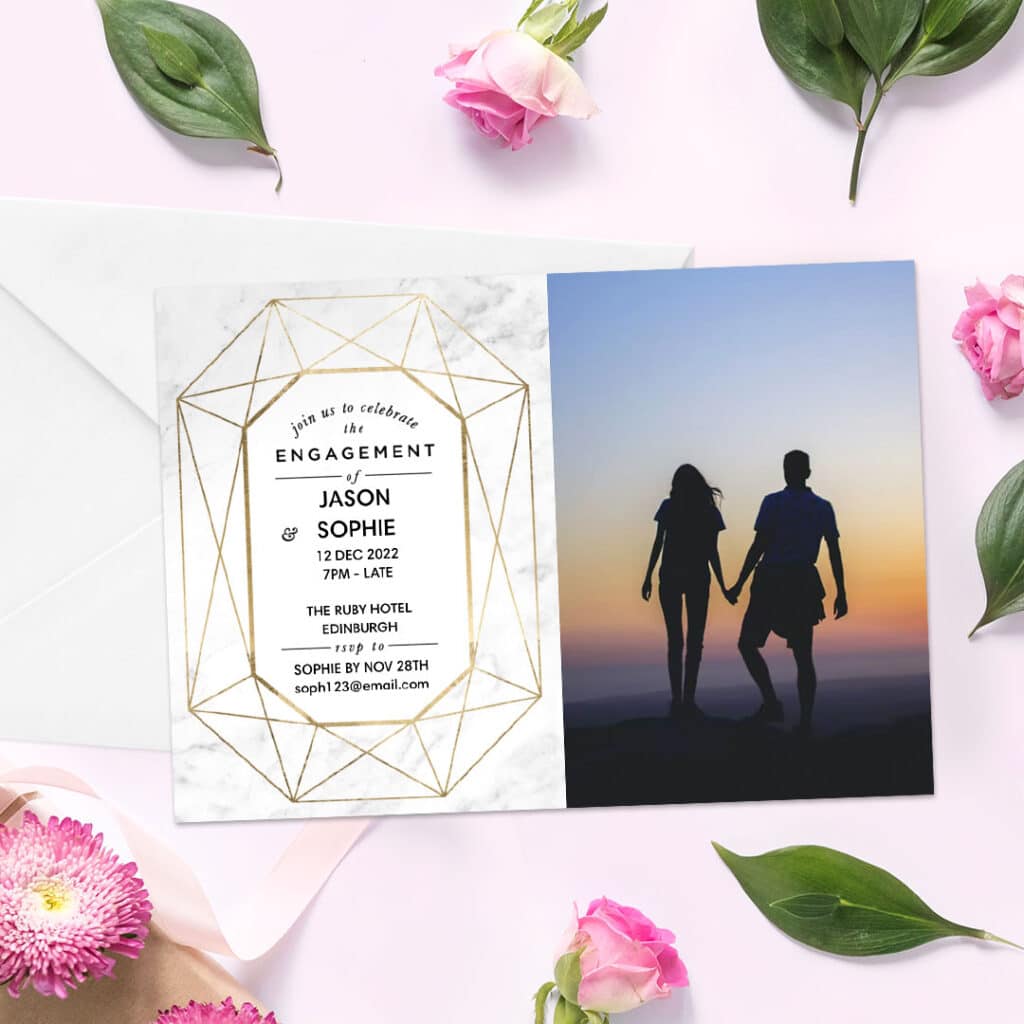 If you are already married and are sending wedding announcement cards after the big event, we suggest you send out the cards no more than a few weeks after the wedding.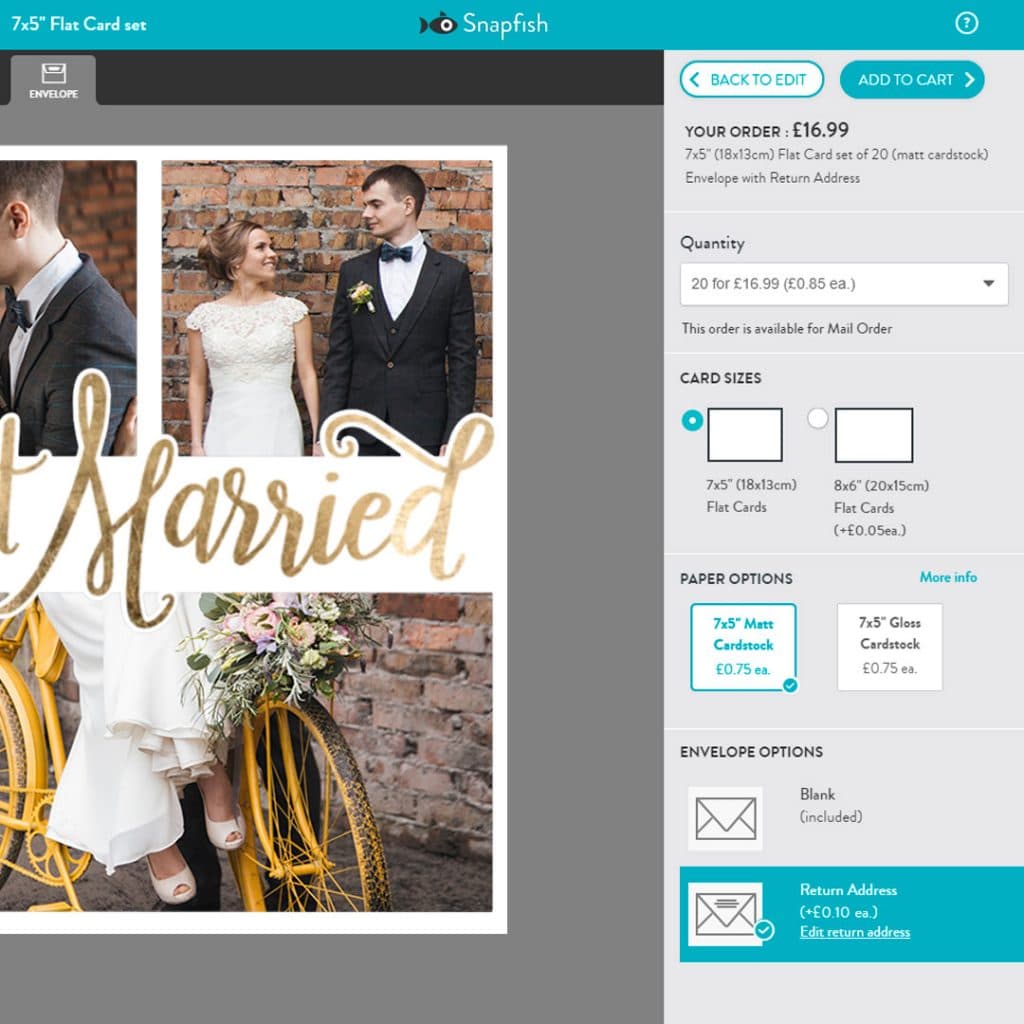 Remember you can personalise your wedding announcement card with photos from your small marriage ceremony. Since most of the people you're sending your cards to probably couldn't attend the actual ceremony, they will love sharing in the beautiful memories that were captured on the wedding day.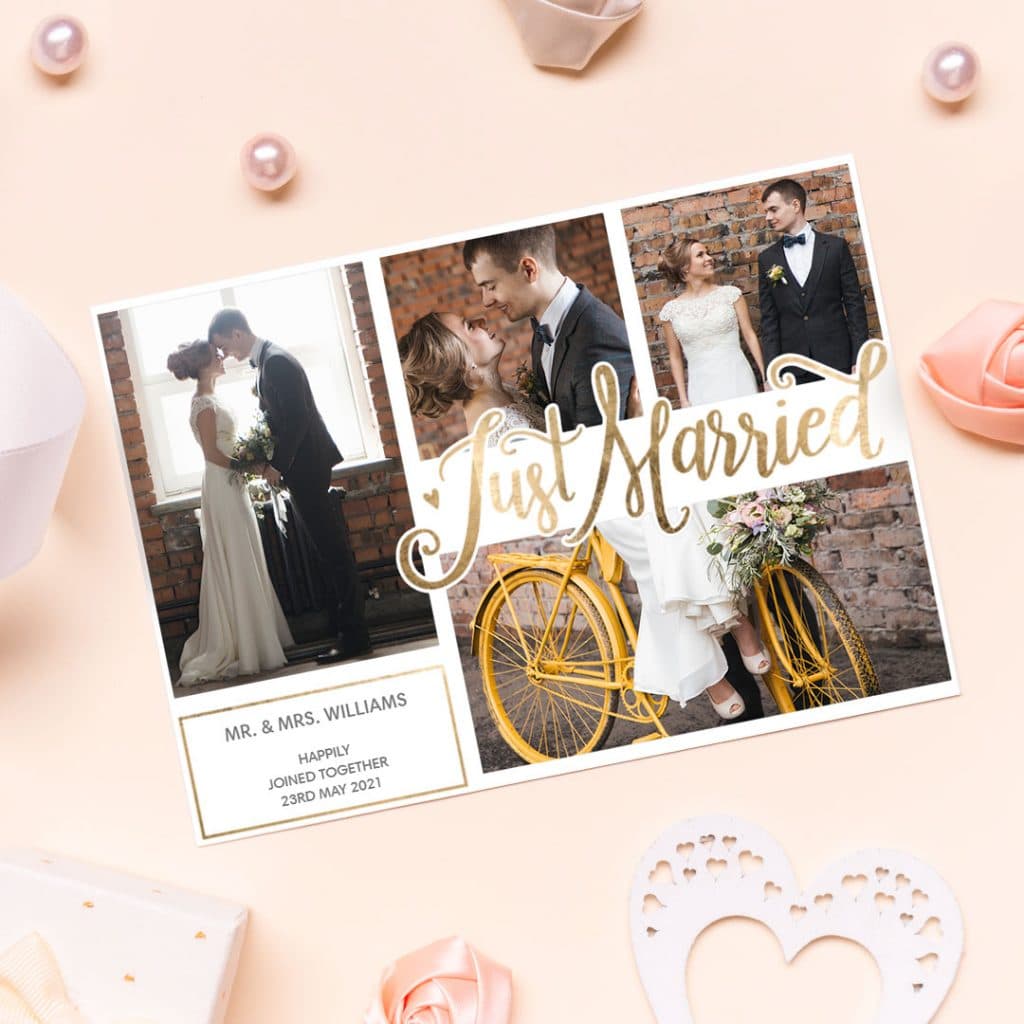 Not sure how to get started on your wedding announcements? Read our blog post for inspiration and tips!
What Are 'Save The Dates'?
'Save the Date' cards act as a pre-invitation that officially announces your wedding day and helps your wedding guests prepare for the wedding in terms of requesting time off work and the like.
Save The Date' announcements let wedding guests know they'll be receiving official wedding invitations soon and provide useful wedding information, such as your married names, the location (if not decided yet, the town or city will suffice), the wedding date, and any wedding gift website links. In addition to the standard 'Save The Date' announcement cards, Snapfish also offers fun 'Save The Date' fridge magnets which the wedding guest could then affix to the front of their fridge to serve as a helpful reminder.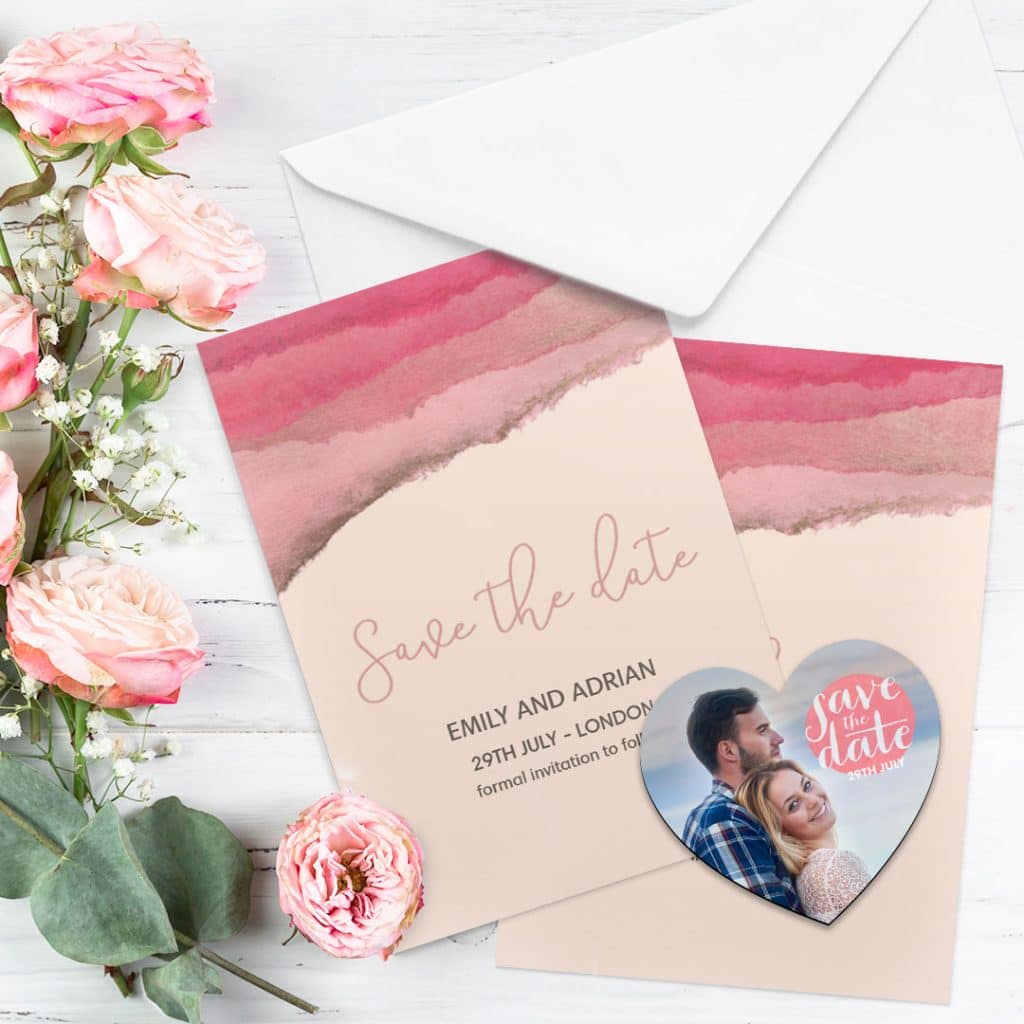 How To Address 'Save The Date' Announcements And When To Send Them
Addressing your 'Save The Dates' will follow the same format as wedding announcements. While addressing 'Save The Dates', it's the perfect time to double check guest information such as their address and salutation to avoid any related issues later on.
The best time to send 'Save The Dates' is when you have a firmer idea about all the wedding festivities and when they are happening. Including a set date and location is perfect information to include on your 'Save The Dates'; and even if you don't have all your wedding plans finalised, guests will still appreciate the early warning so they can arrange travel and accommodation and request time off work.
We suggest you send your 'Save The Date' announcements around 4-6 months before your wedding. For destination weddings, you should send them between 8-12 months in advance. This will ensure your guests can plan for the cost of travel and accommodation, and sort out any necessary visas etc. in time for the wedding.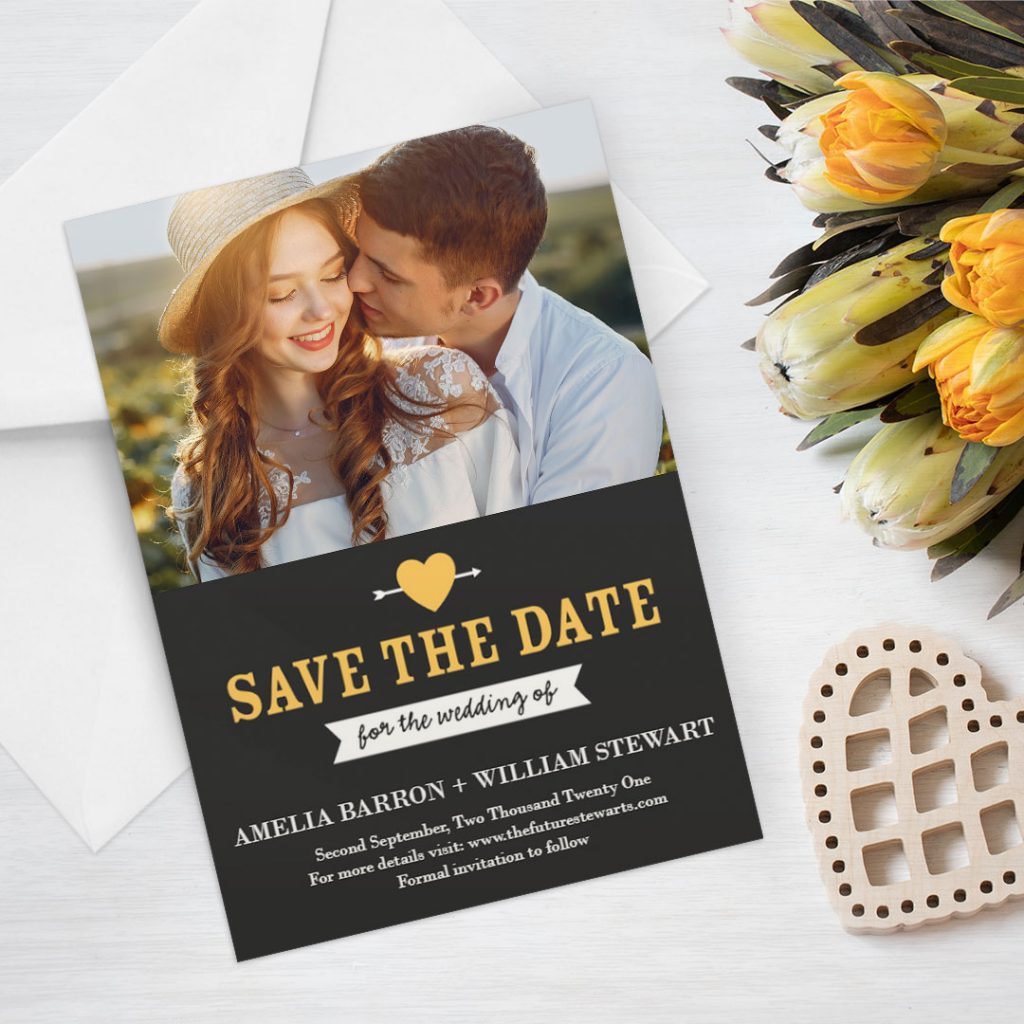 How To Address Wedding Invitations
To address your wedding invitations, use the same address format as before, but make sure you include an RSVP address. This is usually included in the wedding invitation copy, and you could also print the RSVP address on the back of your wedding invitation envelopes, or create personalised return address labels to make sure the guests know who exactly to reply to.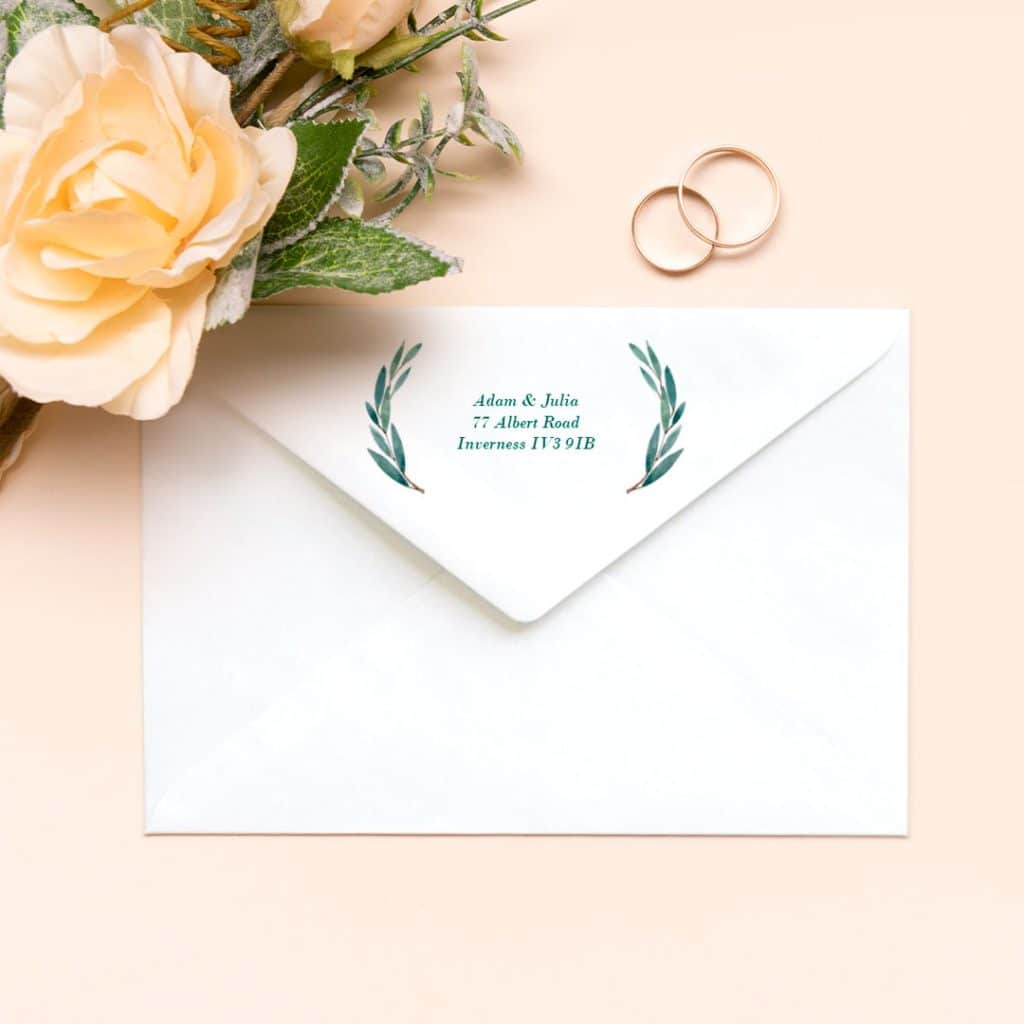 When To Send Wedding Invitations
Depending on the wedding you're having, it is common practice to send wedding invitations 6-8 weeks before your wedding. Again, for destination weddings, it's best to give even more notice so guests have enough time to plan their travel arrangements.
Weddings are one of the most important days of your life, so you will want to ensure friends and family are invited to share in your big day. Sending personalised wedding invitations means you can tease guests about your wedding theme, show off your partner in the photos, and get excitement levels rising. Make sure your wedding invitations and announcements are properly addressed; your wedding guests will instantly feel part of your big wedding day when your unique wedding cards land on their doorstep!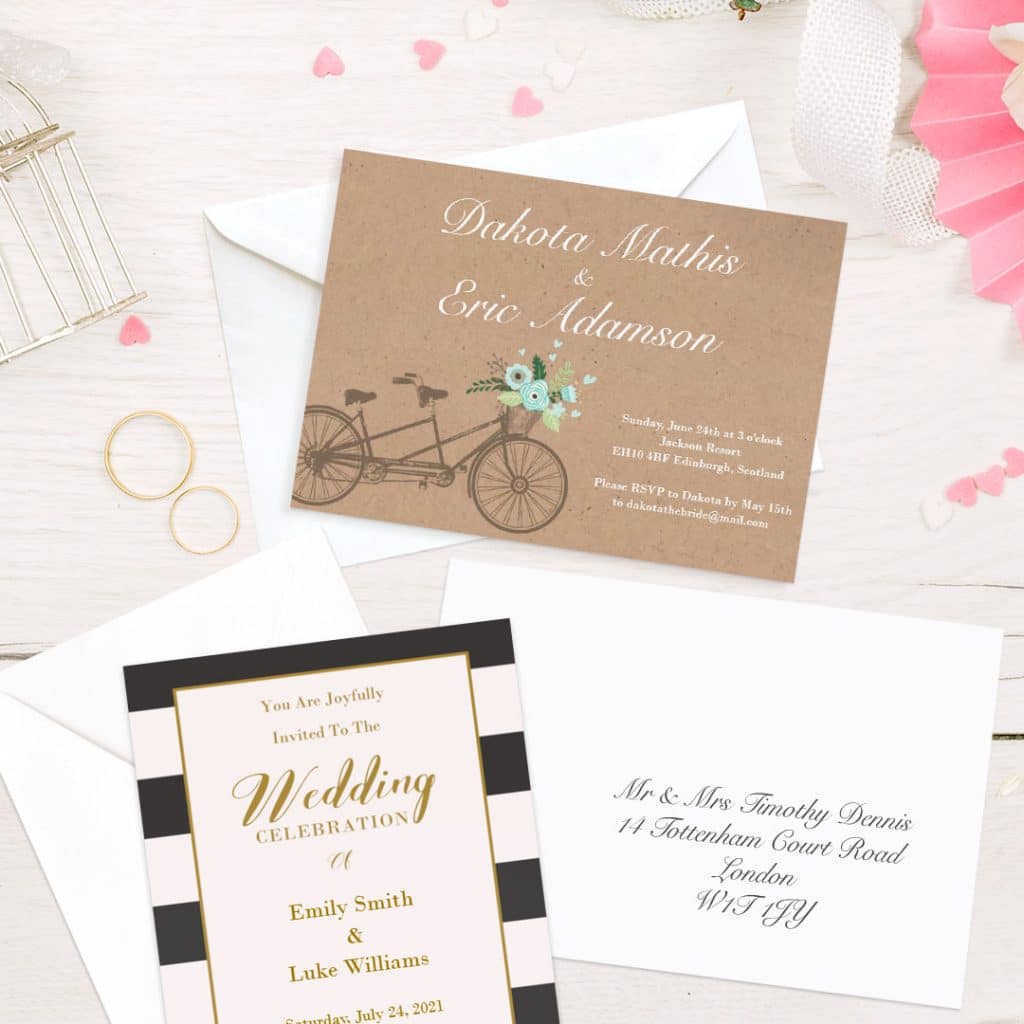 If you are looking for some wedding design inspiration, read our blog post on wedding invitation styles and designs, and our tips on how to find a personalised wedding invitation design that is perfect for you.
We can't wait to see what you'll create and customise for the big day! Please tag us with @snapfishUK and #snapfishuk when you share your photos on Instagram, Pinterest and Facebook. You can watch some of our helpful How To tutorials on YouTube, as well.